North Coast, California
With a far wilder, windier and mistier feel than the Pacific coast south of San Francisco Bay, the North Coast is thinly populated and refreshingly pristine. Its massive redwoods tower over an unspoilt landscape which attracts artists, artisans and producers of organic food and wine. The region is bordered by a seascape of hidden beaches and tucked-away harbours, where migrating whales are often seen in the ocean beyond.
Geography
The North Coast region starts just north of the Bay Area winelands and continues all the way north to the California-Oregon border. East of the region are the northern part of the Central Valley and the western edge of the Shasta Cascade. There are no large cities on the North Coast; the main settlements are a string of small towns connected by Coastal Highway 1 and Highway 101.

Santa Rosa and Novato
Kris from Inn Marin talks about her favourite things to do in Santa Rosa and Novato, from walking her dogs on the beach to fine dining. [01:37]
Weather
The North Coast climate is temperate, with temperatures holding fast at 55-46°F / 13-18°C all year round. Thanks to its reliable rainfall, especially in the winter months of December, January and February when the redwood forests can be shrouded in a permanent mist, this is a region remarkably rich in natural vegetation. The skies are much clearer in July, August and September, making this the best time of year to visit, particularly for hiking and cycling.
Things to do
Take a road trip along Highway 1
Winding its way along rugged clifftops to the rhythm of the surf pounding below, the northern section of Highway 1 has a wilderness appeal – it's emptier and more austere than its counterpart south of Monterey Bay. Drive this stretch of coast and you'll pass secret-looking beaches, quiet fishing towns and top whale-watching spots, such as Mendocino Headlands State Park.
Discover Mendocino's arty side
Easily one of the prettiest places on the North Coast, the small town of Mendocino is one of California's hidden gems. Its location is superb, perched on a bluff with Pacific waves crashing all around. Its historic centre is remarkably intact and beautifully preserved, a grid of neat Victorian houses where tidy lawns and even rose gardens manage to thrive in the salty air. The town's cultural hub, the Mendocino Art Center (mendocinoartcenter.org), holds interesting exhibitions and art classes.

Mendocino county
Jake from EverGreen Escapes talks about why he loves the people, outdoor activities, vineyards and local food of Mendocino County. [00:52]
Get to know the Giants
A uniquely magical scenic highway, the Avenue of the Giants, leads off Highway 101 to take you deep into Humboldt Redwoods State Park. Immense coastal redwoods line the route, casting deep shadows which dapple the road. Some are centuries old and taller than a ten-story building. To really appreciate these sequoias' special presence, you'll want to get out and walk. If you only have time to visit one of the forests on the North Coast, it would be very hard to choose between Humboldt and Redwood National and State Parks, further north.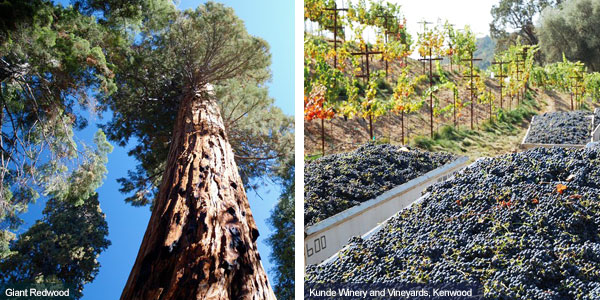 Tour Mendocino County's laidback wineries and microbreweries
Mendocino County's Anderson Valley and Russian River Valley have a growing reputation for Pinot Noir, sparkling wine and Alsace-style Riesling and Gewurztraminer. There's a strong interest in organic farming here: the Mendocino Winelands claim to be the greenest wine region in the United States. This is definitely not a region of wine snobs: over a dozen of the wineries in each valley have unfussy, even rustic, tasting rooms which offer a warm welcome to the public. Mendocino is big on beer, too, with plenty of excellent microbreweries to visit.
Visit the Grace Hudson Museum, Ukiah
Grace Hudson and her husband John were bohemian artists, photographers, ethnologists and collectors with a lively academic interest in Native American culture. They lived in Ukiah, east of Mendocino, in a house they designed themselves in 1911. Their house and the neighbouring building are now an absorbing museum of their paintings and artefacts.
Find yourself on the Lost Coast
The hard-to-reach stretch of coast on the border between Humboldt and Mendocino counties is a beautiful place to go on a self-sufficient backpacking trip. The 24-mile Lost Coast Trail winds along the clifftops, with occasional descents to dark-sand beaches. There are basic campsites along the way.
Find more information on
California geography
and
10 things to see and do
in California.
Responsible Travel would like to thank the California Tourist Board for their sponsorship of this guide