Shasta Cascade, California
Relatively little known except by the locals, the northernmost third of California is a region of spectacular wilderness scenery, dotted with ancient volcanoes. The atmosphere in the Shasta Cascade, in the northeast, is relaxed and low key, even in the towns. As well as being a region of great geological interest, itís an excellent place to de-stress and discover the gentle enjoyment of wildlife-watching, hiking, cycling and cross country skiing.
Geography
The Shasta Cascade is a huge region which covers most of the far northern quarter of California, bar the northernmost section of the North Coast. Itís bordered to the north by Oregon and to the east by Nevada. Its largest city, Redding, is more or less in the centre of the region on Interstate 5, which connects Sacramento with Eugene and Portland in Oregon. Mount Shasta is 62 miles north of Redding, close to the highway, and Lassen Volcanic National Park is east of Redding, at the southwest end of the Cascade Range.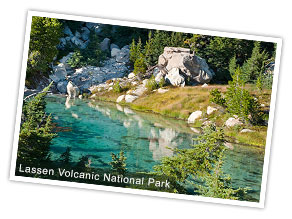 Weather
The mountains of northeast California are warm and fresh in summer. July, August and September are the best months for hiking, when daytime temperatures can climb as high as 93-100įF / 34-38įC. Winters are reliably cold, bringing excellent skiing conditions to Mount Shasta. There are steady snowfalls throughout December, January and February and the temperature hovers around freezing until March.
Things to do
Explore Lava Beds National Monument
Spectacularly remote, this is the northernmost natural attraction in California. Itís an intriguing complex of volcanic caves and tubes with tunnels to crawl through. The black, frozen lava formations are truly impressive, and rangers run guided tours every day in summer to explain how they came about. While youíre here, you may spot wild deer, humming birds, bluebirds and prairie falcons in the surrounding sagebrush grasslands.
Go kayaking on Lake Almanor
The summer months bring perfect boating weather to the Shasta Cascade. Visit Lake Almanmor, southeast of Redding, to paddle the clear, warm water with a local guide and you may see bald eagles soaring overhead or ospreys plummeting down from the sky to attack their prey.
Visit Lassen Volcanic National Park
This park of pine forests, clear green lakes and steaming thermal pools is the Shasta Cascadeís best known destination, but it still receives far fewer visitors than the blockbuster parks further south. Itís dominated by Lassen Peak (10,462ft/3189m), the southernmost volcano in the Cascades Range and the largest plug dome volcano in the world. Drop in at the well-designed Kohm Yah-mah-nee Visitor Center, then marvel at the active geothermal vents at nearby Bumpass Hell. If youíre up for a challenge, you could hike to Lassen Peakís cindery summit, a four hour round trip from the trailhead on Highway 89.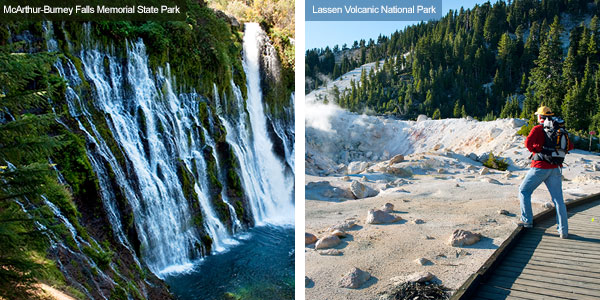 Camp at McArthur-Burney Falls Memorial State Park
A picturesque, 129ft/39m waterfall tumbling into a misty, fern-edged pool and a lake for swimming make this a very pleasant place to spend a few days, hiking in the vicinity. The waterfall, which is just one of several beautiful falls in the region, is fed by a natural thermal spring, so it gushes all year round.
Go cross country skiing around Mount Shasta
The snowy peak of Mount Shasta (14,180ft/4322m) can be seen for miles around. In winter, itíll inspire you to grab your cross country gear and head for the
Mount Shasta Nordic Center
, a community-run organisation which maintains 25km of skiing trails. If youíre keen to head off piste, hook up with
Shasta Mountain Guides
whoíll take you backcountry skiing for anything between one and four days. In summer, the mountain becomes an exciting place for sure-footed hikers and mountaineers to explore.
Stay on a houseboat on Shasta Lake
Shasta Lake, north of Redding, is Californiaís largest reservoir, with a dam thatís second in size only to the Hoover Dam in Nevada with a spillway three times higher than Niagara Falls. Itís a popular place for gentle hiking and lazy boating in summer. Around the shore, youíll find well-appointed houseboats to rent, big enough for a party. In early spring, bald eagles nest in the tall conifers which surround the lake.
Find more information on
California geography
and
10 things to see and do
in California.
Responsible Travel would like to thank the California Tourist Board for their sponsorship of this guide