Ten unforgettable things to see
and do in California
To help you plan a memorable trip to California, we've picked ten of our favourite places, sights and outdoor activities. Here they are in geographical order, from north to south.
Explore Northern California's lava caves
The Cascade Range, which tumbles all the way down western North America from British Columbia, provides the Shasta Cascade region of Northern California with some fascinating volcanic scenery. At Lava Beds National Monument, you can crawl through caves and tubes in the frozen lava, while Lassen Volcanic National Park, at the southern limit of the Cascade Range, offers an awesome spectacle of steaming vents and fumaroles.
Discover the Lost Coast
The Lost Coast is Northern California's coastal wilderness at its best. To immerse yourself in this windy, untouched environment where redwood forests and grassy cliffs meet the beach, set aside a long weekend to hike the 24-mile Lost Coast Trail from Mattole River to Shelter Cove, a beautiful, broad beach of dark sand edged with tidepools. You'll make your way along sandy beaches and over bluffs, with the sound of the ocean ringing in your ears.
Gaze across at the Golden Gate Bridge from the Marin Headlands
Downtown San Francisco looks drop dead gorgeous from a distance, surrounded by the moody blue waters of San Francisco Bay and framed by the span of Golden Gate Bridge. Hop across the bridge to the Marin Headlands by car or bike and follow Conzelman Road as it winds up towards Point Bonita. There are several roadside spots where you can stop to admire the wonderful vistas; Hawk Hill is probably the best.
Breathe the fresh Pacific air at Big Sur
For uplifting, life-enhancing views of the dramatic Big Sur coastline, exit Highway 1 and take the steep, winding lane which leads straight up the mountainside to the New Camaldoli Hermitage. The Benedictine monks residing here run a bookshop, organize retreats for individuals and groups and offer accommodation in private cabins. They also make scrumptious brandy-dipped fruitcake, loaded with nuts and cherries.
Enjoy the outdoors beside Lake Tahoe
Whatever the season, breathtaking beauty surrounds you at Lake Tahoe. In fact, you could return several times in a year and enjoy something different each time. You'll never be stuck for something to do here – skiing, snowboarding or dog-sledding, hiking the 165-mile Tahoe Rim Trail, kayaking from cove to cove, stand-up paddleboarding near the shore or scuba diving in the crystal clear water of Emerald Bay are just the beginning.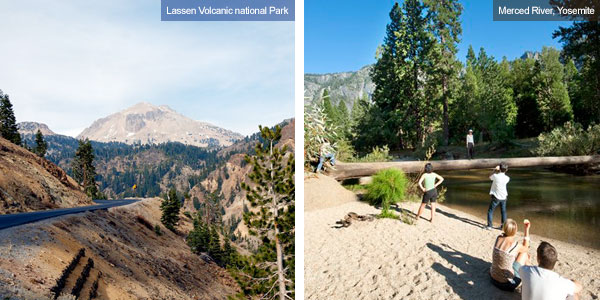 Climb Yosemite's Mist Trail to Vernal Fall
Our tip is to start early in the morning to avoid the crowds, as this short hike is deservedly popular. After a moderate climb to a footbridge over the foaming, boulder-strewn Merced River, there's a steep granite staircase to the top of Vernal Fall, one of Yosemite's most iconic waterfalls. In spring, the 317ft/97m cascade really thunders, shooting out clouds of spray which are hard to avoid – a thoroughly pleasant way to get drenched on a warm day.
Hike to Thousand Island Lake
One of the things that makes Thousand Island Lake in the Ansel Adams Wilderness special is its remoteness – it's only accessible on horseback, or on foot. Then there's its dramatic backdrop, the dark, craggy outline of Banner Peak, and the rocky islets which give it its name. You can get here via the John Muir Trail, Pacific Crest Trail or Sierra High Route, all of which pass through some of the most scenic terrain in North America.
Go whale-watching in the Channel Islands National Park
The pristine, nutrient-rich waters surrounding the Channel Islands near Santa Barbara attract seals, sea lions, dolphins and whales in great numbers. While you can take a whale-watching boat trip at any time of year, the best time to see migrating grey whales is from mid December to mid March. For humpback and blue whales, get your binoculars out in summer. You'll never forget the sight of a whale breaching or flipping its tail. They sometimes come thrillingly close to the boats.
Float over the Temecula Valley in a hot air balloon
What could be more civilized than soaring gracefully over a mirror-smooth lake or a hillside planted with vines, then celebrating your safe landing with a gourmet champagne picnic? Hot air ballooning is a favourite treat in winelands all over the world, and Temecula in Southern California does it particularly well. The valley even hosts a Balloon and Wine Festival each June, when the sky over Lake Skinner is positively full of balloons.
Watch the grunion run on Coronado State Beach, San Diego
On warm spring and summer evenings, under the full moon, one of California's quirkiest natural phenomena takes place. Beaches all over Southern California light up with silver flecks as grunions – tasty, sardine-sized silverside fish – hop out of the water and skip along the beach to mate on the sand. They're so abundant that it's possible to catch them with your bare hands.
Find more information on
California geography
and
activities in California
Responsible Travel would like to thank the California Tourist Board for their sponsorship of this guide