Wineries in California
California is by far the largest wine producer in the United States. According to Sotheby's Wine Encyclopedia, if California was a country, it would be the fourth biggest producer in the world. A truly impressive range of grape varieties are grown and blended in California's many bonded wineries, which number over 2,500 and are dotted all over the state, covering more than 513,000 acres of land.
How it all started
In 1779, a Franciscan missionary, Father Junípero Serra planted the first productive vineyard in San Diego. Before his death in 1784, Father Serra (the Father of California Wine) founded eight other missions in California, each with its own vineyard. The varietal of grape planted at each mission was called Mission and it was thought to have originated from earlier Mexican plantings. For over 100 years all the wine produced in California came from Mission grapes, until the Hungarian wine pioneer Agoston Haraszthy imported cuttings from 165 of the finest European vineyards.
Haraszthy began planting his vines in San Diego in 1850. In 1856 he moved to the Sonoma Valley and started building the Buena Vista Winery. By 1865 the winery was producing more than 200 gallons of wine a year. It's still active and is considered the birthplace of California's wine industry.
Going green
California vintners have been practicing sustainable growing for over a decade and are constantly upping their game, choosing to reduce their carbon footprint while still crafting top-notch wines. In 2008, Parducci Wine Cellars in Mendocino became the first winery in the United States to go carbon-neutral. Parducci relies on solar and wind to power its production facilities, the growers use organic farming methods and the tractors run on biodiesel.
Behind the cellar door
Many of California's wineries have tasting rooms where you can try a few of the wines on offer with no obligation to buy. In the busy, long-established Napa Valley wineries, tasting rooms tend to be slick, elegant set-ups with dedicated staff. You'll be charged a small fee for a selection of samples. Some wineries have turned themselves into major destinations by offering extras such as tours, restaurants, accommodation, gardens to picnic in and playgrounds for the kids.
In the lesser-known winelands, things tend to be a bit more rustic and personal – tasting sessions are often free and there's every chance that the person pouring samples straight from the barrel is the winemaker who created the blend. There are also a few wineries that don't have tasting rooms as such, but will offer private tastings by appointment – a good way to try some of the rarer varieties.
Napa Valley Wine Train
Ryan, from the Napa Valley Wine Train, talks about Napa Valley's wine, history and scenery, and the Wine Train experience. [02:38]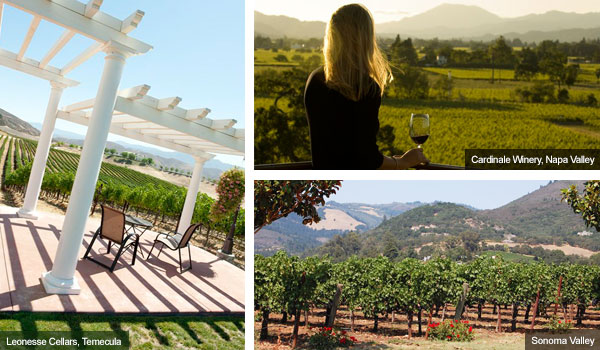 Exploring California's wine regions
Sonoma may be the oldest wine region in the state, but Napa Valley is the most famous. It's located just 50 miles (80km) north of San Francisco and includes the towns of Rutherford, St. Helena, Yountville, and Calistoga. Napa Valley earned its reputation for producing quality wine at the Paris Wine Tasting in 1976, where a Napa Chardonnay and Cabernet Sauvignon went head to head against a French-produced Chardonnay and Bordeaux in a blind taste test. The Napa wines surpassed the French, putting California on the map as a producer to be reckoned with. There are now over 450 wineries in the Napa Valley region, many of which have tasting rooms. While Cabernet Sauvignon and Chardonnay are the most commonly planted grapes, around 15 varietals are successfully grown here.
West of Napa is Sonoma's
Russian River Valley
wine region, with more than 80 wineries known for their Chardonnay and Pinot Noir. It's usually less crowded than Napa and the wineries are spaced a little farther apart. The valley has gentle rolling hills and quiet roads making this a great region to explore on a bike. There are several bicycle rental companies in the area and most bikes come equipped with an insulated cooler that's perfect for a packing a picnic lunch or transporting your favourite bottles of wine.
If you're looking to explore off the beaten path, try the
De Portola Wine Trail
in the
Temecula Valley
in the Inland Empire, roughly midway between Los Angeles and San Diego. Located in Riverside County in the Inland Empire, Temecula started producing wine in the 1970s and has become popular with aficionados. Some parts of this area are well developed while other parts have remained more rural. Travel by horseback to truly appreciate the vineyards, ranches and farms of this equestrian-friendly wine region: you could go for a tasting in the afternoon then ride through the vines at sunset.

Green train
Ryan, from the Napa Valley Wine Train, explains their pioneering and award winning green practices, from engines to food. [00:59]
For quaint, small town charm, look no further than the
Santa Ynez Valley
. Tucked into the Central Coast, just two hours north of Los Angeles, it's the largest wine producing region in Santa Barbara County. Head to the Danish-inspired town of Solvang or artsy Los Olivos for a unique wine getaway. The Santa Ynez Valley has over 70 wineries and tasting rooms and produces a variety of grapes including Chardonnay and Rhone varietals.
If you prefer to sip and eat you'll want to head further north and explore the wineries of Monterey and Carmel. Monterey, the largest appellation district in California, was a pioneer of the organic farm-to-table movement. Many wineries in this region offer wine-paired farm-to-table meals that showcase the best that the area has to offer. Chardonnay may be king in this area, but plenty of award-winning Rieslings, Pinot Noirs, and Cabernet Sauvignons are also produced here.
Other lesser-known winelands worth exploring include the
Lodi
(pronounced low-dye) and
Amador Valley
regions on the border of the Central Valley and Gold Country, southeast of Sacramento. Ranging over the foothills of the Sierra Nevada, this is an attractive landscape to explore. The Lodi wineries specialise in fruity, satisfying Zinfandel while the Anderson Valley produces Gewürztraminer, Chardonnay and Riesling. California's diverse wine scene offers something for everyone. From the glamorous, well-established tasting rooms of Napa to the smaller wineries of the North and Central coasts, all of California's wineries have two things in common: innovative wine-making techniques and a love of fine wine.
Napa Valley, Cabernet season
Find more information on
tasting trails
and
microbreweries
in California
Written by Emma Gregg and Katie Cook
Responsible Travel would like to thank the California Tourist Board for their sponsorship of this guide