Winter sports
in California
Popular culture may have California pegged as a sun-drenched state where summer lasts all year – but for some, it's all about the snow. Skiing and snowboarding are phenomenally popular here. Throughout the winter months, all eyes are on the weather reports. The snowfall in eastern California is reliable enough to ensure there'll always be several destinations with perfect conditions to choose from. Determined skiers sometimes even hit the slopes in summer, by heading for the icy heights of the High Sierra.
When the winter sports season is in full swing, downhill enthusiasts from Los Angeles head north to Mammoth, while those from the San Francisco Bay Area travel inland to the resorts clustered around Lake Tahoe. The resorts are all privately-owned commercial set-ups, and each one has its own atmosphere and appeal. If cross-country's more your thing, you'll prefer Tahoe Donner or one of the few skiing spots in a national park – Badger Pass, Yosemite. Either way, it's straightforward to rent equipment and fix up lodgings, lessons and lift tickets; the latter can be bought online in advance.
Mammoth
Four miles west of the small, outdoorsy town of Mammoth Lakes and served by daily direct flights from LA, San Francisco and San Diego is
Mammoth Mountain
, one of Eastern California's busiest winter sports resorts. Its reason to be is a long-dead volcano, Mammoth Mountain, which normally stays snowy for longer than any other resort in North America – typically from November to early June, and sometimes even until 4 July.
This is an attractive region of jutting peaks, powder-drenched slopes and clear, alpine lakes. With more than 3500 acres and 3000 vertical feet (940m) of skiable terrain, there are options for skiers and snowboarders of all abilities. Among the top attractions for those at the top of their game are chutes, open mogul runs and one of the world's few SuperDuper Pipes. The longest run stretches for 3 miles. There are also nine terrain jumps with enough jumps, pipes and slaloms to deliver the ultimate rush. The volcano itself may be dormant, but the atmosphere in peak season can get pretty exciting. For cross-country skiing and snowshoeing, there are 19 miles of trails within easy reach of Mammoth Lakes.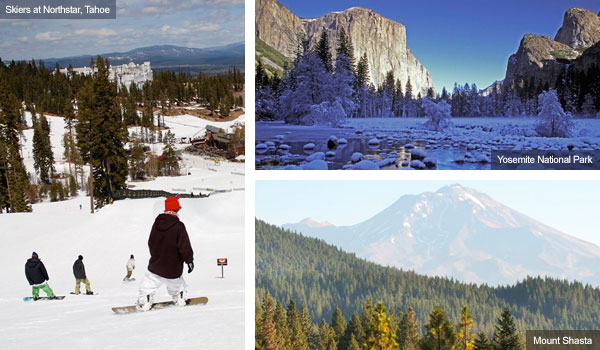 Tahoe
There's a host of brilliant winter sports resorts to choose from around Lake Tahoe, where the season runs from December to April. The best known spots, all of which lie in beautiful surroundings, are
Squaw Valley
,
Northstar California
, and
Alpine Meadows
to the north of the lake, and
Sierra-at-Tahoe
,
Kirkwood
and
Heavenly
to the south. There's no need to restrict yourself to a single resort during your visit.
Squaw Valley ranks in the world's best places to ski and snowboard. With 3600 acres and 2850 vertical feet (870m) to explore, it's huge, and a place to be seen. While kids and beginners are welcome here, experts love it – there are more black runs here than anywhere else in Tahoe. For families, Northstar California is a superb option, too – it's every bit as good as Squaw Valley for snowboarding and well set up for Nordic skiing. Alpine Meadows has really reliable snow and lower prices than its neighbours.
In the south, Heavenly is the biggest of the Tahoe resorts, with 4800 acres and 3800 vertical feet (1150m) of skiable terrain, blessed with jaw-dropping panoramic views of the lake and the mountains surrounding it. The longest run is a massive 5.5 miles. Sierra-at-Tahoe is the snowboarders' top choice, with excellent terrain parks to practise your tricks. For the most reliably deep snowfalls, however, you need to go further still to Kirkwood, which has some satisfyingly gnarly runs for experts.
The cross country ski centre at
Tahoe Donner
near Truckee, north of Lake Tahoe, gives you access to mile upon mile of trails, including a couple of dog-friendly ones and some which take you through thick evergreen forest.
Cross country skiing is the ultimate eco friendly winter activity, just you, the wilderness and your gliding skis...
Yosemite National Park
Situated in the south of the park, Badger Pass is only 90 acres and 800 vertical feet (240m) in extent, but it has bags of character – skiers have been coming here since the 1920s. There are downhill runs to try, but it's best known for cross-country skiing, with 22 miles (35 km) of groomed track and 90 miles (145 km) of marked but unprepared trails. Head all the way out to Glacier Point and your reward is a spectacular view of Half Dome, the park's mighty granite monolith.
Big Bear
In winter, the slopes near Big Bear Lake pack out with locals. The lake, a seven mile wide reservoir in the San Bernardino Mountains east of Los Angeles, is accessible via scenic highways. The twin
Big Bear Mountain Resorts
, Snow Summit and Bear Mountain, lie immediately southeast of the lake and are good for sledding and skating as well as downhill and cross country skiing. Snow Summit has a traditional alpine atmosphere, while Bear Mountain has a youthful vibe and is fantastic for snowboarding.
Mount Shasta
If you've ever wondered what it might feel like to ski down a volcano, Mount Shasta in the far north of the state is the place to find out. Without a significant eruption for two centuries,
Mount Shasta's Ski Park
has 32 runs, most of which are suitable for beginner and intermediate skiers. This region is also notable for its beautiful cross country trails, which are maintained by a community-run non-profit organisation, the
Mount Shasta Nordic Center
.
Find more information on activities in California here:
hiking and walking
,
climbing
,
cycling
and
water sports
Responsible Travel would like to thank the California Tourist Board for their sponsorship of this guide