WHERE TO GO ON CENTRE BASED WALKING HOLIDAYS
---
MAKE THE MOST OF YOUR TIME
Centre based walking holidays are for travellers who want to discover some of the world's favourite and lesser known hiking trails without the transitory lifestyle. The sierras of southern Spain, the lakes of Montenegro and the high Alpine peaks of France all offer unforgettable settings for a walking holiday with self-catering or guesthouse accommodation enabling the freedom to explore or unwind at leisure. Away from the trappings of city life but close enough for day tripping, finding a home away from home allows walkers to really get to know an area and become part of community life. Swimming pools, home cooked meals and traditional village restaurants let relaxation into the walking holiday experience with opportunities to be as energetic or lethargic as the mood dictates. From a lovingly restored guesthouse in the wilds of Transylvania to a Spanish language school close to the Camino de Santiago; this is your chance to walk the world right from your own front door.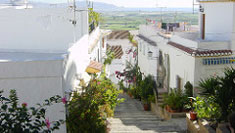 Andalucia
Andalucia outside of summer is perfect for centre based walking holidays with New Year and Harvest fiestas adding to mild temperatures and restful fincas. The Sierra de los Filabres and Sierra Nevada make sublimely surreal settings with whitewashed buildings juxtaposed against blue skies and rosemary, almond and olive groves, to showcase an authentic rural ambience, just a few miles from the Med.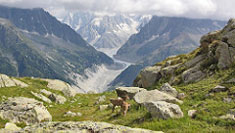 French Alps
The Haute Savoie region of the French Alps borders Italy and Switzerland to offer a beautiful base from where to go walking. Family-run chalets and expert local guides help to turn a centre based walking holiday into an incredibly memorable experience with well-posted routes through the Haut Giffre Valley, leading to alpine communities and possible sightings of chamois, marmots and ibex.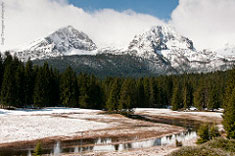 Montenegro
Away from the commercialised coast, Montenegro offers a brilliant base for walking with Lake Skadar National Park, in particular, providing untold hiking routes including an ascent on Mt Rumija. Views over the Adriatic, the central highlands and the mountain peaks of Bjelasica, Lola and Durmitor are simply breathtaking and switching locations is a great idea over the course of a week's worth of walking.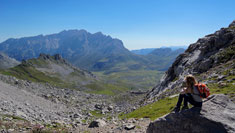 Picos de Europa
Crags, crevasse and chamois combine to create the UNESCO Biosphere Reserve of the Picos de Europa, Spain's original national park and a premier location for unhindered hiking, close to the Cantabrian coast. Learn the language, experience the tranquility and indulge in the gastronomy that remains preserved amongst the peaks and plateaus stretching to the start of the Camino de Santiago.
Poitou-Charentes
This central-west region of France puts walkers in some delightfully diverse stretches of countryside with quiet rural lanes, rugged tracks and woodland paths leading to forgotten hamlets, like La Fazilière and le Beugnon. Find a family run guesthouse, complete with heated pool, grab your backpack and set off for a day on the trail before thoughts of heavenly home cooking tempt you back to base.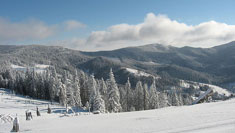 Transylvania
This region of Romania is still something of a hidden haven for hikers with some fabulous trails leading up and through the meadows of the Zalán Valley and into the steeper tracks and high pastures of the Carpathians. What better base for walkers in Transylvania other than a carefully restored guesthouse surrounded by nature, birdsong and the crunch of cartwheels on gravel tracks.


CENTRE BASED WALKING HOLIDAY TRAVEL ADVICE
---
TIPS FROM OUR CENTRE BASED WALKING EXPERTS
June Zaft, co-founder of our supplier Country Walks, extols the benefits of centre based walking holidays:
Packing essentials
---
"It's essential to have comfortable walking boots and we advise when travelling overseas to wear them on the plane just in case bags are delayed or lost. For the same reason, we suggest when travelling with a partner, you each carry some of the other person's essentials. Quality waterproofs are also essential as is a properly fitted rucksack with adjustable chest and waist strap."
TO HIRE A CAR OR NOT…
---
"While it's more convenient not to have to bother with hiring a car, in some destinations it's necessary to get to and from the starting points of various circular walks, particularly if the walks take place in fairly remote areas without access to public transport. And of course you can cover a wider area with access to a car and hence experience a greater variety of terrain and scenery."
Finding familiarity
---
John Vincent, owner of the Cortijo Fuente Arriba apartment in Lubrin, Almeria, extols the virtues of staying in one place: "The local villagers do not speak English but are warm and friendly. At the end of a week's stay our walkers feel a sense of integration, perhaps a sense of being European and certainly have had an opportunity to improve their Spanish by achieving a sense of familiarity."
Local knowledge
---
"Our travellers usually rave about the lovely family-owned boutique hotels we find for them. They also enjoy the scenic variety of the walking routes we create, the comprehensive commentaries we provide on features of interest along the way, and the local food too."
CENTRE BASED WALKING HOLIDAY ADVICE
---
TIPS FROM OUR TRAVELLERS
At Responsible Travel, we think the best people to advise our travellers are often... other travellers. They always return from our tours with packing tips, weather reports, ideas about what to do - and opinions about what not to.

We have selected some of the most useful centre based walking travel tips that our guests have provided over the years to help you make the very most of your holiday - and the space inside your suitcase.
"We found the walking guides provided very useful. We did the majority of the walks. The western walk was our favourite. If you only do one walk - do this one. The panoramic views from the top are spectacular and the second half walking through the olive and almond groves is lovely." – Anthony Morgan walking in Andalucia

"We shared the villa with two families with children from 8 to 12. Great kids who were happy to try anything and in many ways that lively group made the holiday even better." – Jon Aldous walking in Montenegro

"I was doing a beginner's course but you will have more fun and get more out of your stay if you learn a few of the basics before you go. It's not essential but it's nice to chat in the shops and cafes. I brought trekking poles for the first time on a walk and found them useful when we climbed one of the Picos. They were invaluable when we climbed La Ruta del Careas." – Helen Kearney learning Spanish and walking in Picos de Europa

"A perfect rural retreat, with no urban distractions, apart from free WiFi for the addicted. Plenty of choice of walks to stretch the muscles, outside space to relax in around the pool, time for reading as well as social interaction in the evenings. Self contained which was a plus as there are very few local restaurants. We didn't need them as we were very well looked after." – Corynne Cooper staying in Poitou-Charentes

"Do your research and make it clear in advance if there are any specific things you would like to see. It's not a 5 star hotel, but a quirky, charming and hospitable place. If you have any specific expectations with food or accommodation discuss it with the staff prior to booking." – Paul Kearney staying at a count's guesthouse in Transylvania