CHINA WALKING ROUTES
---
MAKE THE MOST OF YOUR TIME
From the Great Wall, an hour's drive north of Beijing, to the terraced rice paddies of Guangxi, close to the border with Vietnam, China is criss-crossed with an incredible variety of walking routes to roll back rural reality as you explore way beyond the typical tourist trail. Keep warm with spicy Sichuan hotpots in the west, adjacent to Tibet; refresh your soul within the tea plantations of Yunnan, in the southwest; and experience spiritual awakening amongst the cloud shrouded temples on China's sacred Taoist and Buddhist mountains that can be found at every point of the compass.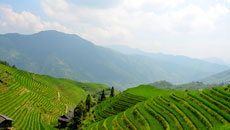 DRAGON BACKBONE'S RICE TERRACES
Melting over the mountains of Guangxi, about 100km north of Guilin, the layered rice terraces of Longji slice into south-central China to showcase the tenacity of the Zhuang people alongside an emperor's plunder of photographic panoramas. Base yourself in Ping'an, Dazhai or Tianto villages and follow the flow of the fields over ornate stone bridges and well-flattened footpaths.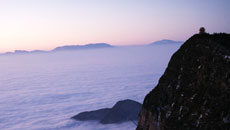 EMEI SHAN
Rising out of the Sichuan plains at over 3,000m, Emei Shan is one of China's four sacred Buddhist mountains and counting the ancient stone steps to the temples, and crowds, at the top takes two to three days. Situated 200km south of Chengdu, the Emei Shan trek leads you through tea fields, bamboo thickets and into the clouds with monastic accommodation enabling a sunrise summit.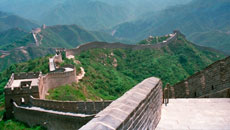 GREAT WALL OF CHINA
The Great Wall of China tracks the Inner Mongolian border to provide walkers with watchtowers and outposts that have been thoughtfully restored or left to the elements. Start at Jiankou, 75km north of Beijing, for sit down slopes against a corrugated mountain ridge. Want a challenge? Head south of Beijing to Hebei where sheer edifices and crumbling battlements offer greater, wilder, adventures.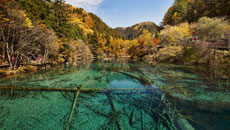 JIUZHAIGOU NATIONAL PARK
In Sichuan, about 425km north of Chengdu, Jiuzhaigou National Park is a haven for hikers with various valley trails leading through primeval forests to reed covered lakes and Tibetan villages surrounded by the snow treasured peaks of the Min Mountains. Shuzheng and Rize valleys invite 15 – 18km trails whilst hiking in Zharu Valley unveils pilgrimage paths to mist masked Tibetan Buddhist monasteries.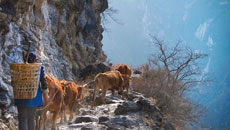 TEA HORSE TRAIL
This former mule route once led to Burma, Tibet and India from the tea producing province of Yunnan. The name stems from the ponies traded by Tibetans for blocks of Chinese tea and walking sections of the trail takes in some of Yunnan's most impressive high-altitude scenery where historic trading towns offer hikers many more comforts than previously experienced by tea-lugging porters.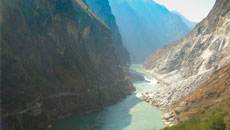 TIGER LEAPING GORGE
Flanked by Jade Dragon Snow and Haba Snow Mountains, both well over 5,000m, Tiger Leaping Gorge in Yunnan province runs for approx 15km to provide fertile terraces for indigenous Nashi communities along a well managed, straightforward footpath. Guest houses and village inns supplement local income and give walkers a taste of life in one of the deepest canyons on earth.


CHINA WALKING HOLIDAYS ADVICE
---
TIPS FROM OUR FRIENDS IN CHINA

Michael Gane, from our supplier Gane and Marshall offers his advice on walking in china:
Where to stay in the southwest
---
"There are lovely traditional guesthouses in Dali, Lijiang and Zhongdian, as well as a number of higher end boutique hotels. We mostly use a mix of locally-owned guesthouses (in Lijiang, Dali and Shaxi) and the Songtsam Retreats once you get up on to the Tibetan plateau around Zhongdian. Elsewhere, on the Tiger Leaping Gorge trail, the trekkers' huts are quite basic, but comfortable."
Where to walk in Sichuan
---
"Mt Emei, in southern Sichuan, is one of the Four Sacred Buddhist Peaks of China. It can easily be visited from Chengdu. It's possible to visit both Mt Emei and the Leshan Giant Buddha (en route) as a day trip from Chengdu, but most travellers will spend a night at the base of Mt Emei if they plan to climb. As many travellers to this region will fly into or out of Chengdu, it's quite a good way to start or end an itinerary."
The problems with parks
---
"Walking in most Chinese national parks is very regimented; almost none allow you to camp. In many you can't bring private vehicles, so access is typically by shuttle bus or cable car and you're expected to keep to fixed routes. Those hoping to get off the beaten path and escape the crowds are often disappointed at just how busy many Chinese national parks are. Northern Yunnan province provides something of an exception as here you have some really quite remote treks, though most are still along prescribed routes. In China's popular national parks and walking trails, hawkers abound. This is particularly the case on mountains that are frequented by pilgrims, such as the four Buddhist Sacred Peaks, and on the Great Wall. Most hawkers are more interested in domestic Chinese travellers than international visitors, but do be prepared to be hassled! You may like to buy something, but if not you can politely decline by saying 'bu yong xiexie' ('no thank you', pronounced 'boo yong shay-shay')."

Gina Eckersley, from our supplier Exodus, suggests where to walk in and around Beijing:
Based in Beijing
---
"You can spend hours walking around somewhere like the Forbidden City or the Summer Palace – the Summer Palace is especially good to try and get away from the crowds a bit more. The Great Wall is obviously one of the most popular places to walk from Beijing – but there are different locations so it's definitely worth doing research – generally the closer the Wall to Beijing, the more tourists will be there (and this is especially busy in summer and at peak times)."
Walking the Wall
---
Wendy Xue, Executive General Manager of our supplier China Adventure Tours, shares her thoughts on walking the Great Wall of China: "For beginners, I would recommend a one- to four-day Great Wall hiking tour covering some famous sections around Beijing, like Jiankou, Mutianyu, Gubeikou, Jinshanling and Huanghuacheng. For experienced walkers, seven- to 16-day Great Wall hiking routes might be more suitable so as to take in the wild Great Wall in Hebei and Tianjin."

Hello.
If you'd like to chat about China walking holidays or need help finding a holiday to suit you we're very happy to help.
Rosy & team.
01273 823 700
CHINA WALKING HOLIDAYS TRAVEL ADVICE
---
TIPS FROM OUR TRAVELLERS
At Responsible Travel, we think the best people to advise our travellers are often... other travellers. They always return from our tours with packing tips, weather reports, ideas about what to do - and opinions about what not to.

We have selected some of the most useful China walking holiday tips that our guests have provided over the years to help you make the very most of your holiday – and the space inside your suitcase.
"When on the Great Wall, take your own roll of toilet paper and keep a few sheets on you. Take your own antiseptic hand cleaner and keep it handy. If it rains, the rain can be very heavy: either accept getting quite wet (not actually that bad) or take truly waterproof clothes. If you buy an umbrella locally, open it and try it before handing over cash." - Sally Payne

"Be prepared for some scrambling on the Great Wall, and a little rock climbing in parts, but for the most be ready for lots of steps of varying heights. You will need plenty of energy, but it's well worth the experience!" - Phyllis Ryan

"One of the great things was the amount of contact we had with local farmers and their families. Despite the obvious language restrictions, using our guide we were able to communicate with them and felt using the homestays for overnight accommodation and for additional meals did benefit the local people." - Lynne Oakerbee

"Pack for all eventualities, especially weather-related. The travelling is tough but the reality is never as bad as expected." - Colin Nelson

"Be prepared for the sleeper trains, there is no privacy on them and if you end up with an end compartment the smoke can really impact you. Also, be prepared for the squat toilets, they really take some getting used to!" - Lisa Calmiano