Southern European and North African rock formations can be climbed throughout the year, but do avoid summer if you're looking for success without the sunburn.

Andalucia, Morocco and Greece's Dodecanese Islands are year round climbing destinations with spring and autumn generally considered the best time to go. In summer, heading higher up in Europe is a good idea, especially for experienced climbers, with the summit of Mont Blanc often more accessible during Jul and Aug. Ecuador's volcanoes tend to make their own weather conditions so there's not really a best time to go, just be prepared for sunshine, showers and snow. Kilimanjaro is another all-year-rounder although you'll want to avoid the rainy season from Mar-May, just to be on the safe side.
WHEN TO GO ON A CLIMBING HOLIDAY
Mt. Aconcagua, Argentina: A great winter destination with December, January and February considered the best time to climb. Mt. Blanc, France: A short weather window makes June, July and August not just the best time climb Mont Blanc but also the only time. Still, prepare for harsh conditions – even in summer. Cayambe Volcano, Ecuador: Open to climbers all-year-round, just be prepared to experience all manner of ecological variations from sub-tropical to Arctic. Also take note of volcanic activity which may put paid to a climb. Mount Cotopaxi, for example, is currently off limits. Dodecanese Islands, Greece: As with other Mediterranean regions, the best time to climb on Greek islands, like Kalymnos, is either side of summer to avoid peak season for heat and crowds. April to May and September to October are generally considered the best months to rock climb in Greece. Mt. Grossglockner, Austria: Late June to mid-September is the best time to climb this Austrian beast. Mt. Kilimanjaro, Tanzania: Kili is suitable to summit throughout the year, just avoid the rainy months of March, April and May. Sierra Nevada National Park, Spain: Another all-year-round destination for rock climbers. However, the heat of July and August can be searing if you're not able to take advantage of shaded gorges. Toubkal National Park, Morocco: Even in winter it won't get cold during the day although evenings will require extra layers. The best time to climb in Morocco is in April to May and September to October.
Cultural climbing
Omar Camarero, Managing Director at our supplier Rug&Rock Adventures, explains how climbing holidays are connecting climbers and local communities:
"I think it's important for a holiday to not only be about the climbing but also about many of the other things that a location has to offer. Meeting the people who live there, for instance, and finding out more about their relationship with the rock formations. Is climbing an imported activity or does it have an existing connection with local people? It's interesting to find out if this connection has been built and what the international or local climbers are doing to create structures in the sites."
Mont Blanc inspiration
Alistair Grice, experienced climber from our supplier Exodus, shares his thoughts after successfully reaching the summit of Mont Blanc:
"I was fortunate enough to reach the summit of Mont Blanc (via the Gouter Route) in August 2015. I've made it to the top of numerous 4,000m-plus peaks with Exodus over the years, and I have to say, Mont Blanc is a unique experience in terms of the speed of ascent and the fickle nature of the weather window. Conditions are really unpredictable in this part of the French Alps during the summer. Suffice to say, excellent aerobic fitness and good levels of stamina are key to success as well as keeping one's nerve on crossing the Grand Couloir. The rewards on reaching the top of Western Europe make Mont Blanc an experience not to be missed."
Safety first on Mont Blanc
Safety first on Mont Blanc
Chloe Knott from Exodus explains how safety is always a priority:
"Groups contain a maximum of six people. We provide a professional UIAGM/IFMGA English speaking mountain guide; however, their role is specifically that: a mountain guide. Their main objective is to train you in basic techniques, and to enable you to complete a safe and successful ascent. They have not been asked to act as a standard Exodus group leader, and travellers should not expect the same personal level of service. It is often, however, the guide who provides inspiration for that final push to the summit and often becomes a huge factor in the overall enjoyment of the climb. For the summit attempt, itself, there is always a 2:1 ratio of climbers to guides."
Our top Climbing Holiday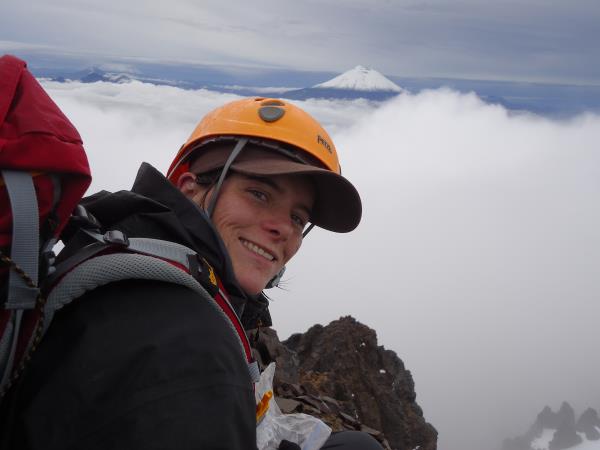 Climb three stunning peaks, included Cayambe Volcano (5790m)
From
£1362
6 days
ex flights
Small group travel:
2023: 27 Mar, 3 Apr, 10 Apr, 17 Apr, 24 Apr, 1 May, 8 May, 15 May, 22 May, 29 May, 5 Jun, 12 Jun, 19 Jun, 26 Jun, 3 Jul, 10 Jul, 17 Jul, 24 Jul, 31 Jul, 7 Aug, 14 Aug, 21 Aug, 28 Aug, 4 Sep, 11 Sep, 18 Sep, 25 Sep, 2 Oct, 9 Oct, 16 Oct, 23 Oct, 30 Oct, 6 Nov, 13 Nov, 20 Nov, 27 Nov, 4 Dec, 11 Dec, 18 Dec, 25 Dec
If you'd like to chat about Climbing or need help finding a holiday to suit you we're very happy to help.

Flexibility & fitness
Omar Camarero, from Rug&Rock Adventures:
"Climbing is much the same as other sports in as much as you can start from zero and work your way up. Our training can be adapted for all levels. We get experienced climbers that need just some guidance on where to find the types of route they like, such as single or multi-pitch, or with a specific grading. We also get people who've never climbed before who need some basic training and easy routes. In terms of physicality, it helps if you're fairly fit, of course, but it's surprising just how much 'technique' plays a role in climbing. You can see people who might not be able to do more than a couple of pull ups successfully climbing 6+ routes. A huge proportion of climbing consists of training the mind rather than just the body. This is the reason why we've recently started yoga and climbing tours – they're perfect match for mind control and body fitness."
Climbing chat
Omar Camarero and Mike Sowden, from Rug&Rock Adventures:
"Conversations between climbers usually won't stray too far from climbing. How far they climbed, which route they preferred, a new movement or technique that they discovered, how painful the rock is on Todra. That sort of thing.The more experienced climbers tend to chat a bit about the gear they use and why they prefer this or that brand. Beginners are usually just amazed at what they've achieved and the challenges they faced on their first attempts. We love being in these conversations but we try hard also to make rock climbers aware of other things. Experience tells us that adventurers really want to make that connection with where they're visiting, even if they spend most of their time hanging from a rope hundreds of feet in the air."
And some reflections from our holiday reviews
Responsible Traveller, Anthony Harpur, climbed Mont Blanc
"The scramble up the side of "Le Grand Couloir" was unforgettable. My advice is to get fit before going. Upper body strength is very useful for the scrambling sections. We used local guides and stayed in eco-friendly refuges whilst on the mountains. This was one of the most enjoyable and rewarding holidays I have ever been on. The training was thorough and to the point. The guides were knowledgeable and friendly and the accommodation and food were excellent."
More about Climbing
Get to grips with the basics, discover what rock climbing entails and find out why respecting the rock and the surrounding environment is just as important as understanding the wishes of local people.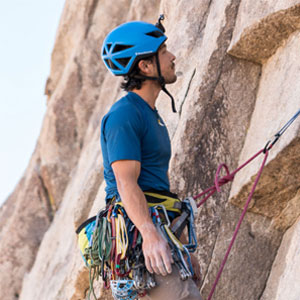 Get to grips with the basics, discover what rock climbing entails and find out why respecting the rock and the surrounding environment is just as important as understanding the wishes of local people.