Perhaps nowhere is as famous for salsa as Cali, on Colombia's east coast. There are more salsa clubs, more salsa schools, more salsa competitions here than anywhere else. The dancing starts in the afternoons and continues all night, but although the rhythms are pulsating it is not a heavy drinking culture, more one about exercise and sociability. After all, you can't drink too much when you need to be careful with your choreography.
Salsa was brought to Cali by Colombian sailors returning from New York in the 1970s, and it resonated immediately, with many salsatecas springing up especially in working class neighbourhoods. Cali's substantial population of people from African descent, a legacy of the slave trade, embraced the music and dance that they associated closely with black culture in Cuba. Early working class festivals that incorporated salsa music would often play records at higher speeds than was intended, giving Cali salsa dancing its famous intensity. You'll hear lots of tinkly piano, and trumpet features heavily.
Cali salsa is characterised by its frenetic footwork, with hips twisting side to side; a classic posture is the couple holding hands with their arms outstretched to the side. Dress tends to be showier than the casual salsa cubana, with high heels more common. Purists, typically people from older generations, keep their feet on the ground in the traditional style, couples moving side to side across the dance floor as opposed to the back-and-forth you're more likely to see in the USA. By contrast, many younger caleños flirt with more showy, experimental techniques that include lifts and somersaults. As in other countries, salsa in Cali leaps the boundaries of age, race, class and creed, making it a truly democratic artform and the salsa clubs themselves are full of interesting characters.
If you'd like to chat about Colombia or need help finding a holiday to suit you we're very happy to help.

What do salsa dancing holidays
in Cali involve?
A typical Cali salsa dancing holiday sees you going through your moves with a professional partner over 10 one-hour private classes, across the course of a week. Lessons are usually scheduled in the afternoons leaving your mornings open to explore Cali. The city boasts magnificent architecture from colonial days, especially in barrios such as hilltop San Antonio, where you will be staying, and around the historic centre. The area around the river is scenic and sedate, with many good restaurants and museums, while the best views of the city are unquestionably those found at the Cristo Rey statue in the nearby Crystal Hills, surrounded by artworks etched into the ravines.
You'll be learning Latin styles of salsa, perhaps including the most popular form in Cali of the moment, the choke, with the option to try out some mambo or bachata too depending on your own preferences. Professional dance tutors and guides alike are drawn from the local community, so these holidays are great for any experience level to either give you a confident grounding in Cali salsa or improve your technique. It's useful to get the hang of some basic Spanish phrases to communicate with your instructors, as lessons do mainly take place in Spanish.
That takes care of your days. But it is in the evenings that Cali really comes alive, and you will be accompanied by your instructors and other students on tours around some of the city's top music and dancing nightspots, such as the salsa clubs around Juanchito to hit the dancefloor alongside the locals. Expect an electric atmosphere where you'll be encouraged – no, unable to resist – showing off your moves.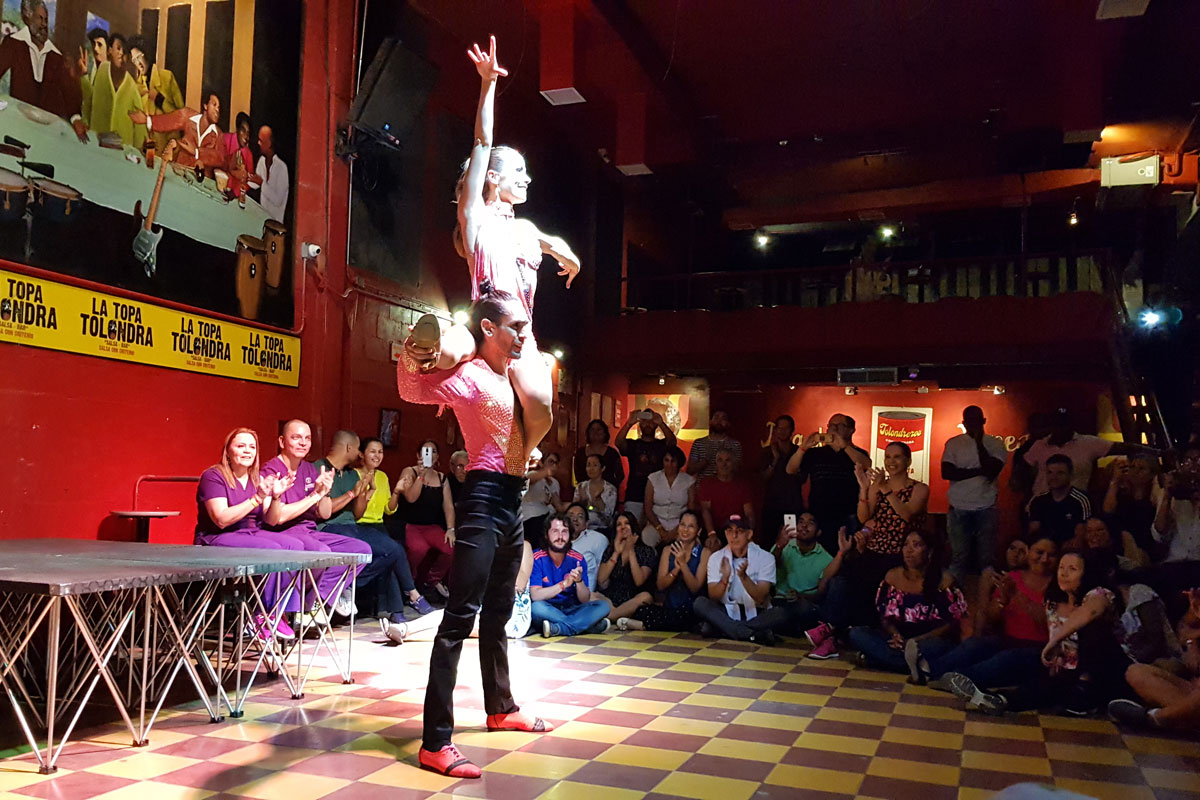 Cali Salsa Festival
Cali salsa dancing holidays can be booked all year round, but if you really want to see what makes this Colombian city the 'salsa capital of the world', visit in September. The annual World Salsa Festival is an immensely exciting and prestigious event, thousands of the world's leading salsa musicians and dancers congregating in colourful costumes to take part in competitions. Professionals and amateurs, and group line-ups with live orchestras, provide a backdrop to four days of wild partying that also features public concerts and expos, workshops, talks and discussions. It is an incredible way to frame your own dancing holiday, but you'll need to book early.