Everywhere you go in Colorado you will see signs of a people who care about these extraordinary landscapes of which they are stewards. Solar panels abound, for example, and with 300 days of sunshine they would be mad not too. But also this state is very susceptible to climate change. With raging forest fires and floods of a national disaster capacity over the last few years, they can't ignore nature's power in these extreme environments.
The most pioneering area of Colorado in terms of creating real and transparent change has to be Aspen. Conservation and regeneration is part of its heritage, having been revived from mining to mindful town in the 1940's when industrialist Walter Paepcke started a movement to create a place that 'nurtures mind, body and spirit'. This 'Aspen Idea' is still at its core. The Aspen Skiing Company is a world leader when it comes to conservation and sustainability, led by its Guiding Principles that were created in 1996 and which are now in their 17th edition. As Auden Schendler, Vice President of Sustainability at Aspen Skiing Company states in his recent book, "Getting Green Done", to achieve any sort of conservation or sustainability, we need first and foremost to tackle climate change. Changing lightbulbs isn't enough. So, Aspen's move to create change involve changing national policy on climate and, at present they are engaging people at the top of their game in US winter sports to help them lobby for such change. In true Colorado style they like to think big in Aspen, and so the
Aspen Skiing Company
has also partnered with local energy companies in a pioneering project to capture methane gas vented from a coal mine to generate carbon negative electricity. They have also developed a hydroelectric plant of their own and have invested in a vast solar project. Their natural energy for creating change just never runs out in Aspen.
Another impressive initiative is the
Aspen Center for Environmental Studies
(ACES) which, as well as providing local children with a state of the art education field center, and really impressive programme of events and seminars for visitors, also pushes to influence policy at state and national level. For example their recent
State of the Forest Report
tackles the fact that, nationally, forests have experienced unprecedented change in the past few decades in the form of tree mortality, insect and disease outbreaks, and wildfires. Using detailed research from their own doorstep they show how vital the forests are not only for maintaining biodiversity, but also as a way to sustain tourism and to protect against climate change. So with this research they seek for urgent action to be taken at national level.
The conservation of ranches is also vital to Colorado's cultural and natural heritage, not only because they account for millions of acres, but also because they preserve animals like bison, which were a dying breed a few decades ago. Organisations like
Ranchlands
are leading lights in this field. At their Zapata Ranch, for example, they not only conserve wild bison but maintain the ecological balance of their grasslands, previously a golf course, which are now being restored to their native state. Working in partnership with nonprofit
Nature Conservancy
which leads exemplary conservation projects around the world, Zapata is a jewel in the crown of Colorado conservation.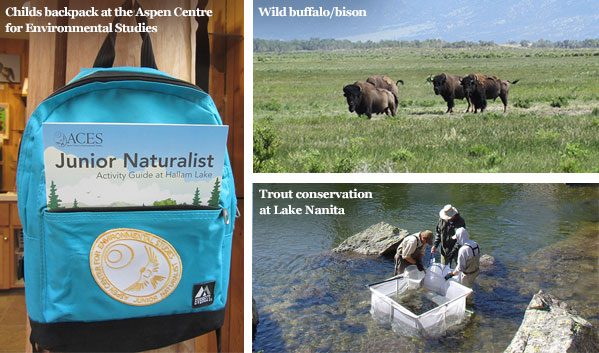 The Rocky Mountain Nature Association
is also successfully climbing mountains in terms of educating young and not so young about conservation issues within the Rockies and, in particular, in the Rocky Mountain National Park, with which it partners. Created in 1931 to create educational literature, it now runs a vast array of seminars, programs and field trips, bringing leading experts together to inspire us on everything from trapping and banding boreal owls to discovering the thirty species of orchids that grow wild in the park. They also run coach tours with a naturalist guide on board enabling a reduction of traffic on the park's roads. Check out their winter tours too, when you can see elk and deer grazing in the snow, or take a three day backpacking experience into the wilderness areas of the park with an expert who knows all the best spots to show off its biodiversity.
Conservation Colorado
is a charity that keeps abreast of many environmental issues within the state, with a mechanism to petition the Colorado Senate on everything from the quality of drinking water to tackling violations within the oil and gas drilling industry. As well as this high level approach, it runs educational hikes and seminars.
The Colorado Wildlife Federation
has been going for 61 years now and is another organization that isn't afraid to take on the big picture. In this case it is energy development, which is considered the greatest threat to Colorado's wondrous wildlife. Although it accepts that energy is a factor of the modern world, it seeks to protect the habitat, migration corridors, reproduction areas and waterways for which Colorado is steward. If you enjoy the wildlife watching on your trip, you can say a thank you with a quick donation to help their important work, so much of which is led by volunteers.
• Read more about wildlife in Colorado