Nearly all towns have bike hire outlets too. Such as the city bike scheme in Denver, called the
B Cycle
, aimed at short cycles of thirty minutes maximum, after which you dock it in one of the cityís 83 stations, go about your business, and then pick up another one again. All for $8 a day. Or Fort Collins which has been designated Platinum Level Bicycle Friendly City by the League of American Bicyclists, where you can hire a bike and head out along a
series of trails
such as along the restored Poudre River front. The important thing about biking in Fort Collins is that it nearly always ends up with a beer, with breweries ten a penny here. Check out the
brewery guide
,
the innovative Bike Library
and plan your cycle trail accordingly. Just leave it for the end of the trail, for responsible cycling and all that.
Cycling and supping seems to be a theme in Colorado, with the Palisade
Fruit and Wine Cycle Trail
also a wonderful thing to take on. Located in the Grand Valley with the dramatic, red dusty backdrop of Mount Garfield, part of the Book Cliff mountain range, as well as the vast tableland known as the Grand Mesa. You will want a pannier for this one as you are going to want to buy a few bottles along the way.
Rapid Creek Cycles
is a very helpful bike hire outlet, which also has super speedy electric bikes if you want to ease your way to the wineries. Or hire a mountain bike if you want to take on the tougher Rim Trail which is directly accessible from the shop. Originally used by miners and ranchers, it has been restored to offer all the singletracks, switchbacks and stunning views that you could want.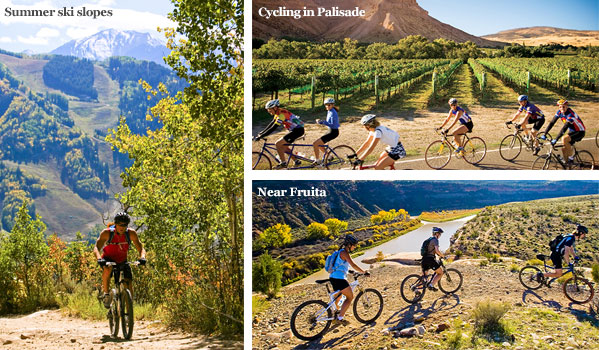 Aspen and Snowmassís hills are alive with the sound of mountain bikes once the snows melt. Rent a bike from or take a guided tour with
Blazing Adventures
, for example, and hit the Rio Grande Trail which goes all the way to Glenwood. They also offer a half day tour to the famously beautiful Maroon Bells Mountains and Lake which they stress is a downhill cycle, as they drive you up the hard bit. In Glenwood Springs rent a bike from
Canyon Bikes
who also offer a shuttle into Glenwood Canyon, allowing you to just think about taking a very cool, Colorado style cycle back along a 20 kms stretch of the Colorado River. You can even take a trip to the hot springs at the end of the day to ease off the muscles. Both of these are on converted railways, and the
Rails to Trails Conservancy
which restores a lot of these throughout the US is a great resource. Just put Colorado into their search box.
Another phenomenon popular in Colorado is the fat bike, a bike that has a frame built wide enough to use a very wide tyre, capable of getting through snow. Although originally used in winter conditions, they are often now hired year round as they can cope with severe back country conditions. Check out The Hub Bicycle Shop in Colorado Springs (which also runs weekly cycles) or
Paragon Outdoors
in Telluride, where you can take the free cable car up into the mountains and choose one of several trails to come back down, if you donít fancy tackling the ups.
ē Read more about Colorado activities: winter sports & skiing, hiking & walking, horse riding and water based activities