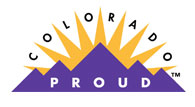 Beef and lamb, as well as bison, elk and venison are on many a menu in Colorado, with mountain farmed sheep and prairie cattle a major source of income in the state. And with an innate connection with the land, Coloradans were way ahead of the game when it comes to the 'farm to fork' movement. It is the norm rather than the exception when eating out, and waiters won't look at you strangely if you ask for something seasonal and local. Look out for the Colorado Proud symbol when shopping too, to ensure it is local.
As a land locked state it is always a little surprising to see fish on the menu, but of course river fishing is very prolific in Colorado and, it even has a State Fish – the greenback cutthroat trout, which sounds suitably Coloradan in its feistiness. And for dessert? Colorado is fecund with fruit, with farm stands and shops in the northwest towns of Palisade and, rather gorgeously, Fruita, both bursting with peaches and cherries in summer. A good starting point for finding a farmers' market on your travels is the
Colorado Farmers' Market Association
.
Here are just a few starters from our menu of foodie favourites that we were able to sample while travelling around the state.