Microbreweries and wineries in Colorado
---
WHAT TO DRINK IN COLORADO
Grapes and snowy mountain tops seem unlikely bed fellows but vineyards in Colorado thrive, particularly in the Grand Valley in the northwest, which takes its name from the Grand River, the historical name of the Colorado River which runs through it. The valley is already noted as a major fruit growing region, with a large number of orchards already thriving in the 300 days of Coloradan sunshine and exceptionally dry conditions. Wine is one of Coloradoís most delicious secrets, however. They are all small wine producers which is why you wonít find a Coloradan wine on most European menus, even though there have been grapes grown here since 1890 with 120 wine producers here now. The Prohibition in 1916 put a stop to that though, which is when peaches took over towns like Palisade where it is still a big produce, except nowadays they make peach wine too. Colorado Wine is an excellent source of information with interactive maps. But the best source of information is the wine list. Just skip over the Californians and go straight for Colorado.
And maybe it is something in the water, but it feels as if beer should almost flow from the taps here as there are so many breweries in Colorado. There are 250 breweries and Colorado ranks as the USís number one state in terms of gross beer production, as well as being home to four of the top fifty brewing companies in the nation. It also ranks third in the number of craft breweries with 200. And you can hit the hard stuff too in Colorado, with 26 craft distilleries to seek out along your travels. Here are just a few of our favourite watering holes, from brewery tours to wine festivals that you can sample while on your way around Colorado. For more information on this booming business, see
Colorado Tourismís
website.
Palisade
---
Palisade. Colorado's version of Napa Valley, with the highest concentration of wineries in the state. A very pretty town nestled into the slopes of the Grand Mesa plateau, get hold of the
wine trail map
and discover these small vineyards and wineries which all do tasting sessions. You can also take a
cycling route around them
, but make sure you have a pannier as you will want to buy a bottle or two. Then head to the nearby Colorado River for a picnic, a Palisade Pinot in hand, to watch the sun set.
Paonia
---
Paonia
. It sounds like a flower, and it certainly is a blossoming place off the usual tourist trail. Located in the North Fork River Valley there are so many hidden vineyards here, and in the neighbouring towns of Hotchkiss and Crawford, it is like playing a rather delightful game of hide and seek. It is so remote and charming here, that many of these vineyards are run by people who have discovered this secret valley and given up Ďreal lifeí for one that smells and tastes a lot sweeter. There is also a very strong organic movement which you can find out more about on the
Valley Organic Growers Association
website. Once a year they do an Uncorked Festival when they all open up their doors to the public, but in the meantime, they are all happy to greet visitors.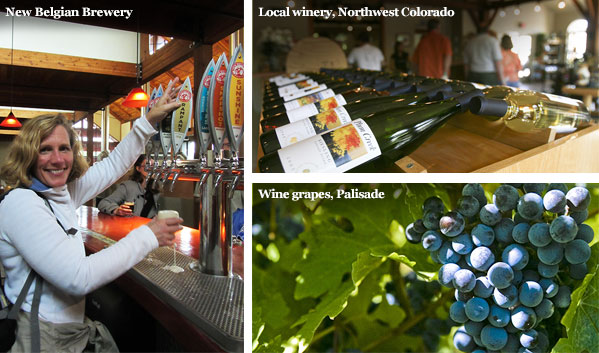 Mesa Winds Farm & Winery
---
Mesa Winds Farm and Winery
, Hotchkiss. A more basic farm stay than some perhaps at first sight, but donít judge a book. Staying in restored fruit pickersí cabins, the hosts Wink and Max are as sweet and refreshing as their own peach wine. They are also representative of some of the extraordinary wine growers who dominate this high altitude valley. People who have given up city lives to live off the land, and are doing so sustainably. This is organic farming as it should be, with rare babydoll south down sheep grazing around the vines, creating natural fertilizer and keeping grasses low. Eat freshly picked peaches and apples for breakfast along with the finest pancakes, or buy their own lamb and cook it for dinner, washed down with served with their own Pinot Meunier.
Fox Fire Farms
---
Fox Fire Farms
, Ignacio. As well as having a fine collection of Coloradan Rieslings, Chardonnays and Cabernet Sauvignons, this beautiful vineyard has Friday night music sessions, special dinner nights when the chef showcases food grown on this and surrounding farms and a professional wine sommelier matches it with local wines. These sell out quickly so keep an eye on their website. Considered the southwestís premier certified organic farm you can also stroll in the vineyards, sample grapes and wine, and at only half an hour south of Durango, you can bring a picnic. Because you donít have to go far to get the wine.
New Belgian Brewing Company
---
New Belgian Brewing Company
, Fort Collins. These brewery tours are probably one of the most popular tourist attractions in Fort Collins, booking out a couple of months in advance, with lots of repeat customers. Because this is a very fun place to hang out. Not simply because it has a lot of great beer available, but because it is just cool. They have one of the best, and most transparent
sustainability policies
out there too, and are prolific philanthropists within the community. For example, they co-initiated the
Save the Colorado campaign
with the Clean Water Fund in 2009 to protect the threatened Colorado River. It is 100% employee owned, and you can feel the optimistic buzz in the air. Or maybe thatís just the beer.

Derek Diaz, guide at New Belgian Brewery
Derek Diaz explains the brewery's 3 core values: 1) to create world class beers, 2) to be sustainable and 3) to have fun! [01:44]
Woody Creek Distillers
---
Woody Creek Distillers
, Basalt. You might drive past this small business without realizing that it is one of the finest vodka producers in the state, just opened in 2012. Made from fresh, straight from the farm down the road potatoes, which are harvested daily and brought straight to the conveyer belt to be washed, mashed and boiled. Most vodkas are made from corn these days, but this is the real thing Take a tour (after 4pm) and have your arm twisted to do some tastings. Neat, or in one of their expertly made cocktails. You can take the bus here from Aspen by the way, which is handy when it comes to cycling. You can also cycle here from Snowmass for a lovely day out, along the Snowmass to Basalt section of the Rio Grande Trail, and then put your
bike on the bus
to get back again as they all have bike racks. Donít miss the superb
Woody Creek Tavern
nearby, one of the best in the state.
ē Read more about food in Colorado
Responsible Travel would like to thank the Colorado tourist board for their sponsorship of this guide
---
Photo credits: [Top box: Denise Chambers/Miles: Colorado] [New Belgian Brewing Company: Catherine Mack] [Local winery, Northwest Colorado: Matt Inden/ Miles: Colorado] [Grapes: Matt Inden/ Miles: Colorado]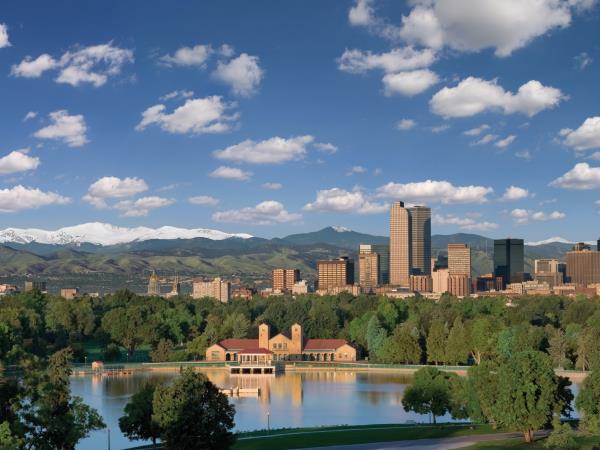 Explore the varied National Parks of the United States.
From
£3700
18 Days
inc UK flights