Scenic Byways in Colorado
---
ZOOM WITH A VIEW
Colorado is big, the same size as New Zealand in fact. So people do drive. They hike, cycle, ski and kayak, but they all drive. And consequently, in 1991, Congress created a programme to support various unique routes which are, in themselves, tourist attractions, thanks to their different offers, which might be cultural, natural, scenic or historic. These are called National Scenic Byways, or America's Byways, and there are more of these in Colorado than any other state, with eleven in total. As well as taking you through landscapes that will remain imprinted on your brain, they also lead you through small towns that would otherwise fall off the tourist map if main highways were the only routes that tourists knew about.
Each state has its own scenic byway programme too, so as well as its national byways, Colorado has fourteen of these, giving a total of twenty five gorgeous places to drive. Your GPS might not always take you the scenic route but never take an aversion to this diversion. They will lead you up to the peaks, alongside canyons and through river valleys that you will never regret missing out on. The roads are very well maintained with viewpoints, information boards and weather warnings on their websites, as well as excellent signage to watch out for regarding wildlife crossing, the danger of rock fall and sharp bends. Scenic Byways in Colorado are not roads to drive on at speed but to take your time and enjoy the views. Because Colorado is very much about the journey of getting to a place, rather than just what you see when you get there. So, pack a picnic, bring plenty of water, your favourite driving music, a camera and enjoy the ride. And make sure you have plenty of petrol before you hit the road too. Gas stations are not so scenic, after all. And if the weather is looking stormy, plan your route accordingly as you are really out in the elements on some of these routes. We recommend local website
CoTrip
for local road conditions.
The Trail Ridge Road which goes through the Rocky Mountain National Park in the north is probably the most famous Scenic Byway in Colorado, taking you higher and higher into its dramatic alpine peaks, crossing the Continental Divide and offering landscapes where you are revelling in sunshine filled meadows one minute, then standing in your shorts in the snow just a few kilometres ahead. Aim to take your time here if you have just arrived in Colorado as that feeling of being enveloped by peaks in all directions is quite overwhelming at first. Binoculars are a must, as you can stop at viewpoints and purvey the land for elk, bighorn sheep or eagles as they too enjoy their natural habitats. You do need to pay an entry fee into the national park for this one, but at $20 this is one cheap toll. It also lasts for seven days so you can come and go from the park as you choose. Drive this in the autumn as the trees transform and you will need a lot of memory on your SD card. Although these striking images are ones you will never forget.
The Top of the Rockies Scenic Byway hits the real highs of Colorado, with the state's tallest peaks, Mount Elbert and Mount Massive, standing side by side. Heading through old mining towns, it crossed the Continental Divide twice and follows the Arkansas River, with its accompanying wildflower filled wetlands all the way up to its source near Fremont Pass. And if you are heading to Aspen, this Byway now includes the historic Independence Pass which leads you straight into town, following the same route that the prospectors took and before them the Ute Indians on their seasonal travels. This Pass is best not tackled in bad weather and is closed for most of the winter.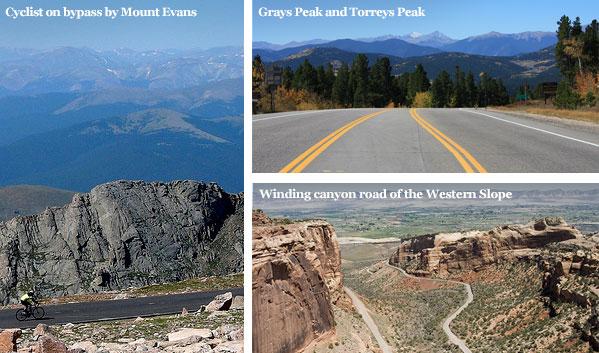 Another way to follow in the golden footsteps of prospectors is on the Gold Belt Tour, a Scenic Byway in the east, guiding you through the old mining towns of Canon City, Florence and Cripple Creek. Indeed, you still spot people panning for gold on the riverfronts these days, sieving and seeking as a hobby. Pikes Peak is the dominating mountain here, and you will drive along narrow stretches where you have no option but to slow down and feel the power of the rock that protects you from the elevated elements.
The San Juan Skyway in the southwest takes about six hours to drive, but you could easily take a few days to drive this one, especially as each town along the way will stop you in your tracks by its prettiness. Telluride is probably the most picture postcard of them all, with Durango, Ouray and Silverton each contributing special qualities of their own. So special they call the segment from Ouray to Silverton the 'Million Dollar Highway'. Cutting through the five million acres of San Juan National Forest, this is a treelined route like no other and so very popular in the autumn when the trees start to turn. And then it also leads to the Mesa Verde National Park, with its UNESCO World Heritage Site of ancient ruins and cliff dwellings.
Another Scenic Byway of note, and the only one dedicated to archaeology is The Trail of the Ancients which takes you to places of Puebloan importance as well as present day Ute and Navajo Indian reservations. With stops at National Monuments such as the Hovenweep National Monument and Canyon of the Ancients, this is a trail that tracks the stories of Colorado's people and their legacies.nWith plenty more Scenic Byways across prairies and plateaus, mesas and mountains, you will never tire of driving in Colorado. You can see a detailed map and explanation of all the other treats
here
.
• Read more about Colorado's highlights
Responsible Travel would like to thank the Colorado tourist board for their sponsorship of this guide
---
Photo credits:
[Top box: Denise Chambers/Miles: Colorado] [road:
David Herrera
] [Winding canyon road: Matt Inden/ Miles: Colorado] [Cyclist on bypass by Mount Evans:
F Delventhal
]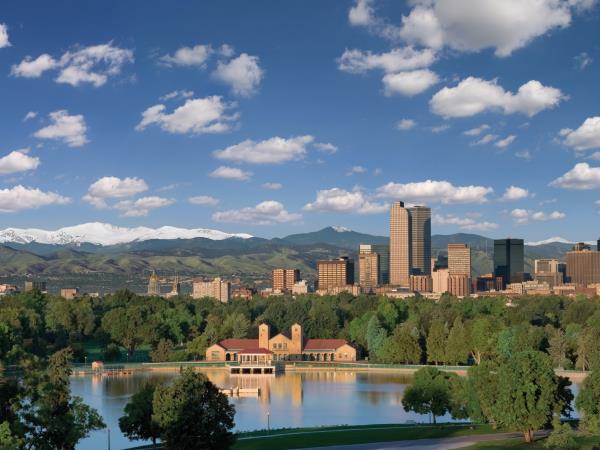 Explore the varied National Parks of the United States.
From
£3700
18 Days
inc UK flights