Winter Sports & Skiing in Colorado
---
COLORADO IN THE SNOW
Just about everyone in Colorado skis. You canít really avoid it, with snow falling anytime from October until May. It has been known to snow in July here, even though it might be thirty degrees during the day, the next morning there could be snowfall. So, it is everywhere. And for a long period of time, with Coloradoís ski and snowboard resorts usually open for seven months of the year. Like all American states, they like to boast the biggest and best, but the fact that they have the highest altitude lift-served terrain in the country certainly is worthy of note. For information on the length of each resortís skiing season, check out the
Colorado Ski Country USA website
, which you will note also has a strong feature on climate change.
One of the things that stands out about Colorado ski resorts is that they all have a small town feel about them. Even the big ones like Vail or Winterpark are so perfectly enveloped by mountains they feel almost embryonic. And because skiing is just a big part of life in Colorado, it doesnít have the Ďjust for the richí feeling that many European resorts have. Aspen is probably the big exception, the St. Moritz of the US, with celebrities pouring into to do the Aspen thing. Unbeknownst to many of them, however, Aspen is actually one of the most sustainable ski resorts in the world, having put in place a set of pioneering Guiding Principles in 1996, all of which are reviewed regularly, and are now in their 17th edition. They are aimed not only at combatting climate change, but also at sustaining the ďAspen Idea,Ē emanating from the 1940ís, which is all about creating a place which nurtures mind, body and spirit.
Aspen is a leader in sustainable skiing in Colorado, and you can read more about its efforts to create genuine change in
Getting Green Done
, a book by Auden Schendler, Vice President of Sustainability at Aspen Skiing Company. Aspen works hand in hand with the resort of Snowmass which is also very green, but more family orientated than Aspen. It has a ski in-ski out rather than wallet in-wallet out feel about it, with accommodation right on the slopes so you can pop in and pick up a sweater and hop straight back on your skis again. The transformation of these towns from mining centres to ski centres has been extraordinary over the last fifty years. This sustainable switchover is also a feature of small towns like Telluride, Silverton, Crested Bute and Breckenridge, where the long ski season keeps them alive and very much kicking.
You donít need to hit the resorts to enjoy the snow though. You just need a pair of cross country skis, snowshoes or a sled and you are off, with many of Coloradoís myriad hiking trails becoming back country skiing routes in winter. Such as Rocky Mountain National Park which caters for back country skiing, snowshoeing, sledding in its Hidden Valley and also has national park
ranger led trips
such as snowshoeing for beginners. You can rent skis in nearby Estes Park.
ē Read more on walking and hiking in Colorado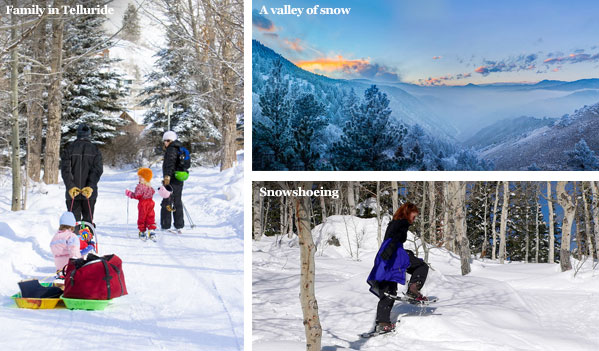 It is so great when silent skis take over from diesel driven cars and as
The Black Canyon of the Gunnison National Parkís
fantastic Rim Drive is closed in winter, the park authorities leave it unploughed so that it becomes a ski trail. They welcome snowshoeing on any of the hiking trails, although not in the inner canyon. Similarly, the Mesa Verde National Park creates trails for cross country skiing, and they also run
guided hikes
in winter.
Some other quirky features of winter activities in Colorado include night time ski biking, using a bike like vehicle which has skis instead of wheels. Using a head torch and, most importantly, a guide, they head down the slopes with the reflection of moon off snow to lead the way. This is available at several resorts including Vail and Winter Park. Some other resorts such as Keystone also do night skiing by lighting up their trails, although somehow it seems more natural to let the pistes replenish a little at night. Maybe go for a moonlit snowshoe trip instead, which is a little bit more mellow and lower impact on the environment, and you can do in Durango. Catching the last lift up of the day, you hike back down through pristine back country, watching Coloradoís ever present sun set as you go. Vail also offers a few guided, moon-lit snowshoe tours with an astronomer, so you can read the stars when the sun has set.
The other thing that you will find in Colorado in winter are fat tyre bikes, which are a bit like the 4x4 of the bike world enabling you to gain traction on snow and ice. Slightly controversial as many skiers donít want an invasion of cyclists during their season, and are considered by many to be a bit of a fad. They can be found on groomed multi-use trails at some of the Nordic Centres such as Breckenridge Gold Run Nordic Ski Center and Snow Mountain Ranch Nordic Center. The jury is still out on whether Ďfatí will go from fad to permanent fixture though, with the Cross Country Ski Areas Association saying that they are keeping a tight eye on progress. The main issue is user conflict on the trails, as well as the fact that snow conditions have to be hard enough so that the tyres donít damage the trail by making deep tyre ruts or indeed ruining the groomed tracks.
One other growing winter extreme sport is ice climbing. The rock climbers have to do something in winter right? Because letís face it, you canít stay indoors in Colorado. Ouray is the capital of this sport, with the worldís first official ice park, so you can have lessons and try it out here. If you dare.
ē Read more about Colorado activities: water based activities, hiking & walking, horse riding and cycling
Responsible Travel would like to thank the Colorado tourist board for their sponsorship of this guide
---
Photo credits:
[Top box - Skiing Aspen: Snowmass & Aspen Tourist Board] [Snowshoeing:
Lee Coursey
] [Snowy valley:
Zach Dischner
] [Family in the snow: Matt Inden/ Miles: Colorado]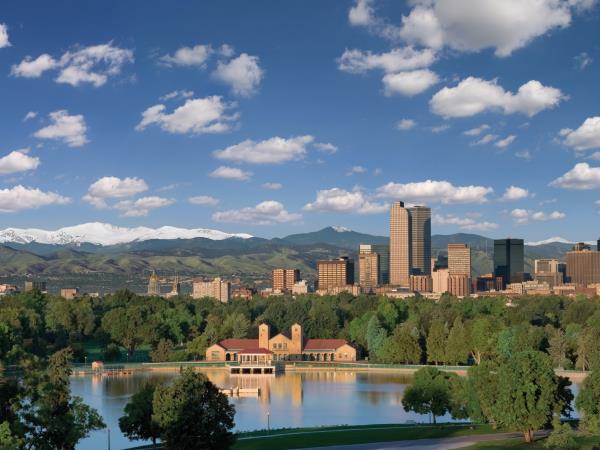 Explore the varied National Parks of the United States.
From
£3700
18 Days
inc UK flights