Things to do on a cross
country skiing holiday
Hut to hut
For those who want to swap quotidian for quirky, these trips out into truly wild winter wonderlands have the X country factor. For the more experienced cross country or downhill skier, these are guided by mountain experts, as you head into remote, elevated environs and stay in mountain huts along the way. Some cosier than others, but all in incredible locations. Such as France's Pyrenees National Park, where you can stay in mountain refuges at over 3,000m, or the far northern wilderness taiga region of Finland, up on the Russian Border, where you'll find woodland cabins with no electricity or running water, but roaring wood burning stoves and ice to melt for water - as well as a chance to spot the Northern Lights. Or, for hot but Chile cabins, go ski touring from volcano to volcano in this South American ski paradise, staying at remote cabins between craters.
Our Cross country skiing Holidays

It's hard not to be in awe of an ibex when you watch it leap from rock to rock in the Dolomites. Especially when it has just taken you an hour to climb what it does in minutes.

Keeping wild company
Holding court in the snow rather than their usual camouflaged status, are the red squirrels in the Pyrenees, elk in Norway and, if you are very lucky, wolves in both. Although you are more likely to see tracks. Finland has reindeer, elk and the arctic fox, and the Dolomites are home to sweeties such as ibex and chamois. And you won't need binoculars. They stand out a mile.
Mountain culture
In some parts of the world, you will ski across country that is otherwise cut off from the world in winter. Many of these communities live traditional, mountain lifestyles. In Lapland the Sámi people live beautiful, ancient lifestyles, which they invite you to join by reindeer tracking as you ski or meeting reindeer herders. Look out for Sámi crafts too, the Duodji label guaranteeing authenticity, and you don't get more real than their traditional 'yoiking' music either, using flutes and drums. And in the Southern Tyrol region of the Dolomites, Italian and Austrian cultures are married into a magical melange, with bilingual lifestyles in a region that is known as the Alto Adige in Italian and Sud Tirol in German.
Our top Cross country skiing Holiday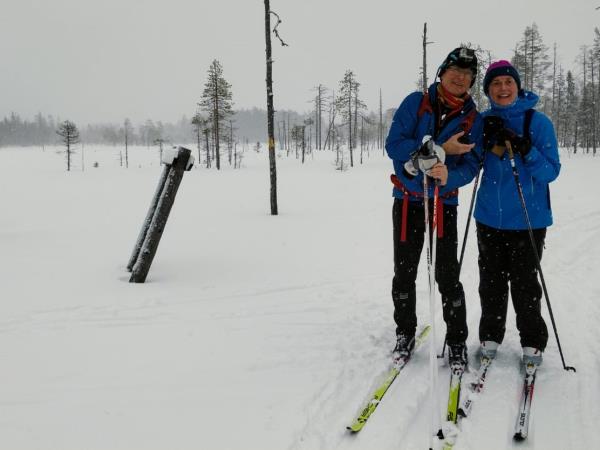 Guided hut-to-hut cross-country skiing holiday in Finland
From
€1040
7 days
ex flights
Small group travel:
2022: 20 Feb, 27 Feb, 6 Mar, 27 Mar
If you'd like to chat about Cross country skiing or need help finding a holiday to suit you we're very happy to help.


Running from sauna to snow, dipping into the icy water and back into the heat…now that is living. Loola. But living.

Sweat it out
After sweating it out on the hills, you can sweat it out in a box at the end of the day, the traditional sauna being a pivotal part of most Nordic cultures. Yes, they are usually mixed, and yes, they are nearly always naked, although having a small towel to sit on (rather than cover your bits) is the norm.
More about Cross country skiing