Tips from top cyclists we love
Many keen cyclists watch the Tour de France or Giro d'Italia from the wings – or from their armchairs – thinking, "I wish I could do that!" For some people, the flash of the Yellow Jersey, the urge for a challenge or perhaps the thought of exploring the stunning Alpine landscape on two wheels will inspire them to book a cycling holiday for their next break. For others, doubts about gradients, gammy knees or malfunctioning Garmins may be enough to deter them from even considering a week in the saddle, no matter how exciting they think it looks.
However, we interviewed three top cyclists and adventurers for our
Folk we Love series
, and learned that these concerns are far from unusual. In fact, even being at the top of their game has not shielded these athletes from self doubt – or, indeed, from the doubts of others. We asked them if they had ever been told they wouldn't make it, and how they had learned to respond to these comments. We also asked how they faced up to the physical and emotional challenges of cycling. They might have pedalled their bikes across continents or at the Paralympic Games, but their advice on overcoming adversity is just as relevant for anyone taking the step of booking their first ever cycling holiday. Read on, and be inspired.
Stephen Fabes cycled across six continents over the course of six years. When he set off from London there were plenty of people who told him he would never achieve his dreams, as he explains: "People often liked to explain that a road I had in mind was too something: too rocky, too dangerous, too steep, too cold, too impossible! I tried to ignore them. If I'd listened to the doomsayers, I probably wouldn't have got much further than France." However, despite their warnings, and despite the harsh conditions, he says he never felt like walking away from the adventure: "There were low points: times of cold, hunger and loneliness, but I quickly learnt that those times never last. Persevere and things will pick up (and if they didn't, home was only ever a couple of flights away).What kept me going was confidence that things will improve. The fact that you quickly forget pain and the other ill effects of pushing yourself afterwards. Visits or messages of support from my family and friends."
Anna McNuff is the daughter of two Olympians, as well as a champion rower and motivational speaker – yet even with this auspicious background, there are still people who have tried to tell her she won't make it. However, she has found ways to use these negative comments to her advantage: "When someone says to you: "You'll never make it," what they are actually saying is "I don't think I could make it." And that's okay. That's their beliefs and fears projected onto you. I take a deep breath, stand back and remind myself of what I know to be true. I want to do this. I can do this, or at worst I can try to do this. And if it goes wrong – who cares? It'll be one heck of a ride along the way. Sometimes it's actually a benefit. Years ago I had a fellow cyclist I passed on the road in Wyoming insist that I would never make it through the 50 states of America, with winter on its way. He just kept repeating "You'll never make it." I had 115 miles to cycle that day and I rode it all on pure rage fumes!"
Karen Darke has won gold and silver medals for cycling in the Paralympic Games. Although that would be a lifetime achievement for most people, Karen has also crossed the Greenland icecap while sitting on her skis, climbed Mont Blanc and El Capitan, and hand cycled, skied and swum the entire length of Japan. Her top tip for getting through tough times? A good night's sleep: "Because when you wake up every day is a new day. That has been true right through, from being injured and paralysed to every adventure I have done. I am human and there are days when I just think I can't do this. And then I go to bed and wake up, and it's different. And I know that now, when things are difficult, just to wait a day or two, get some sleep and perspective and then see how I feel. And it's always different."
So whether you're more fired up by messages of support from loved ones, a good night's sleep, or pure "rage fumes" – if you're determined enough, we're sure you're ready to take on your first cycling holiday.
Our top Cycling Holiday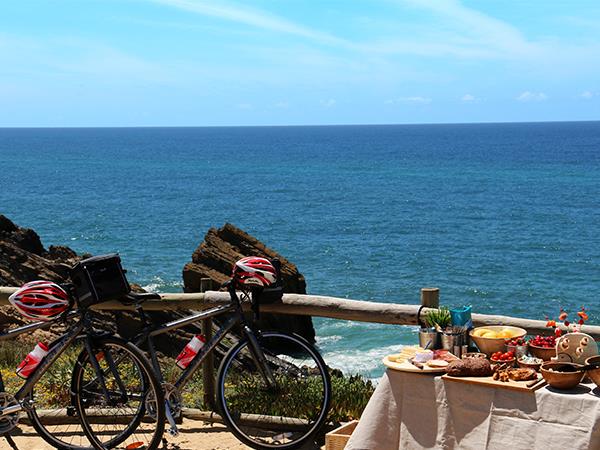 Flat terrain tour along the coast
From
€845

to

€1068
8 days
ex flights
Tailor made:
This trip can be tailor made throughout the year to suit your requirements
If you'd like to chat about Cycling or need help finding a holiday to suit you we're very happy to help.