Whisky tasting
Dolphin watching in the Inner and Outer Hebrides can be a cold, wet business so itís hardly surprising that many boat crews and their passengers choose to warm up their itineraries with a little whisky tasting as well. Some of Scotlandís finest whisky distilleries are found scattered around these islands, including well-known names such as Talisker and Laphroaig, and they offer fascinating tours as well as tasting sessions. Given that sailing holidays in the Hebrides are quite dependent on the weather and tides, a distillery visit makes for a reliable fallback option if the wind and waves are causing problems, and if you bring along a hip flask then itís a matter of minutes to whip up a hot toddy every morning to keep your spirits up in the rain.
Outdoor activities
The dolphin (and whale) watching off the Atlantic archipelago of the Azores is world-famous, with nutrient rich, deep waters providing cetaceans with the perfect feeding environment. But while boat trips or coastal spotting are bound to be the focus of your itinerary, you can also combine them with a wide range of other outdoor activities including kayaking and stand-up paddleboarding on island lakes, hiking and mountain biking along inland trails, canyoning and bathing in volcanic hot springs. In case weíre not making ourselves clear: if youíre the adventurous, outdoorsy sort, you should really, really go to the Azores.
Safari action
Dolphin-watching in Walvis Bay in Namibia, usually forms part of a much broader itinerary. There is the spectacular Etosha National Park, home to some 150 mammal species including lions, elephants, cheetahs, leopards and black rhinos, the Namib Desert, Swakopmund, Damaraland and the Skeleton Coast National Park. If you are joining a dolphin monitoring expedition off Knysna in South Africa meanwhile, you might easily combine it with a scenic drive along the iconic Garden Route, or a safari in the majestic Kruger National Park.
Our top trip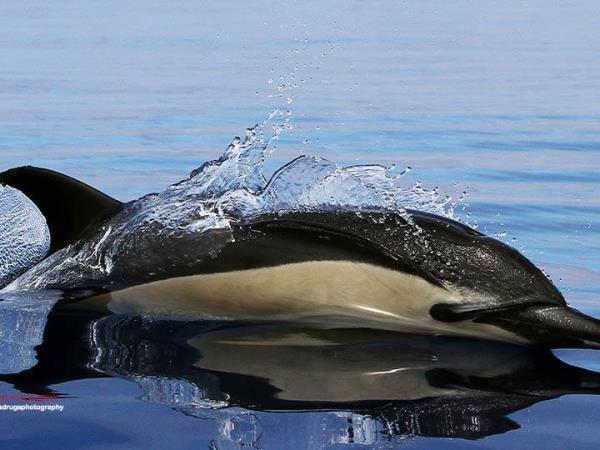 Dolphins, whales and fiery volcanic islands!
From
£905
7 days
ex flights
Tailor made:
This is a set itinerary with flexible start dates April - October.
If you'd like to chat about Dolphin watching or need help finding a holiday to suit you we're very happy to help.

Beach bumming
There are dolphin watching holidays in the Ligurian Sea off Italy, and in Greece as well, which will see you engaged in a variety of research methods alongside permanent staff on conservation projects. But while these trips do involve long days, they donít neglect the fact that youíre on holiday too. Youíll have plenty of opportunities over the course of a week for swimming and snorkelling off island beaches, under that warm Mediterranean sun. Alternatively, why not reward your efforts with a second week on the beach to relax Ė we all need to fly less, so it makes sense to take a longer holiday by air than several shorter ones throughout the year.
More Dolphin watching articles