Best time to go to Egypt & Jordan

Jordan in January can get wet but don't expect a drop of anything, other than night time temperatures, in ever-dry Egypt.

Trips to Jordan and Egypt run throughout the year, but be aware that summers, June, July and August, in both countries can be excessively hot. The best time to go for more comfortable temperatures is from March to May. Winters are a case of blink and you'll miss it but be prepared for very cold nights from November to February, especially in Jordan; Egypt is not so cold, just pack a couple of extra layers. As the vast majority of Jordan's rain falls in January this is probably not the best time to go, but don't let this put you off if you're happy to pac-a-mac and fancy Petra all to yourself.
Egypt & Jordan month by month
January in Jordan might well require a raincoat but Egypt is, pretty much, dry all year round. Nights at the start of the year and into February and early March can get cold, especially around Amman and in the eastern Jordanian desert, and even Egypt might require an extra layer or two after dark.
March and April are the best time of year to visit for comfortable temperatures in both countries with greenery and wildflowers decorating Jordan's valleys. Just be aware that April in Egypt can coincide with khamsin winds blowing in from the deserts further south.
Jordan's 'windy season' starts as Saharan sands are whipped up and sent forth in summer. Winds won't hang around for long but just be prepared if you're travelling during June, July and August. Summers in both Egypt and Jordan can be dry, hot and oppressive with daytime temperatures sometimes reaching upwards of 40°C.
Mid September when temperatures are just starting to dip and sites are less busy is another best time of year to travel. October and November will be getting cooler but not so much that you'll need anything other than a jacket, especially on the Egyptian leg of the tour.
Despite December signalling Christmas for the majority of the Christian world, Coptic Christians, which make up around 15 percent of Egyptians, tend to celebrate in early January, with feasts and festivities.
For more details of the best time visit
Jordan
and
Egypt
visit our dedicated guide pages.
Our Egypt & Jordan Holidays
Aswan, Egypt Weather Chart
Ralph Foulds from our Egypt and Jordan holidays supplier, Encounters Travel, shares his best times to go:
"February to May and September to early November are ideal times to visit both countries. The weather is not extremely hot, and it doesn't get too cold or wet. Travelling in May and September are particularly good months in Egypt as prices are cheaper than high season from October to April."
Do you know about...?
Ramadan is the ninth month of the Islamic calendar and signals a series of religious customs, including fasting in daylight hours. During this 30 day period, that varies every year, you might find many sites and stores in Jordan and Egypt shutting up shop earlier than usual. Things will, however, liven up a bit after sundown for the often very sociable, iftar evening meal. Forthcoming Ramadan start dates: 5th May 2019, 23rd April 2020, and 12th April 2021.
Our top Egypt & Jordan Holiday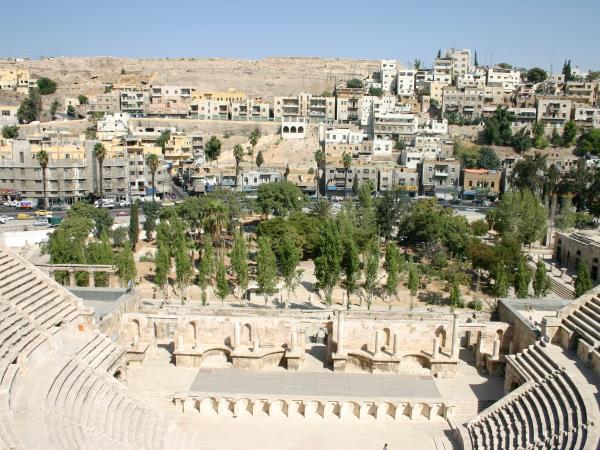 Petra and the Great Pyramids of Giza
From £3375 11 days inc UK flights
Tailor made:
Available all year. This suggested itinerary can be modified entirely to your personal wishes including departure date, duration, accommodation used and how long you spend in each destination
If you'd like to chat about Egypt & Jordan or need help finding a holiday to suit you we're very happy to help.

Things to do in Egypt & Jordan
Things to do in Egypt & Jordan
Have an adventure. Exploring amongst Egypt's Pyramids and Petra's sandstone walls can be an adventure in itself however, Jeep safaris and camping in Wadi Rum is quite something else with campfires, cooking and comfy conditions creating an extra special evening under the stars. Overnight trains from Luxor to Cairo also help to ramp up the excitement rating with optional shisha pipes in downtown Amman just enough to expand adventures to T E Lawrence level.
It might not be everyone's cup of tea to camp out in deserts and disappear amongst ancient tombs, and if you're longing to tour Egypt and Jordan but can't find anyone else to go with, don't despair. Go solo on a small group tour, the perfect way to make friends amongst the sand dunes and Crusader castles, with single room supplements or sharing a twin room with someone of the same sex, a couple of options.
Although combining Egypt and Jordan will put amateur archaeologists and historians into overdrive, for other travellers, opportunities to relax are what turn this type of tour into much more of a holiday. From felucca rides on the Nile to five-star hotels in Cairo and opportunities to float on the Dead Sea or swim in the Red, enjoy the experience by relaxing when you're offered the chance.
Things not to do in Egypt & Jordan
Don't leave the kids behind. If you imagine that all family holidays in this region revolve around Sharm el Sheikh then think again. Opt for a tailor made tour of Egypt and Jordan with activities and sightseeing taking place at your own pace. Discover an Aladdin's cave of shops in downtown Cairo, fields of sugar cane close to Karnak, donkey and camel rides, relaxing baths with Dead Sea mud and superb Red Sea snorkelling around Aqaba. Although there are opportunities to tailor a tour to feature flight upgrades and five-star hotels, it's also nice to tour Egypt and Jordan from a more rustic angle. So forget about luxury living and don't worry if you're on a budget. Join a small group tour which takes in all the highlights, as well as sleeper trains, overnight felucca boats, coach transport and locally owned accommodation, so you get to walk like an Egyptian, and a Jordanian. Don't ignore religion. Even the most vehement heathens won't fail to be moved by the religious monuments and ancient architecture intrinsically attached to everyday life in the Middle East, from Coptic Christian churches in Cairo and the Mohamed Ali Mosque, to the Madaba Map, Mount Nebo and St Simeon's Monastery on the banks of the Nile. Do some research and ask your guide about local beliefs, what to wear and the importance of religion in this often misunderstood region.
Egypt & Jordan travel advice
Get yourself connected
Ralph Foulds from our supplier, Encounters Travel, shares advice on flight connections:
"The countries are very close together and can be visited on the same international flight ticket with, for example Egypt Air or Royal Jordanian. Alternatively, open jaw flights can be purchased into one country and out of the other, via Turkish Airlines, Lufthansa, British Airways etc, and then a separate single flight purchased from Amman to Cairo."
Family fun
Liddy Pleasants from our leading family holidays supplier, Stubborn Mule:
"The things that bring the biggest smile to young people's faces in Jordan are racing down sand dunes and climbing over rock bridges in Wadi Rum, covering their parents in thick gloopy mud on the banks of the Dead Sea, toasting flat breads over a tiny fire and brewing a pot of fresh mint tea during a break in a Wadi Feynan hike. Jordan isn't for you if beach is a big priority, though – despite having beaches along the Red Sea coast, these are underwhelming and not usually somewhere to linger too long."
Cultural comparisons
Ralph Foulds from Encounters Travel:
"There is a wealth of ancient history and culture from different civilisations to discover in both countries, including Pharaonic, Ancient Greek, Roman and Nabatean. At the same time though, they are quite contrasting countries particularly the landscapes. The hills, mountains and deserts in Jordan are a real highlight on their own. Combining Jordan and Egypt in the same trip gives you the benefit of more ancient historical sites, from different civilisations, as well as some really contrasting and spectacular scenery."

Iva Vidovic from our Egypt and Jordan holidays supplier, Memphis Tours:
"People come to Egypt to get to know Egypt, not to change it. You will gain the most out of your journey with a kind word and a smile. Egyptian people are very emotional, friendly and hospitable; you just have to find the right way to get close to them. Nowadays, life in Egypt is very hard and people are in a constant battle for survival. On the other hand, of course, there are many who live in luxury, therefore the differences in the country's character are even more noticeable. But regardless of their life style or struggles, there is one thing that is common to all Egyptians – a smile!"
Foodie favourites
Liddy Pleasants from our supplier, Stubborn Mule:
"Try mansaf at least once on your trip – a big steaming mound of fragrant rice and cubes of freshly cooked lamb and a yoghurt sauce. Or if you are veggie, gorge yourself on piping hot falafel and hummus."

Danniell Saunders, from our supplier, Encounters Travel, shares his top tips:
"There are a couple of things that I think people should definitely try, but they are often a bit scared to. The first one is shisha [a flavoured water hubbly bubbly smoking pipe] - ask your guide to explain what it is and give it a go. Definitely try local foods and snacks too. I always recommend that people try kushari, which is a pasta and lentil based dish that's virtually free it's so cheap. You get a bowl with rice, lentils and pasta in it and then they give you chilli oil, garlic sauce, béchamel sauce, tomatoes – whatever you prefer flavour-wise and then you just mix it all up and eat it. It's delicious, filling and very nutritious."
Packing tips
Iva Vidovic from our supplier, Memphis Tours:
"Due to different customs and tradition, the dress code is generally conservative in Egypt and Jordan. When sightseeing it is advisable to wear clothing that covers shoulder and down to the knee in order to respect local customs. The materials should be light and airy. It is advisable to wear comfortable, nonslip shoes as pavements are often uneven and the ground sandy. Some tours also require considerable walking. We advise you pack some warm clothes if you are travelling in the winter time."
Keeping it cairo
Ralph Foulds from our supplier Encounters Travel:
"Get your hotel to give you their card or write their address in Arabic on a piece of paper that you can show to taxi drivers."
At Responsible Travel, we think the best people to advise our travellers are often... other travellers. They always return from our tours with packing tips, weather reports, ideas about what to do - and opinions about what not to.

We have selected some of the most useful travel tips that our guests have provided over the years to help you make the very most of your holiday - and the space inside your suitcase.

Petra was just as stunning as expected, if not more so.

"Petra was just as stunning as expected, if not more so. I also enjoyed the desert experience at the Wadi Rum Space Village Luxury Camp which I would thoroughly recommend. It's the Bedouin version of glamping - nicer than some hotels. Our Egyptian guide was very knowledgeable and we discussed politics frequently - I feel like we learned a lot about the issues facing Egypt currently. The same would be true of our driver in Jordan, Naim. I felt they were both very open about what they were proud of and what concerns both countries faced." – Louise Norris

"This was the first time we've been with a guide over a 9/10 day holiday and it was made enjoyable as all the logistics, research etc that I would normally do for this sort of trip were taken out. It meant that we did more without having our energy used on the organisational stuff." – Kulbir Natt

"Don't settle for the 'usual' tour, do your research, decide what you want to see and talk to your tour company. The operator helped us create an Egypt & Jordan tour that was perfect for us. You might hear that some tourists are staying away from Egypt because they are concerned about the political instability. But we had a wonderful time and at NO time did we feel unsafe or concerned." - Janie Kuczer

"Visiting Christian Orthodox churches as well as Muslim mosques was an eye opener in terms of how places of worship have evolved. It's an impressive tour! It's not only about seeing other countries but to enhance your knowledge of how communities have survived." - Sam Mahlasela

Visiting Christian Orthodox churches as well as Muslim mosques was an eye opener in terms of how places of worship have evolved. It's an impressive tour!

More about Egypt & Jordan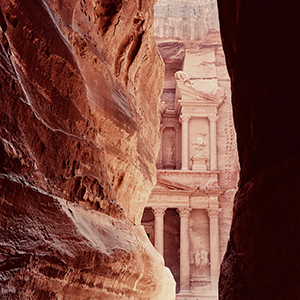 There are many good reasons to experience Egypt and Jordan as part of the same tour, and our Egypt & Jordan travel guide lifts the lid on everywhere from Amman to Cairo by way of the Pyramids, Petra and the Nile. Check out our map and highlights, as well as what we think these holidays are, and what they are not.