Tiger Tops Elephant Camp in Nepal is a unique – and uniquely responsible – camp that allows visitors to live among, learn about and observe elephants. Set on the outskirts of Chitwan National Park, the camp has spacious enclosures for the animals. Where once they would have carried tourists on jungle safaris, now they have autonomy and the freedom to express natural behaviours for the first time in their lives.
The big draw for visitors is the chance to connect with elephants in a meaningful but unobtrusive way, by simply hanging out with them from sunrise to sunset, and getting to know their individual personalities and habits. This includes discovering that one elephant, Pawan Kali, has a distinctive high pitched squeak which she uses to demand breakfast at 5.30am on the dot, every morning.
The history of Tiger Tops
The history of Tiger Tops
Marie Stissing Jensen is Communications and Project Manager at Tiger Tops, and explains how the idea for the camp came about. "Tiger Tops lodge has had elephants since it started in 1964. It was a traditional safari outfit – elephant safaris, jeep safaris – a completely traditional way of doing tourism and what everyone else is doing these days still. We really wanted to change that. We always felt we were taking good care of the elephants, but were increasingly aware of the whole issue of captive elephants."
The team at Tiger Tops was most concerned about two issues. "One thing was to look at the way they are kept; the stabling conditions," says Marie. "The traditional way of keeping elephants all over Asia is to have them on chains, which is what you'll see in all other places in Nepal."
The other issue was the use of the bull hook, a heavy metal tool traditionally used by the mahout – the rider, trainer and keeper – to control the elephant. "We looked at where it is used, and when it is used, and found that 95 percent of the time it was on an elephant safari when an elephant meets a tiger, and is stressed. That was the reason we stopped doing the safaris, to avoid those stressful situations where you have to control the elephant."
The Elephant Camp was established in 2015 with advice and help from Carol Buckley, founder of Elephant Aid International. It was just after the earthquake that devastated large areas of Nepal, and tourism had temporarily collapsed, so it became a convenient time to change the way the elephants were cared for. Chains are now no longer used to restrain the animals; instead they can wander freely in large paddocks.
Our top trip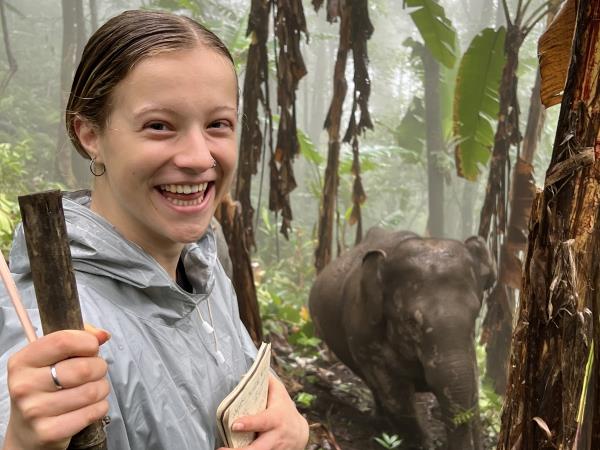 Karen Hill tribe volunteering and elephant watching
From
£490

to

£525
6 days
ex flights
Tailor made:
This trip can be tailor made throughout the year to suit your requirements
If you'd like to chat about Elephant watching or need help finding a holiday to suit you we're very happy to help.

The visitor experience
Each day, the elephants are taken for jungle walks, and guests can walk alongside them. "This is something people love. Quite a few of our clients have done elephant safaris before, but this is a different perspective," says Marie. "Where you used to be on top of the elephants, and see a lot of wildlife, you wouldn't actually have an elephant experience. You wouldn't see the elephant. You would see the head and the bum, that's about it, but when you're actually walking right next to it, you see the whole animal, what it eats, all the other wildlife..."
Watching the elephants bathe in the river is another highlight for visitors. "We used to do it the classic way, where you get to sit on the elephant and it sprays you, but now people sit on the bank with a picnic and then the elephants are let loose in the river to play. People are surprised at how entertaining that is. It's actually very natural behavior. They love water, they're complete water babies. You've got them spraying each other, spraying themselves, diving and playing around."
Even after dark, visitors are still aware of the elephants' presence nearby, as they communicate with rumblings. "The elephants do tend to be drama queens," says Chrissy Pratt, an elephant behaviourist, who advises at the Elephant Camp. "If a marmot runs through the camp the elephants will trumpet and all run together to comfort each other!"
elephant-mahout relationship
The elephant-mahout relationship
Each elephant still has a mahout. He can ride the elephant, but is forbidden from using a bull hook for control and instead uses a mix of tactile and verbal cues. "People ask why we still allow mahouts to ride the elephants," says Marie. "For us, there is simply no alternative, if we want to do what we're doing in a safe way. The mahouts tried walking with them, but the elephants were confused."
Some visitors suggest keeping the elephants in the corrals all day so they don't have to be ridden. "That would be a really sad alternative," says Marie. "They wouldn't be able to exercise, and they need to go to the river to cool down. To do that they're walking with our guests, and they're walking through villages, where there's livestock and children. We can't risk harming people, livestock or the elephant."
Far from being a master-servant relationship, the bond between the mahout and the elephant is wholly collaborative. "The elephant and its mahout have sometimes worked together for 10, 20, even more years. The elephants feel safe with their mahouts. It's a friendship," says Chrissy. "The elephants are not being forced to work. It's important that people understand this. The mahouts use a lot of positive reinforcement. If they're on a jungle walk, they will see the elephant looking at a particular tree, and will give the signal that OK, you can go over, and the elephant will go and tear it down and eat. It's a lovely working relationship."
Leading by example
Care of captive elephants in Nepal varies greatly from place to place. "It's generally quite good," says Marie. "You get places that take great care of their elephants, and places which, to be honest, are quite miserable." The camp now serves as a pioneering tourism model in Nepal, demonstrating that people will pay to simply live alongside elephants – no selfies, no petting, no feeding and no riding – and that revenue from elephants and elephant welfare are not mutually exclusive. "That ripple effect is happening," says Marie. "One of our neighbouring lodges is looking into building fences and creating paddocks for its elephants rather than chaining them up, and we've had people coming to see how we operate."
Nevertheless, change will take time. "Those people who own elephants and use them for safaris need to make a living, and they're scared," says Chrissy. "We're telling them you need to invest money and resources and this will pay off for you in the future and people will appreciate this, but they need to see it with their own eyes first. Seeing Tiger Tops being successful for them helps them go OK, this can work for me."
After years working in sanctuaries in Thailand and Africa, Chrissy is impressed by the Tiger Tops model. "When I first came to Tiger Tops I had been working in Sauraha village on the edge of Chitwan National Park. It's a tourist destination and a mecca for elephant riding. When I got to Tiger Tops, I almost started crying. A lot of elephants have been denied so much and their natural instincts are quite literally beaten out of them. They become just a robot; their spirit has gone. To come here, and see that these elephants have life and spark in their eyes, is wonderful."
TIGER TOPS ELEPHANT CAMP FACTS
There are currently 12 elephants at the Elephant Camp, 11 of which have always belonged to Tiger Tops (the other is being babysat as a favour for another lodge). The elephants are aged between 11 and 60. A few were acquired by Tiger Tops as long ago as the 1960s. All the elephants have different pasts – some were logging elephants, one was used for hunting – and they all came from India originally. Elephants form really close bonds and friendships, but when they don't get along they can seriously injure or even kill each other. There isn't a wild population of elephants in Chitwan National Park, but there are two or three rogue bull elephants that live there. Occasionally, elephants migrate in from Valmiki Tiger Reserve in India, just across the border. Tiger Tops stopped offering elephant safaris in 2015 when they established the elephant camp. Elephants sleep on average four hours a night. They usually do shifts, with some lying down to sleep for a few hours, and some keeping watch, then they switch places. They take short naps standing up during the day. Visitors to Tiger Tops Elephant Camp are accompanied by an expert naturalist field guide on all activities who can answer questions on wildlife, local culture, flora and fauna, and explain more about the elephant-mahout relationship. You can also take a jungle safari, and visit local villages and conservation projects.
More Elephant watching articles
Our elephant watching holidays travel guide explains exactly what this kind of wildlife trip entails. Obviously, elephants are the star attraction, but this isn't just another way of describing an African safari. The Asian elephant is the focus here, and there are a handful of unique, rewarding and responsible ways to see it.