Walking the South Downs Way in winter
If you can picture yourself tucking into a slow-roasted something or other as your recently removed hiking boots steam by your side, winter walking on the South Downs Way is for you. There are lots of wonderful pubs on the route serving sustainable and locally sourced seasonal fare, as well as lots of cosy nooks to curl up in after a good day spent exploring outdoors.
If you base yourself locally you can go out for day walks from your accommodation. Many of the
locally-owned guest houses in South Downs National Park
are open throughout the season and lots of B&Bs and pubs will provide maps and walking routes that include sections of the South Downs Way and surrounding area.
The longer you stay in villages on the South Downs Way, such as Buriton, Cocking or Amberley, the more youíll become immersed in local life. Youíll often find regular visits to the village bakery, church or pub (again) will result in recommendations as to where to walk nearby. Even in towns and cities like Lewes, Brighton and Eastbourne, youíll find B&B owners to be a mine of information. Hosts will often have more time to spare in winter, too, as things arenít so busy. You might even be invited to take the dog for a walk Ė heíll know the way better than anyone.
Our England walking Holidays
Whatís the South Downs Way like in winter?
The 161km walking trail is open throughout the year. Car parks along the route are also open all year round, although they can get very busy, especially at weekends. If youíre driving to a trail head then arrive early and avoid parking outside of a designated area so as to ensure you donít damage already fragile roadside verges. Train and bus routes enable walkers to access pretty much every stretch of the South Downs Way. Taking public transport and staying in a series of locally owned B&Bs is a great way to cover the entire trail, even in winter. However, you will have to lug your bags along so remember to pack light and opt for layers and waterproof clothing rather than bulky gear.
If youíre walking sections of the South Downs Way during December, January and February, itís going to be cold. However, donít expect too much in the way of snow. It does snow occasionally, especially on higher ground such as Butser Hill and Ditchling Beacon, but youíre more likely to be hampered by rain and wind; certainly so on unprotected grassland ridges and along the top of chalk down escarpments.
You may also come into contact with lots of surface water after heavy or prolonged rain. Large puddles can be a real issue because walkers and cyclists tend to tramp around the outer edges and increase erosion of the surrounding soil. Tread gently wherever possible and donít be tempted to clamber over a fence into an adjoining field to avoid puddles. Of course, there will be numerous times when the sun is out and it feels rather mild. This is southern England after all, not Scotland.
The amount of daylight that youíll find in winter is a lot less than summer. This adds an element of urgency to long distances as you need to be back before dark to avoid getting lost, or at least to make the evening meal reservation at the local pub.
Where can I stay in winter?
Although our self guided walking holidays donít run during the winter there is still lots of locally owned accommodation along the South Downs Way that will still be open for business. For instance, you can stay at a
B&B in Ditchling
or
Seven Sisters Country Park
. Alternatively, there are lots of excellent accommodation options in Winchester, Lewes, Brighton and Eastbourne, all of which offer access to the South Downs Way on foot or at least by bus.
If you'd like to chat about England walking or need help finding a holiday to suit you we're very happy to help.

Our top England walking Holiday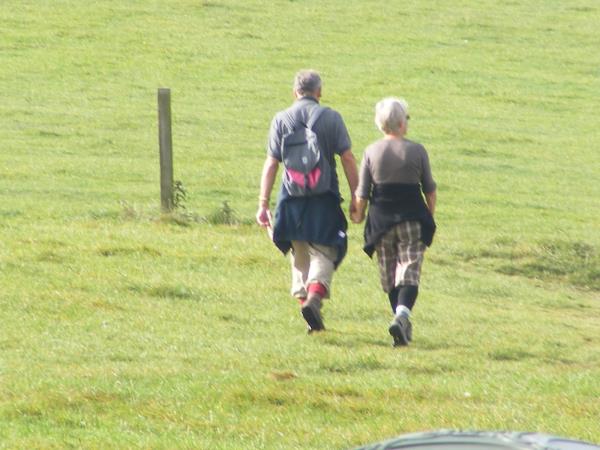 Walk The South Downs Way in Southern England.
From
£1300

to

£1940
11 days
ex flights
Tailor made:
This holiday can be booked from the 1st March to 31st October each year.
What are the benefits of walking the South Downs Way in winter?
Itís going to be a lot quieter than what youíll experience during the summer: not only the trail itself but in the village pubs, tea shops and bakeries, too. B&Bs are a lot more reasonably priced during the winter and your presence will certainly benefit hosts trying to make a living all year round. Walking in the winter can often be a real tonic, especially if youíve been cooped up indoors over Christmas. January, especially, is a great month to go walking on the South Downs Way. It might be a bit dark and gloomy, but no sooner than youíve stepped outside in sensible weatherproof clothing, youíll feel as right as rain.
The darker, earlier evenings can be a blessing rather than a curse.
Stargazing in South Downs National Park
is a great way to turn a dark winterís night into something quite magical. The national park features numerous Dark Sky Discovery Sites, many of which are on the South Downs Way: Devilís Dyke and Ditchling Beacon in East Sussex, for instance. Also, if youíre around in February, the Dark Skies Festival features lots of fun family events, talks by local astronomy groups and access to state-of-the-art telescopes.
More about England walking