Health & safety on family holidays
---
A FINE BALANCE
There is nothing more boring than an obsession with health and safety. It stops young ones learning what an adventure life can be. Luckily there are countries that encourage a little bit of going feral, breaking out of protective shells and letting rip. However, this is not to say that health and safety rules for kids on family adventure holidays should not be adhered to. And for adults too of course. Responsible family adventure holiday companies will always have procedures in place, use reputable, qualified guides and, most importantly, be able to assuage any of your concerns. Here are a few pointers relating to different activities on family adventure holidays:
Sea kayaking and other water activities
---
Ask about the experience and training of your adventure leaders or instructors. A responsible adventure company will profile them in detail on their website.
Ask about the adjoining bodies your sea kayaking or rafting companies are affiliated with. The British Canoe Union, Irish Canoe Union, Canoe Wales and European Paddle Pass are some of the respected bodies you want to look out for. A good kayaking guide will have Level 3 qualification from one of these. If they only have level 1 or 2, they should only paddle in very sheltered and non-moving water, and no more than 50m from the shore.
White water rafting instructors in the UK hold the national raft guide qualification, issued by the English White Water Rafting Committee (EWWRC), in partnership with the BCU (British Canoe Union). In the USA each state has its own system for training professional river rafting guides, and gaining 'river hours' is key to their experience.
Some countries don't have accredited bodies to oversee their safety, in which case they may send their instructors to train elsewhere, such as with the BCU. If they haven't, it is important to read up on your guides' experience, first aid knowledge etc.
A good question to ask a sea kayaking company is "what are your sea kayaking guide's ratios?" In other words, how many people they will take out on the water for each guide. This applies to boats rather than people, and anything from one to eight boats per guide is acceptable. There is a bit more flexibility in a sheltered bay.
Good kit is important too and, again, if the sea kayaking company is associated with an official body, they are more likely to have that. Helmets are a must when rocks and choppy water are going to be on your itinerary.
In the USA helmets are not always compulsory for water activities, although on class IV and V white water rapids they are. We recommend wearing helmets for all river and white water activities.
Whitewater Rafting Safety | Mild to Wild Rafting & Jeep Trail Tours from Mild to Wild Rafting on Vimeo.
If you or your children have any particular health needs, always tell your guide. Sea kayaking can be more strenuous than you think. So, for example, if diabetes is an issue, be prepared, and always tell your guide. If they are good, they will have glucose in their first aid kits.
It is deceptive because you are on the water. But you will get dehydrated, so it is important to bring water with you on a trip.
Vedat Vural, owner of Alternatif Outdoor, one of our suppliers in Turkey: "There have been no serious accidents in sea kayaking in Turkey. But unfortunately, the government has not put safety regulations in place in the same way that Europe has. So we set our own rules, using universal safety standards within our company, and we talk openly about this with our guests because we are proud of that. They can also see our standards from our equipment and the way in which we operate our trips. Sadly, there is no other company in Turkey with the same safety standards as we apply on our trips. I am not blowing my own trumpet, because I hate that. But this is a fact, and I hope it will change. Because that is good for everyone. The problem is that there is still no regulation or a sea kayaking federation here to make other companies oblige. That would be one of my missions, as Turkey is such a perfect place to paddle."

Sophie Hurst, owner Preseli Venture, our sea kayaking specialist in Pembrokeshire, Wales: "In terms of equipment, you do get what you pay for in sea kayaking. We might not be the cheapest, but we have been told that we have the best kit in Pembrokeshire. And we check it all year round. The buoyancy aids have to float, the helmets have to withstand hitting the rocks and the backrests need to work. It's cheaper not to bother doing all these things. But we always do. Plus we also have highly qualified instructors. But we are not the cheapest. But cheapest isn't necessarily the best."

Hello.
If you'd like to chat about family adventure holidays or need help finding a holiday to suit you we're very happy to help.
Rosy & team.
01273 823 700
Hiking and biking
---
If you are walking or cycling independently be prepared with maps, compass, rain gear, pocketknife, basic first aid kit, matches and a whistle. And write down the local emergency numbers before you set out, including mountain rescue, if relevant. And always tell someone where you are going. Make sure your mobile phone is charged too.
Make sure you all stay hydrated. It is hard to get kids to drink water sometimes, but they won't realise how much they need it when walking or cycling. Even if the sun isn't shining. Consider hydration backpacks, so that they have water on them at all times.
In remote wilderness areas, don't drink from the rivers. Even if they are glacial and gorgeous, they can be a source of bacteria. You can boil the water, but do so for five minutes in elevated areas. You can also filter, but it is not always perfect, with iodine treatments considered better.
Treat altitude with respect. It does not matter how fit you are, or how many times you've been at high altitudes before – the symptoms are unpredictable, and the only real cure is descending. Always let your leader know if you are experiencing headaches or a significant shortening of breath. Dehydration makes altitude worse.
Inform yourself in advance about any dangers from wildlife. Or insects such as ticks which carry Lyme disease.
If you are on a self-guided walking or cycling holiday, always check get a detailed weather forecast before you set out and if you are in the mountains, turn back if the weather turns bad. Or take shelter if in doubt.
Hiking or biking in extreme heat can be dangerous and deaths do, tragically, occur. In warm climates, walk early in the morning and late in the afternoon, cover up and drink lots. Consider adding rehydration powders to your water. Many adventure companies don't offer trips in the height of summer anyway, for health and safety reasons.
Ensure you have your bike carefully adjusted to your body. This is vital, to prevent injured knees or back. An adjustment of millimetres can make all the difference.
In many countries, wearing helmets is not compulsory, but we all know it makes sense.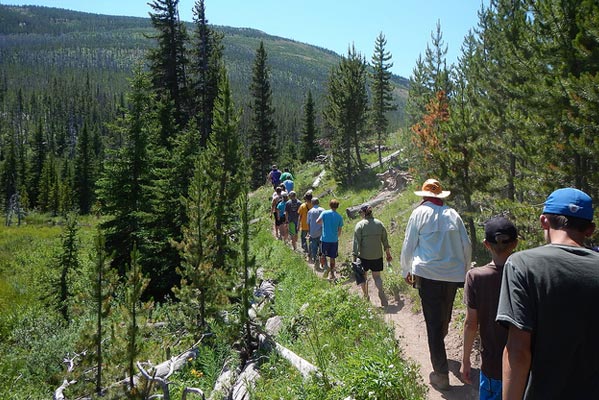 Jonny Bealby, founder of our leading supplier Wild Frontiers: "Don't overstretch yourself on a family walking holiday, especially in remote parts of the world. Some children are great and can walk as far as the parents can, depending on age of course. But in general, it is better from a safety point of view to aim low and achieve, than aim high and not achieve. Because not achieving, in some of these places, can cause you some quite serious problems."

Marijana Filipovic of our supplier Cycling Croatia: "We want people to enjoy themselves on holiday, so if they get too hot or tired, we have a backup van to pick them up and travel back with us if they are tired. We just want to create trips for people who want to enjoy visiting off the beaten track by bike, but we don't want them to be exhausted".
Seeing wildlife
---
Always do what your guide says – it goes without saying really, as these are wild animals, and not to be cuddled or cooed over. And you may be desperate to get a photo, but trust us. Or, more importantly, trust your guide. Watching animals in the wild is one place where the customer is NOT always right.
Do not touch the wild animals. Ever. We carry diseases and bacteria that are very harmful to them. Be wary of cats and dogs too, as rabies is still prevalent in many countries.
Citronella is the favoured repellent for many travellers on wildlife holidays. However, this should be avoided in some countries as it attracts hornets– giant wasps with an extraordinarily painful sting.
Don't use flash photography as it can disturb the animals, frighten them and make them react aggressively sometimes.
Always keep noise to a minimum when around wildlife, including traditional safaris. It can be difficult, as everyone gets excited when they spot something, but do try and stick to this important rule. Disturbed wildlife may attack your vehicle if unduly startled.
For more details on specific wildlife watching holidays for families, see our Wildlife Travel Guide.