"Bula!" someone shouts in the road. You whip your head around – a man passing you on foot has turned around to wave at you. You wave back and cycle on. This isn't your first
bula
– you've heard the friendly greeting since you set foot in Labasa, the biggest town on Vanua Levu.
You've been greeted so often, it's a wonder you get any cycling done. "The Fijians will stop and ask you where you're going and want to invite you to lunch," Mandy, from our Fiji cycling specialist Escape Adventures, says. "They are very generous people and people are quite taken aback by their friendliness." It doesn't take long to get used to the friendliness, to even fall in love with it. Mandy has loved the country ever since she worked on an eco tourism project here years ago. Ever since, she's wanted to set up a
cycling holiday
.
Why Fiji? "A lot of people say that to us," Mandy laughs. "It's a fabulous country – and a cycle tour is a really good way to get a feel for it. We ride on the other islands, but not the big island. It's not the Fiji that people expect." The big island is Viti Levu, the main island and capital, where over two thirds of the population live, its coast a manicured line of large resorts. Cycling here? "Would be terrible – there's far too much traffic," John says. John and Mandy are the owners and operators of Escape Adventures. Instead, they say, to take the perfect cycling tour, make a small sidestep northeast of the main island to the islands of Vanua Levu and Taveuni. And, instead of a resort, try staying in a village.
"We asked a village if they could host us," Mandy says, "and they just sat down under a tree, had a chat, came back and said, 'Yeah, we'd love to.'". She's describing how she and John set up the trip for the first time. They negotiated a price for bed and breakfast, and have been going back to the village ever since with their cycling tours.
It's a small, simple partnership: "We don't stay there to change them at all. We're going there to share their lives. We benefit them economically, but we are a tiny little company and we only do the trip twice a year. It's a reasonable amount of income – they've negotiated a price that works for them." The money has been going towards a local community centre for the village. Villages remain central to Fijian life, and their locus especially apparent on Taveuni, where subsistence farming means communities can exist in near isolation.
Families love it here, which is why there's a special
family cycling trip
, too. "Kids need to play, have lots of breaks and eat lots," Mandy says, so she's designed the family tours with this in mind. Fiji is perfect for kids; there are many things to do and see. There can't be many more perfect places to learn to snorkel than Fiji, where there are some 10,000km
²
of coral reef, and over a thousand species of reef fish. Rainbow Reef, between Taveuni and Vanua Levu on the Somosomo Strait, is particularly famous. There are so many fish on the reef that you'll give up saying
bula
to them all.
Our Fiji Holidays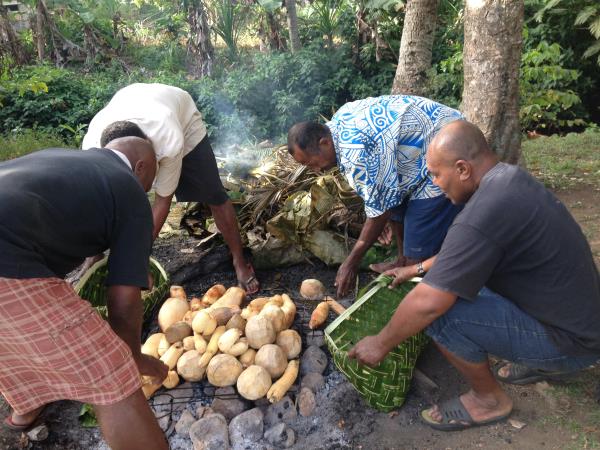 Ride, Snorkel, Swim and explore the real Fiji by bike.
From
NZ $4200
9 days
ex flights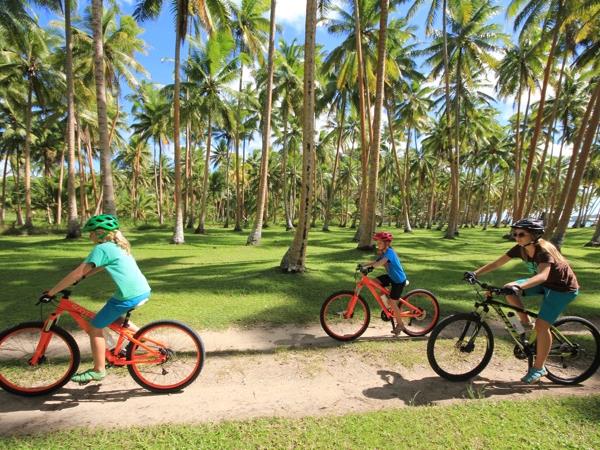 9 day family cycle tour in Fiji and snorkelling
From
NZ $4200
9 days
ex flights
What do Fiji cycling holidays entail?
Choose a nine-day itinerary and you'll be able to explore Fiji's second and third largest islands, which are far less busy than its largest, the resort-laden Viti Levu. There's Vanua Levu, where you can follow the Hibiscus Highway – a lovely name for one of the island's main roads – along the coast and visit a local pearl farm. Then there's Taveuni, the third largest island, where you can follow the coastal road to Bouma National Heritage Park to find waterfalls tumbling out of the jungle.
You'll cycle moderate distances, and dismount to explore the islands on foot, too. There are plenty of opportunities for swimming as you pedal along the coast. There are some vehicle transfers when necessary. English is one of three official languages on the islands, making it easy to interact with people – which is why a couple of village stays woven into your itinerary will be particularly enjoyable, as well as nights in locally-run guesthouses.
Our top Fiji Holiday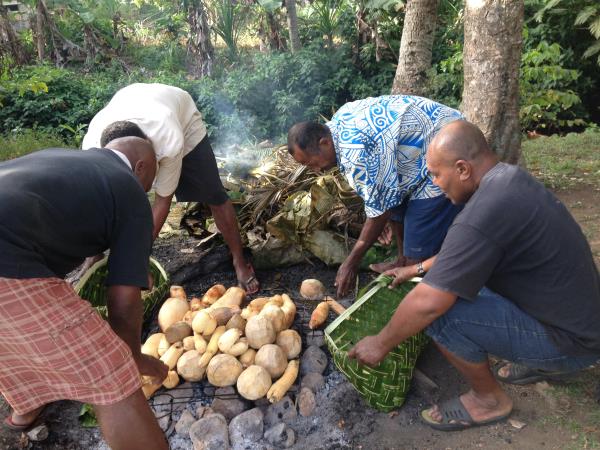 Ride, Snorkel, Swim and explore the real Fiji by bike.
From
NZ $4200
9 days
ex flights
Small group travel:
2023: 24 Apr
If you'd like to chat about Fiji or need help finding a holiday to suit you we're very happy to help.

Small groups
Travelling in a small group of cyclists – no more than 12 at once – is great; you'll not overwhelm the villages you visit, or clog up the important coastal roads which service the island. By the end of the trip you'll have made some firm friends in the group – and shared some brilliant photographs.
Family holidays
Family-focused trips, where you'll cycle with one or two other families, are a brilliant way for everyone in the group to make friends. Fijians love families, and will make yours feel very welcome. Cycling trips like this are best suited to children aged 10 or older, and are packed with entertainment for everyone. The day to day itinerary is flexible, and people can do longer rides if they're up to it.
More about Fiji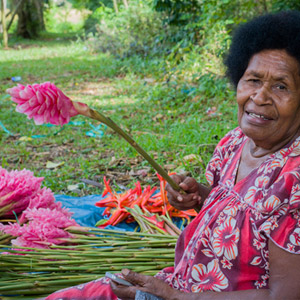 The best time to visit Fiji can depend on school holidays, both European and Antipodean; prices are higher when kids are off. The best time to visit just might be between mid-October and mid-November, when the weather is dry and the islands are quiet.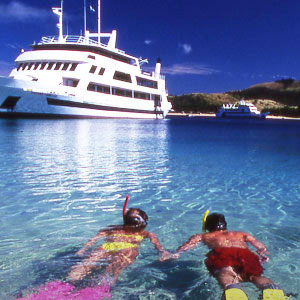 Find out why this volcanic island nation is such a tempting prospect as you read our Fiji travel guide, featuring a Fiji map & highlights section to help you make the most of your time between over 330 islands.