Where to go on a short break
in Finland
---
Map & highlights
This is a country that stretches from the Baltic Sea in the south to the Arctic Circle in the north, and it takes at least 13 hours to drive from one to the other. So on a short break in Finland, you are not going to travel as speedily as Santa can in his homeland. You can, however, cover some gorgeous ground, depending on where you start. Fly to Helsinki to discover the capital and its nearby lakes, hills and coastal villages; Rovaniemi for the loveliness of Lapland; Kitilla for wilderness further north of the Arctic Circle; Ivalo for the wonders around Lake Inari; or Kajaani for bear watching or hiking in remote, Wild Taiga wilderness. Finland is far out.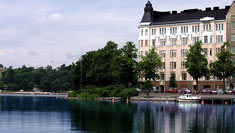 Helsinki
Not your normal city break,
Helsinki
perches on a peninsula which creeps into the island-filled Gulf of Finland. But also has beautiful lakeside towns such as Lohja nearby so you can combine culture with kayaking or high end with hiking. In addition, the city itself boasts a waterside vibe, Art Nouveau architecture, Kiasma Museum of Contemporary Art and, very of the now, a wonderful Nordic Design Museum.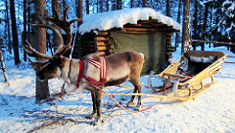 Kuusamo
In Lapland, this is a top spot for real
family winter activity holidays
, not fly-in-fly-out-and-meet-Santa breaks. Santa is in Kuusamo too, of course, but so are snow laden fells, forests, lakes and rivers for
snow shoeing
, reindeer sledding, kick sledging and
husky safaris
. There is also a wonderful family friendly hotel here, with steaming swimming pool, making this a genuinely Finnish, fleeting, but fantastic holiday.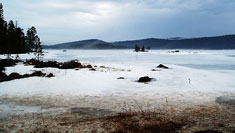 Lake Inari
Just 45km from Ivalo airport, this is Finland's third largest lake. In winter, ski on ice or on tracks around the lake, go on a husky expedition, try snow shoeing and ice fishing and, most dramatically, watch the aurora borealis from an exquisitely designed bubble where you sleep under the dancing lights. This region is very much the terrain of native
Sámi people
, so the recently built Inari Sámi Museum is a must.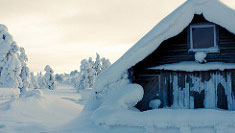 Luosto
Just 90 mins from Arctic Circle, Luosto is the leaping-off point for all classic Lapland activities, accessible from Rovaniemi and Kittila airports. On a short break see the Northern Lights, go husky and reindeer sledding and cross country skiing. Stay in a toasty wooden cabin, with a glass roof to see the lights, based on the design of the traditional Sami kota tent, or try a traditional 'lavvu' or teepee instead.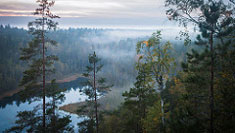 Repovesi National Park
Just three hours from Helsinki, combine a city break with this natural nirvana. Fecund forests and spectacular River Koukunjoki cutting through the park's heart, you can hike up Olhavanvuori Hill or along many other trails, go timber rafting on Kuutinlahti Bay and don't miss Lapinsalmi suspension bridge. Ropovesi is also habitat for the exquisite red throated diver bird, migrating here April/May.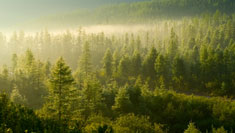 Wild Taiga
For a wild and wonderful weekend, bear watching along the northeastern border in Finland's
Wild Taiga
region, takes you from work to wilderness in a heartbeat. And your heart really will beat when you spend a night in a
bear watching
hide in the middle of ancient boreal forest, hearing wolves howling and seeing them have their proverbial picnic. Because in these woods, you're sure of a big surprise.

Hello.
If you'd like to chat about Finland or need help finding a holiday to suit you we're very happy to help.
Rosy & team.
01273 823 700
Finland short breaks holiday advice
---
TIPS FROM OUR Finland EXPERTS
Getting into nature
---
Riitta Kiukas, founder of our local supplier Skafur-Tour and Finland short breaks expert: "Nature is the most important sightseeing. Make sure you have time to enjoy the silence and the beauty of the nature.
Seeing Santa
---

Ali McLean, from our supplier, Activities Abroad:
"The 24-hour Christmas trips are awful. We do some Father Christmas trips, but to tiny, tiny locations; there's one that we do in a place called Kuusamo where you go to Santa's lakeside lodge and you're there for five hours, making gingerbread with Mrs Claus and getting a private audience with the man himself for no less than 15 minutes; it's all done very well and is part of a four-night trip, which is the shortest we'll do on the Santa front."
Transport tips
---
Riitta Kiukas, founder of our local supplier Skafur-Tour and Finland short breaks expert: "Distances are long and require time but the public transportation works well, buses and trains are in time and they are very comfortable."
Itinerary tips
---

Ali McLean, from our supplier, Activities Abroad:
"The view from Tankavaara Fell in Finnish Lapland is absolutely sublime. It's a big hill in the middle of the landscape and on top of it stands Europe's only working amethyst mine in which I actually have a share. The view is almost ridiculously incredible; endless lakes and mountains draped in snow stretching as far as the eye can see. You feel as if you can see Finnish Lapland in its entirety."
For more details of Ali's Northern Lights Short Break holiday, see our interview with him here.
Packing tips
---
Riitta Kiukas, founder of our local supplier Skafur-Tour and Finland short breaks expert: "Pack with you layers of clothing and warm socks. The weather conditions change quickly and you need to be able to add or remove clothes quickly. One of my Australian clients told me there is a lot of dressing up and off in Finland. That is so true!"
Finland short breaks travel advice
---
TIPS FROM OUR TRAVELLERS
At Responsible Travel, we think the best people to advise our travellers are often... other travellers. They always return from our tours with packing tips, weather reports, ideas about what to do - and opinions about what not to.

We have selected some of the most useful Finland short break holiday advice that our guests have provided over the years to help you make the very most of your trip – and the space inside your suitcase.
"It was easy to put too many layers of clothing on when doing sporting activities such as skiing. Take your own balaclava or two and glove liners. You can rinse out your clothes it you get too sweaty and dry them in electric dryers that each hotel has. So you don't need to go over the top with too many winter clothes. The warm winter clothes they supply are excellent and all you need are some thermals for a couple of days."- Thomas White

"Aki and Sovi have an extensive wardrobe of cold weather gear so apart from thermals and similar there is really no need to bring (or buy) lots of winter gear. For us, a 3-4 hours sledding trip each day was enough; if you want to have a tough experience than other operators can offer 24 hour a day wilderness, cutting holes in the ice for water and (probably) being pretty cold at night!" - Matthew Peek on a husky safari in the Wild Taiga

"At times the activities were a little tiring (then we are 70 ish!!) but we were always so cared for this didn't cause any problem." – Ray Wiley on a Northern Lights short break

"Take hand warmers as hands can get cold." - Philippa Cawthorne on a husky safari in the Wild Taiga

"Beginning April is a glorious time; the days are already longer, the sun is strong and warm, but at the same time the ice is frozen solid and there is plenty of snow in which to play." – Inge David on a Northern Lights short break