RESPONSIBLE TOURISM IN GALÁPAGOS
---
TRAVEL RIGHT IN GALÁPAGOS
It took just 30 years for the Galápagos to go from UNESCO flagship in 1978 to endangered red list in 2007, with tourist numbers, invasive species and an ever-increasing population of fishermen and farmers pushing islands and surrounding waters way beyond their limits. Whether naivety or just plain and simple greed was to blame, the Ecuadorian government did their level best to encourage as many tourists to visit the islands as possible with numbers increasing from just over 10,000 in the early 1980s to almost 200,000 in 2012. Although much of the government's investment would be in supporting the cruise ship industry, which was considered the most environmentally friendly form of tourism, this did little to assist indigenous islanders with tourist finances largely bypassing local pockets. Thankfully, action was taken sooner rather than later and the Galápagos was removed from the UNESCO endangered red list in 2010, mainly thanks to a reduction in cruise ship numbers and therefore a drop off in mainland Ecuadorians coming to the islands for work.
Small, locally-owned hotels, coastal campsites (mainly for researchers) and ecolodges began to present a different perspective of the Galápagos Islands with affordable alternatives to cruise ships allowing land based tourists to begin to get a deeper understanding of island culture and for local people to benefit financially as well as increasing understanding of sustainable tourism.
If you're keen to learn more about responsible tourism in the Galápagos, and how land based tours can contribute to this, then read on as this is one of the world's most incredible natural areas and well worth preserving for many more generations to come.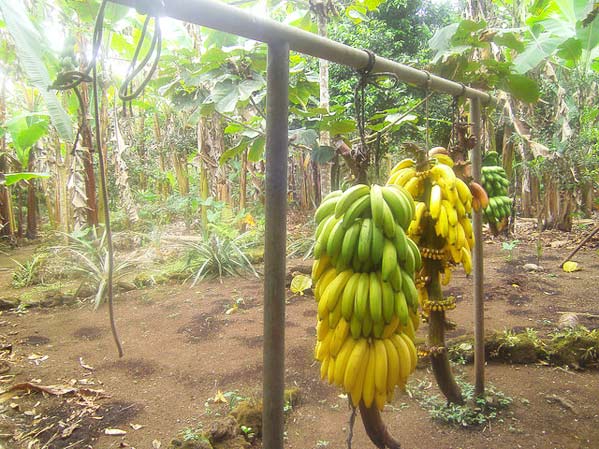 People & Culture
---
GALAPAGUEÑOS & GRINGOS
Although the Galápagos Islands have seen a steady stream of tourist numbers, rising to over 200,000 in 2013, financial benefits, through accommodation, food and entrance fees, have tended to skip local Galapagueños living on the inhabited islands of Santa Cruz, San Cristóbal, Isabela and Floreana.

Small cruise ships bring their own supplies and food, with crew often coming from the Ecuadorian mainland. However, an increase in land based holidays on the Galápagos has meant that 'Gringo' dollars are now being placed into the pockets of local people living and working within and on the perimeters of the park. Small, independently owned hotels, restaurants and food suppliers are now able to operate without having to be tied to a cruise company and can also offer land based tourists a chance to meet Galapagueños on a level that is often absent from a solely sea based tour.

The more local people making a living from responsible land tourism, the better, and although there still needs to be tighter regulations on construction and waste management – in Puerto Ayora, especially – staying on land in locally owned accommodation is currently the best way to ensure Galapagueños get to see the benefits of tourism on a long term and sustainable basis.
Responsible tourism tips
---
Travel better in GALÁPAGOS
One of the major environmental threats facing the Galápagos Islands comes in the form of invasive species which are brought to the islands – usually, unwittingly or otherwise, by humans – and play havoc with island ecosystems as they aggressively assert themselves free from natural predators. For example, in the past, invasive species all but decimated the islands' giant tortoise population with young being eaten by rats and goats gorging on food supplies. Be sure to follow key rules, such as:
stay at least two metres away from the animals, don't feed the animals, only stick to designated paths and only use an aircraft that follows fumigation procedures.
Don't use flash photography near animals.
If you're a professional photographer you will need permission before you can shoot in the park.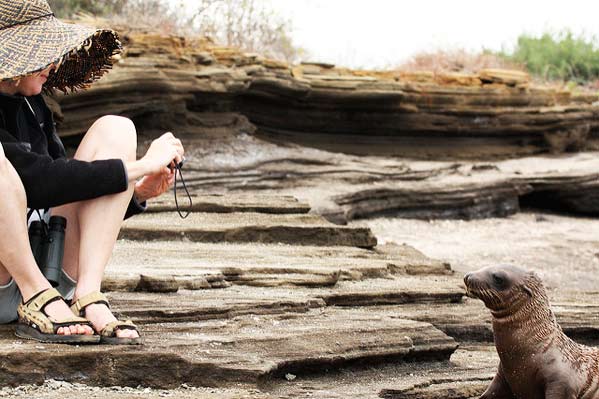 Steer clear of port-to-port sailing trips
as they're usually run by skippers who aren't allowed within the perimeters of the national park and only feature larger towns rather than any animals. Speed boats and crews should be regulated by the Navy.
You can only travel within the Galápagos National Park with a fully trained local guide.
The Ecuadorian government has 'good living' as an integral part of its constitution and as such encourages and promotes young, keen Ecuadorians who are looking for an education, a career, a chance to protect what's on their doorstep and teach other people about the history, the environment and the ethics associated with life on the islands. If you experience anything at all that you think is untoward then report it to your guide who will then write it into a legally requested report which has to be presented to authorities just two weeks after the end of the tour.
By staying in accommodation that has been regulated by the Ecuador Ministry of Tourism or the Rainforest Alliance
(although currently only a few have the RA accreditation), you'll be ensuring it complies with good practices.
If a tour of the islands has been set at a price that looks too good to be true, then
ask to see documentation from the Galápagos National Park authorities,
because a cheap deal will mean cuts have been made, possibly to guide salaries or the environmental rating of the boat.
Although there are a few designated campsites on the Galápagos it's probably best to think of them as research sites, primarily, before you conjure up images of marshmallows over an open fire. Rules and regs include
no eating, smoking, drinking, fishing, music (apart from headphones) or walking around without any clothes on
– hey, tortoises can get offended by bare naked flesh too, you know.
Try and buy souvenirs which are locally made, benefit the community and not harm the environment.
Stones, coral, shells, solidified lava, animal bones, plants and wood do not fall into this category
so don't even think about filling your rucksack with such, either from the land, ocean or roadside stall.
Leave nothing behind
, including rubbish, graffiti (as if you would) and bad vibes.