GALÁPAGOS LUXURY TRAVEL GUIDE
---
2 MINUTE SUMMARY
When you see a sunbathing marine iguana or fully-inflated, red-breasted frigatebird it won't matter where you're standing, although doing so from the deck of an ecologically-sound motor yacht or a three-masted sailing ship can really add a certain sense of style to the occasion. Many of the cruisers, catamarans and expedition ships that we feature in this Galápagos luxury travel guide have been chosen for their superb facilities and high standards of environmental care, with boats often owned and captained by Ecuadorians and Galapagueños. En suite cabins on a luxury vessel will be larger than a standard craft and may feature private balconies. These boats also offer passengers a higher quality of service in terms of dining, recreation and guided wildlife watching. The Galápagos are one of the world's greatest conservation achievements and by undertaking a luxury holiday with responsible tourism at its core you'll be actively helping to conserve this sensitive region as well as having a jolly nice time in the process.
Find out more in our Galápagos luxury holidays travel guide.
WHAT DO GALÁPAGOS LUXURY HOLIDAYS ENTAIL?
---
Responsible Travel recommends
Guy Marks, from our luxury Galápagos cruise experts Tribes Travel, explains what a luxury holiday in the Galápagos entails: "It's like choosing between a 3-star hotel and a 5-star equivalent. The 5-star cruise ship is going to come with better facilities, perhaps a sundeck with Jacuzzi or a private balcony from where to watch the stars. You'll find larger cabins onboard a luxury ship as well as better food and a more extensive wine menu. Service will be slicker with English-speaking guides who are engaging, passionate and personable. This isn't to say that other local guides aren't any good – they are. However, the better guides gravitate to more luxurious ships thanks, in no small part, to larger tips and better facilities as well as improving their career prospects."
The majority of luxury Galápagos holidays are tailor made trips. Working around your chosen dates and activities, there will be a couple of itinerary options to choose from, depending on how much time you have to explore. Tours can last anything from three nights to two weeks, or longer, although a week is more than enough time to fully absorb the main Galápagos highlights.
Luxury ships & boats
---
There is a whole fleet of fully crewed ships to select, ranging from 12-berth yachts and catamarans to 100-passenger small cruise ships, or private access to an entire boat. As you'll be staying onboard, you'll be able to cover greater distances – sometimes cruising overnight – and visit locations in the outer reaches of the archipelago, such as Gardner Bay on Española and Prince Philip's Steps on Genovesa.
These islands are a world away in relation to sub-species and unique encounters with animals both onshore and underwater. Snorkelling, kayaking and glass-bottomed boats add to the indulgent experience and choosing a ship that has suitable gear and equipment onboard lets you balance your time between relaxing, luxury travel and exciting adventures in nature.
Environmental impact
---
A luxury holiday in the Galápagos doesn't mean you have to compromise on conservation – far from it. Contemporary craft have been designed with environmental impact in mind – with onboard facilities for treating sewage, rather than jettisoning as soon as leaving national park perimeters – just one of many responsible tourism practices. For example, one of the vessels that we recommend has been certified by the Smart Voyager sustainable tourism programme, and has managed to reduce fuel consumption by 40 percent, despite being twice the size of traditional Galápagos cruise ships. Knowing you're going to be splashing out on an experience that's as environmentally sound as it will be truly unforgettable will really transform an exciting holiday into a once-in-a-lifetime experience.
GALÁPAGOS MAP & HIGHLIGHTS
---
MAKE THE MOST OF YOUR TIME
Galápagos National Park is primarily a wildlife watching destination and by staying onboard a cruise ship you'll get to see many more sub-species that can only be found on islands that are out of reach of land-based holiday makers. Tailor made, luxury cruises can last anything up to two weeks, or more, although there are plenty of weeklong itineraries that offer an excellent variety of lesser-visited and popular locations as featured on our map below, as well as the big-name sights visited on regular cruises. In general, the central, larger islands of Isabela, Santa Cruz and San Cristóbal are more commonly visited; but head north to Genovesa or south to Española and you'll get a much wilder, more unique experience.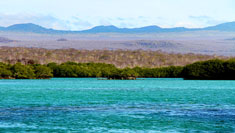 Black Turtle Cove
On the northern shores of Santa Cruz lie the pristine mangroves of Black Turtle Cove. Here, visitors are invited to explore via panga (motorised dinghy) to ensure the resident rays, pelicans and sea turtles are as undisturbed as possible. The sound of paddles parting the water combined with animal sightings in sublimely serene surroundings is certain to resonate with adventurous explorers.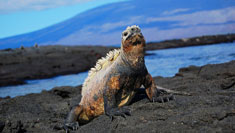 Fernandina Island
The baby of the Galápagos Islands, and the third largest, is actually an active shield volcano and therefore somewhat bereft of plant species. However, the marine iguana and flightless cormorant-covered lava fields at Punta Espinosa more than make up for the lack of greenery. Seasonal whale watching as you cross the Bolívar Channel can be just as exciting as treks to the crater's edge.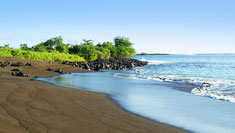 Floreana Island
Famed for its fabulously fruity human heritage as well as the natural sites of Punta Cormorant, Post Office Bay and most of the north coast, Floreana fascinates both above and below the water. Flamingoes and green sea turtles nest here in the rainy season, while beneath the waves there is coral to be found within the depths of the island's sunken volcanic cone known as the Devil's Crown.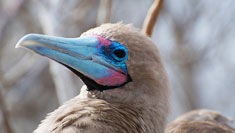 Genovesa Island
Very few reptiles have made it to Genovesa and subsequently it's a flurry of feathers that catches the eye with frigatebirds, petrels, swallow-tailed gulls and red-footed boobies colonising the steep Prince Philip's Steps. Swimming or kayaking within the collapsed caldera of Lake Arcturus is a real joy, especially after a chance encounter with a rare lava gull off the sandy beach at Darwin Bay.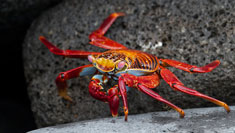 North Seymour
Low-level vegetation and cliffs, practically adjacent to the shoreline, have turned North Seymour into a great location to spot wildlife with overland trails leading to lagoons fluttering with flamingoes and finches, or Sally Lightfoot crabs scuttling over white sands. The mating rituals of blue-footed boobies and magnificent frigatebirds are unforgettable, as is snorkelling with sea turtles in the calm surrounding sea.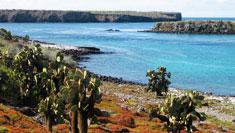 South Plaza Island
To the east of Santa Cruz, South Plaza exhibits an artist's palette of greens and yellows, or mauves, purples and ochres, as prickly pear cactus and Galápagos carpet weed change with the seasons to provide yellow land iguanas, finches and mockingbirds with a smorgasbord of succulents. Hike through cactus groves and sealions or take a Zodiac to red-billed tropicbirds and blue-footed boobies.