Gozo responsible travel guide
"Gozo's coast scenery may truly be called pomskizillious and grophibberous, being as no words can describe in its magnificence".

Edward Lear after visiting Gozo in 1866 on a painting expedition
Welcome to the Responsible Travel Guide to Gozo, the smaller of the two principal islands of the Maltese archipelago and a tranquil oasis of hidden beaches, small villages and rolling hills, where life runs at a laid back natural place. With winding country roads lead through empty valleys to quiet villages where people are always friendly and pleased to see a new face, it is the perfect off the beaten track location for that relaxing family holiday or the active break away from home.

The guide will advise on the best places for you and your family to stay, from small rural farm houses on remote hilltops overlooking the sea equipped with all mod cons, to comfortable beachside family run hotels in the islandís small coastal towns and villages. It will suggest the most suitable beaches, walking trails, diving and snorkelling locations amongst many other outdoor activities. The shoulder season are the best times to visit Gozo and with sunshine for more than 300 days a year, even in the short Mediterranean winter temperatures are always balmy. In spring the hills and valleys are bright with wild flowers and ring to the song of nightingales and other birds. In autumn and winter the sun still shines and the island is at its most peaceful.
With 45 kilometres of coastline, pristine sea and nature, Gozo is the perfect place for beach holidays, with quiet shallow sandy coves, warm seas and gentle country walks. But for those who want to stretch themselves, the island has plenty to offer. Kayakers can take to the water to explore the hidden caves beneath high cliffs once used by pirates and smugglers, and climbers can test their skills on limestone cliffs close to the sea. The excellent underwater visibility, warm water and abundant sea life mean that divers are spoiled for choice, with more than 50 excellent dive spots, some of which are rated amongst the best of the entire Mediterranean.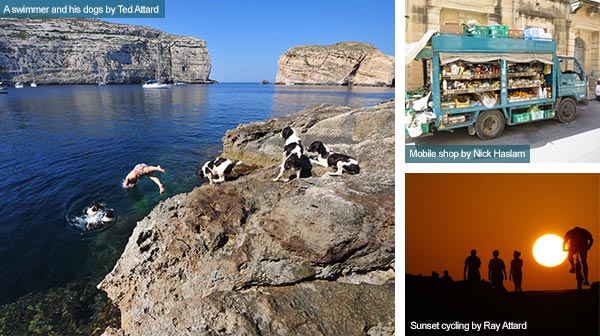 For mountain bikers there are many off road trails which cater for levels of experience, from old shepherdsí paths which crisscross the island, to adrenalin pumping steep drops and climbs on cliff top paths above the sea. Gozoís empty roads are perfect for cyclists who want to explore at a slower pace with, of course, plenty of opportunities to pause for a refreshing swim for the sea can never be far way. There is too the temptation to stop for an excellent lunch in one of the small village restaurants to sample recipes made from locally sourced ingredients. The islandís cuisine, influenced by the many civilisations and colonial occupiers, from the Moors in the 8th century to the Italians, French and the British in the 19th century is surprisingly rich and varied. Get under the skin of this remarkable Mediterranean location, which preserves the best elements of island life far away from the hectic bustle of the 21st century.
Responsible Travel would like to thank the Ministry for Gozo for their sponsorship of this guide