Gozo's multi layered history, its position on one of the oldest maritime trading routes in the world between Europe and Africa, and the fertile land of the island have combined to create a richly varied and distinctive cuisine.
The Phoenicians, the Romans and the Arabs brought new vegetables, spices and ways of preparing meat and fish, which were later refined during the medieval era of the Aragonese and by the Knights of Saint John.
The British colonial era brought not only the typically Anglo Saxon favourites of heavy puddings and jams, but also influences of the Indian sub continent, with chutneys and spicy preserves which now feature in the Gozitan diet.
The small fields and tiny allotments interspersed with the natural habitat of rugged garrigue composed of hardy wild herbs like rosemary, thyme and oregano, do not lend themselves to commercial farming and Gozitan agricultural production has always been on a small scale family level. Today, the old recipes which have been used for generations are back in vogue as both local people and visitors relish the delicious legacies of previous generations of cooks which were in danger of disappearing. Sun dried tomatoes, organic olive oil, herbal liqueurs, jams and cheeses are growing in popularity, and local chefs and restaurants vie with each other to combine these rich flavours with delicious traditional dishes to make a very distinctive modern Gozitan cuisine.
The rabbit, both wild and domestically farmed has always been an important part of the family menu. Either served in a pie, or a stew or even used as the sauce for spaghetti, it can now be found on the table of some the best restaurants in the island as can the traditional dish of calamari stuffed with rice, capers, prawns and local herbs which would have been a typical peasant dish of the 19th century. The many species of fish which can be caught in the clear seas around the island, from tuna and swordfish to huge grouper have always been an important part of the Gozitan diet.
One seasonal speciality, lampuki or dorado, a migrating fish which passes the island in the autumn is especially prized, being baked with anchovies, olives and garlic. Gbejniet – a traditional cheese made from goat or sheep milk which has not been pasteurised is another important staple food. The cheeses can be served in their soft state when fresh, or more typically, dating back to the days when there was no refrigeration, cured in special containers on the flat roofs of Gozitan houses, and then flavoured with herbs or olive oil, crushed peppercorns and salt.
Eaten with a traditional Gozitan hobz – a crusty kind of sourdough, gbejniet is often served as an antipasto in its own right. Bread, made from wheat grown on the island (Gozo's cereal production played a major role in sustaining the Maltese islands during the terrible naval blockade of 1942) is of excellent quality, and forms an important part of any Gozitan meal. The principal bakeries produce many kinds of loaves and traditional baked products ranging from the Ftira, which is a kind of Gozitan pizza, flavoured with tomato paste and anchovies, to small savoury cheese cakes called Pastizzi and Qaghaq – rings of crisp sesame covered bread.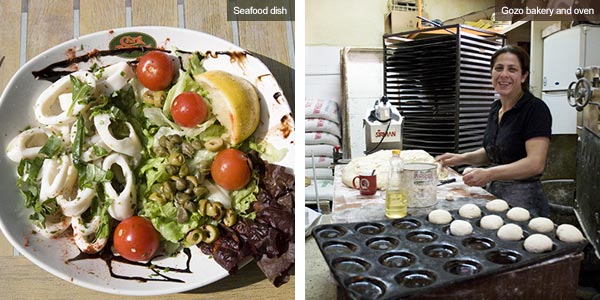 The bakeries are usually family run operations, using wood fired ovens and traditional methods following recipes which have been passed down through the generations. There are several principal bakeries on the island, and each forms a vital part of the community it serves, with Gozitans often travelling miles to make sure they get their bread warm from the oven.
One vital element of Gozitan cuisine, which dates back possibly to the Roman occupation of the island is olive oil, and today production is increasing on the island, as thousands of tree planted in the last decades produce fruit. The high quality extra virgin oil, which has, thanks to the Gozitan maritime climate, very low levels of acidity, is now a prized ingredient not only of salad dressings but also for many types of preservation – from tomatoes to capers.
Most Gozitan families would have produced their own wine, grown from small vineyards on their allotments or farms. Today, this tradition continues, and some small bars in the island serve simple home made wine, which served from a jug can be delicious. But now the island has its own D.O.K. or Certified Denomination of Origin, with a growing reputation for producing excellent wines in significant quantities. With the combination of more than 300 days of sun a year, plus a growing season of about nine months Gozo has its own and very particular terroir. The strong sunlight, plus the cool temperatures produced by sea winds give an excellent structure to the wine, which tends to be round bodied and fruity with some producers saying that there is even a hint of sea salt in its bouquet. Now, with both domestic and international demand steadily increasing wine makers are investing in state of the art machinery for their wineries.
Today the rich traditional gastronomy based on products which have been grown in the traditional way without artificial fertilisers or additives is increasingly a powerful draw for modern tourists.
High quality restaurants can be found in even the smallest villages, serving dishes which are exclusively Gozitan, accompanied by top quality wines which have been produced within walking distance. There are also many small bars and cafes which have excellent ranges of Gozitan dishes on offer, from light antipasti to a full blown three course meal.
Some bars will, if given enough notice, prepare a special Gozitan meal for guests, and this can be one of the best ways to experience the really delicious traditional home cooked food. Gozo Food and Drink is at last today an important element of the modern holiday on the island and its future as an eco tourism destination.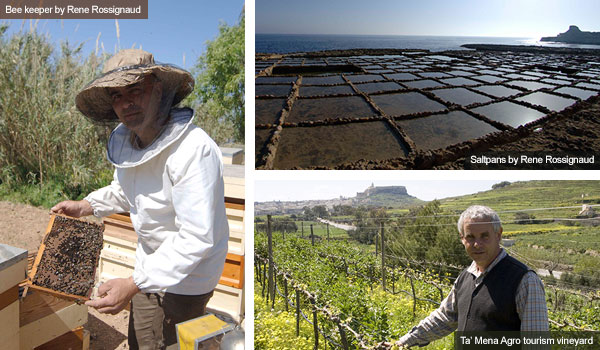 Responsible Travel would like to thank the Ministry for Gozo for their sponsorship of this guide