Scuba diving in Gozo
The sea surrounding Gozo is rich in fish species and with water visibility often in excess of 40 metres, the island has some of the best diving conditions of the entire Mediterranean.
There are many harbours, inlets, rocky coves, and sloping beaches which provide divers with easy access, and surprisingly close to the coast there is a widely varied dramatic underwater scenery of caves, tunnels, drop offs and wrecks.
Gozo scuba diving has been popular for many years, and today dive companies on the island are well equipped and of a high standard, taking divers to shore dives by small trucks and pick ups, or by rib and special dive boats to offshore dive spots. A complete range of courses are on offer for Gozo scuba diving, from the single resort dive for absolute beginners, to open water qualifications and specialised courses for the advanced scuba diver.
There are more than 50 dive spots around Gozo and Comino, but some of the best dives are literally a few metres offshore, with the spectacular Blue Hole dive at Dwejra the most famous.
Listed as one of the top dives in the Mediterranean, divers simply walk into a translucent rock pool and swim down through a round opening into a world of drop offs, boulder slopes, reefs and caves. The dive continues through the Azure Window, one of Gozo's most famous sites, and then climbs through a chimney to return to the exit point.
Expect to see big grouper, shoals of bream, and sometimes barracudas, with schools of dolphins paying occasional visits to the area.
There are also wrecks off Gozo and Comino which have been deliberately scuttled to create excellent dive spots for all ranges of experience. The P31, a former patrol boat with the Maltese navy was sunk off the south west coast of Comino in 2009, and lying at 20 metres on white sand is easily accessible for divers with minimum experience who can spend time exploring without having to worry about excessive decompression periods. The shallow caves of Comino close by provide novice divers with excellent and safe opportunities of diving into underwater caverns over some of the whitest sand to be found in the entire Maltese archipelago.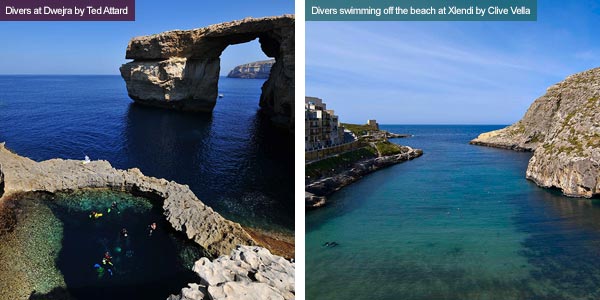 Sea temperatures range from 15 degrees in winter to 28 degrees in summer, and with an average 300 days of sunshine annually diving is possible practically every day of the year. Visiting divers very rarely have to cancel trips due to bad weather, and should the occasional storm make safe entry into the sea difficult on one side of the island an alternative sheltered spot on the leeward coast is never more than a ten minute drive away.
Responsible Travel would like to thank the Ministry for Gozo for their sponsorship of this guide