With balmy temperatures from October through until May, a wonderfully varied landscape of rolling valleys, high cliffs, hidden beaches and coves, Gozo is the perfect location for walkers.
There are few steep hills, and a well laid out network of walking trails leading over ancient landscapes covered in the hardy fragrant Mediterranean garrigue – the tough scrub of thyme, rosemary and countless other herbs.
With more than 1,000 species of plants on the Maltese islands, 25 of which are endemic, there will be something new for even the most ardent botanist.
The long multi layered history of the island too means that in one day of Gozo walking a hiker can visit sites which span the entire period of human occupation here. The most ancient temples in the world are an hour away on foot from lovely 19th century churches of honey coloured limestone, sleepy villages give way to tiny stone walled fields bright with spring flowers, and high watchtowers, built by the Knights of St John in the 17th century still stand guard over beaches where once galleys and raiding pirates dropped anchor.
The relative proximity of practically everything on the island means that a circular walk can comprise both a hike through the interior and a beach side stroll with the chance of a cooling dip in the sea. At the end of the day footsore hikers can use the excellent public transport to get home, never more than 30 minutes away by taxi or bus. Local people too are accustomed to seeing walkers enjoying their island, and will be only too keen to give directions for those who get lost ( it can be done even on such a small island) or advice on the most interesting sites in the area.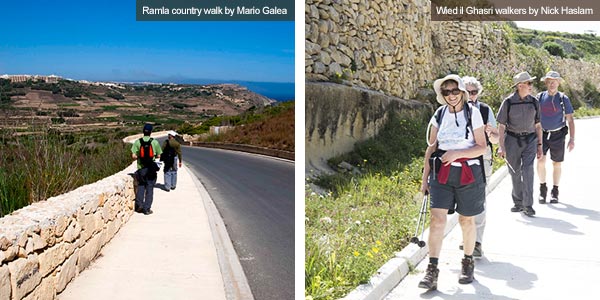 There are an excellent series of Gozo walking guides published by the Tourism Authority, graded in terms of length, difficulty and by theme. The archaeological walking guide directs hikers to the important prehistoric sites of the island, many of which are on hill tops where the lovely views have hardly changed since the first occupants lived here. Other themed walks take the visitor through the more recent history of the island, hugging the coastline on the high sheer cliffs of the south western coast or to the north, where sheltered coves and beaches were favoured landing places for raiding pirates, slavers and invading fleets.
From the watch towers of the Knights of St John, or the beaches where ancient defences, made crudely of conical pits which acted like primitive cannon to scatter invading ships with a blast of rocks and pebbles, to the Napoleonic fort of Mgarr, there is always a surprise at practically every turn of the trail. This, coupled with plenty of opportunities to stop for a drink in a small cool café, or have an excellent Gozitan lunch in a tiny country restaurant ensure that there will always be a wide range of choice for walkers of all abilities on Gozo.
Responsible Travel would like to thank the Ministry for Gozo for their sponsorship of this guide