Great Ocean Road food & drink
Restaurants & cafes
The Great Ocean Road is proud of its local produce and rightly so. This is truly an abundant region and many of the cafés and restaurants you will visit on your trip here will serve fish, cheese, fruit and veg, and even wine from within just a few miles of where you're sitting. This bounty of delicious produce is backed up by high standards of quality and service in the region's cafés and restaurants.
Café culture is thriving here, so you won't have to walk far to find a cup of high quality freshly ground coffee and the flourishing restaurant scene means you can always find a great place for your next meal, whether you're after a laidback lunch or a gourmet dinner.
Call into the Lavers Hill Roadhouse and Tavern to refuel on traditional Aussie pub fare (the steak is highly recommended) or spend the evening at La Bimba enjoying local produce served up al fresco by passionate foodies Mickey and Steve – they have recently purchased a truffle farm at Wongarra and are busy figuring out how to incorporate its delicious bounty into their dishes. If it's a really special occasion head high up into the Otways and seek out Chris's Beacon Point Restaurant. This Mecca for gourmet travellers is perched atop a mountain with floor-to-ceiling windows and the views of the fern and manna gum forests stretching down to the sea are unrivalled. It serves a Southern European-inspired menu of the very freshest produce including just-caught seafood.
Seafood
The coast of Victoria has long been home to a thriving fishing industry and the area is well known for the superior quality of its seafood. Apollo Bay is a real fishing hub, with numerous boats setting out daily to plunder the array of fish just offshore including snapper, squid and salmon, while Portland is a great place to catch tuna.
This area is also home to the Southern rock lobster, or crayfish, which is one of Victoria's most valuable catches and a foodie's favourite which should not be missed.
Most towns along the coast are home to an array of cafés and restaurants serving the fishermen's latest bounty but for the very freshest fish dishes go direct to the source and buy the ingredients to make your own dish from the fishermen's coop by the wharfs in Apollo Bay, Port Campbell, Port Fairy and Portland.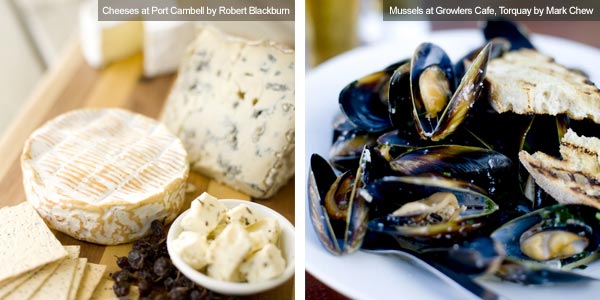 Fruit
Away from the coast the fertile volcanic plains produce some of Australia's best fruits and dairy products. Berries including strawberries, blackberries and blueberries grow in abundance and there are several places where you can pick your own. Visit Berry World in Timboon to pick berries you won't find in the supermarkets including blackberries twice the size of any you've ever seen before, or head to family-run Portland Strawberries for everything from pick your own to strawberry wine. Olives also grow well in this region, and the Birregurra Estate near Birregurra in the hinterland north of Lorne is one of the best places to see a range of olives including kalamata and halkidikis growing in neat rows, as well as to buy some of the best olive oil you will ever taste.
Dairy
Cheese is also particularly good in the Great Ocean Road, with several producers making world-class products, including Apostle Whey near the Twelve Apostles who make handmade cheeses from the milk produced by the farm's herd of Jersey and Friesian cows. Their Apostle Crumbler, a feta-like cheese marinated in canola oil with herbs and garlic is the bestseller, whilst the Spot and Dot has a delicious edge thanks to the black peppercorns and the Smoked Heytesbury Harvest, which is smoked using eucalyptus twigs, has a mild, slightly sweet flavour.
More great cheese is produced further along the coast at Yambuk where Shaw River Buffalo Cheese are the pioneers of water buffalo milking in Australia, and in Timboon where the old Timboon cheese factory is set to reopen, producing Aussie cheese with an international flavour under the label L'Artisan Cheese Timboon. But Timboon isn't just known for its cheesy pedigree, the Timboon Railway Shed Distillery is one of the best places in the region to sample local gourmet produce including the all-natural homemade Timboon Fine Ice Cream, Princetown's GORGE chocolates and the delicious Timboon honey. As the name suggests, whisky is also made here – a single malt distilled in a pot still and inspired by the great Scottish whisky tradition – and visitors can watch it being produced.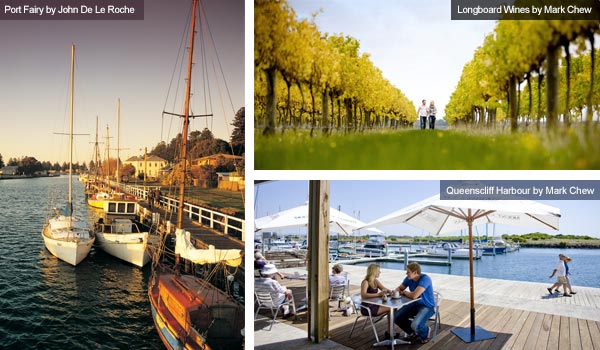 Wine
Wine is also made throughout this region and no visit would be complete without calling in at the cellar door of at least one vineyard.
Near Torquay, the Bellbrae Estate produces a range of wines under the Longboard label including a chardonnay, a sauvignon blanc and a shiraz, while Wolseley Wines produces limited quantities of the finest chardonnay and pinot noir.
Further west, Heytesbury Ridge produces a range of handcrafted wines under the Newtons Ridge label including pinot noir, chardonnay, shiraz and a very popular pinot grigio, while the Otway Estate makes a wider range of wines including a sparkling brut, a rose and an award-winning semillon sauvignon as well as brewing several different beers, from a light organic lager to a classic full-bodied stout.
Local produce
In the towns along the coast many of the region's local products can be found everywhere from market stalls and quirky stores to café tables and restaurant glasses. To buy a range of local goods all in one place, time your visit to coincide with one of the regular farmers markets in Aireys Inlet, Apollo Bay, Port Fairy, Torquay or Warrnambool when local producers gather to sell their wares. Stock up on packed lunches, picnic supplies and of course, a few samples to take home.
Responsible Travel would like to thank Tourism Victoria for their sponsorship of this guide