Walking and hiking the Great Ocean Road, Victoria
If ever a region were designed with walkers in mind, this is it. Unspoilt scenery is always best visited on foot and with so much of this area being very remote you often have no other choice. There is something for everyone here.
Numerous trails of all lengths and for all abilities criss-cross the region from the Surf Coast in the east to the Shipwreck Coast in the west, traversing all types of landscape from sandy beaches to rugged cliffs, ferny rainforests to open heathland.
If you're serious about walking, it has to be the Great Ocean Walk, a 104km trail which hugs the coast and offers spectacular views at every turn. Starting in Apollo Bay it weaves through the dense rainforest of Great Otway National Park, around the
Aire River inlet
, past astounding viewpoints at
Moonlight Head
and
The Gables
and ends at the Twelve Apostles in Port Campbell National Park. Each of its eight sections is designed to take a day and at the end of each one there is a hike-in campsite equipped with everything you need for a night under the stars.
But the Great Ocean Walk isn't just for those with a healthy hiking appetite and a week to spare. Designed as a step on, step off trail, there are short walk options ranging along the route and walkers can choose the section best suited to them.
Apollo Bay
to
Castle Cove
is known as the "mild side" and offers a range of shorter walk options for those seeking something more akin to a stroll than a hike. Consider doing section three of the Great Ocean Walk which stretches 10.3km from
Blanket Bay
to
Cape Otway
for a gentle climb through coastal forest, impressive views of
Parker River
and a walk under the manna gums where koalas are often seen; or discover the peaceful estuarine Aire River, Hordenvale Wetlands and the Escarpment lookout on the 4.2km
Aire River Escarpment Lookout Walk
.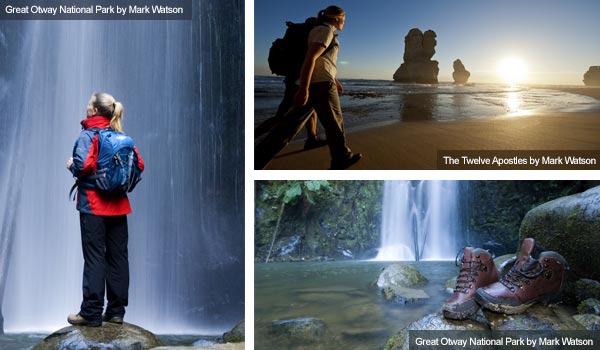 For something a little more challenging, take a walk on the "wild side", as the track from
Johanna Beach
to the
Twelve Apostles
is known. Section eight of the Great Ocean Walk from
Devils Kitchen
to
Glenample Homestead
travels 12.9km along the boundary of the
Great Otway National Park
through sandhills and coastal scrub and offers stunning views of the Twelve Apostles; while
Milanesia Beach
to
Moonlight Head
is a fantastic one-day walk through steep hills and coastal forests passing high sea cliffs and sensational scenery over this challenging 10.4km hike.
Another long-distance option is the Surf Coast Walk, a 65km scenic marked trail from surfer's capital Torquay to the quaint seaside town of Lorne, which includes some beach walking as well as the majestic forests and cascading waterfalls of the hinterland. The 5km section from Bells Beach to
Point Addis
is particularly picturesque, featuring red cliffs, sandy beaches, mine ruins and forests of ironbark and messmate; if you time your visit for the spring, the coastal heathlands around Anglesea will be covered with colourful wildflowers – a beautiful sight.
For contrasting scenery head further west to the area around Warrnambool where the volcanic geology makes for an interesting backdrop to some moderately challenging hikes. In Mount Eccles National Park take the 3km Crater Rim Walk through manna gum woodland (popular with koalas) to the north end of the crater for breathtaking views and the chance to visit a lava cave.
Bring a torch so you can explore this subterranean wonderland and check out the lava canal which was formed when large sections of the roof of a lava tunnel collapsed.
From here you can either continue around the rim to see a series of smaller volcanic vents and the chance to see peregrine falcons, or follow the lava canal for a more strenuous 6.5km walk over rocky terrain on which you might encounter wallabies, echidnas and diverse and noisy birdlife.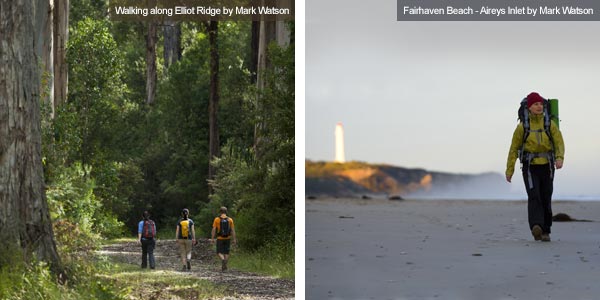 Not everyone wants to explore solely on two feet and if you're looking for short loop walks with car parking facilities, there's plenty here for you too. On the Great Ocean Walk itself, the
Shelly Beach Circuit Walk
is the best short walk. Beginning and ending at the Shelly Beach Picnic Area, the 2.4km route traverses fern gullies, coastal scrub and rocky platforms as well as the eponymous beach, and takes around forty-five minutes to complete. Another short loop walk is the Lightstation Cemetery and Lookout Walk at Cape Otway Lightstation. This 2.8km, forty minute walk visits the historic final resting place of intrepid explorers and shipwreck casualties and takes walkers through coastal
Beard Heath
where a lookout offers views back across to the Lightstation.
There are several other walks around the
Otways
. For a simple circuit of just 4km why not try the
Lake Elizabeth Circuit Walk
, which takes you through rainforest to the water, passing the landslip which caused this lake to form, before winding its way around the shore, through cool fern forest and underneath towering blackwood trees. Look out for the platypus here if you're walking around dusk or dawn. For something a little more strenuous climb up to Sabine Falls, where a well-marked 3.5km trail leads walkers through lush rainforest on a narrow track before emerging at the lookout for admiring this cascading waterfall – the tallest in the Otways and one of the most postcard-perfect.
Responsible Travel would like to thank Tourism Victoria for their sponsorship of this guide
Back to the top
Convert currencies