Great Ocean Road marine life
Both along the coast and in the water, the Great Ocean Road area's marine life is fantastically diverse and a key part of any trip here is an encounter with it. Even on dry land there's plenty to see. Along the coastline between Port Campbell and Peterborough small colonies of fairy penguins can be found. These flightless birds stay at sea during the autumn-winter period but return to their burrows daily the rest of the year. Sit silently on the beach at nightfall and you may see groups of them returning from the waves. Watch for groups of penguins gathering beyond the surf – this precedes their return to shore.
Numerous other bird species can also be seen along the coastline.
Oystercatchers
and both
black and white hooded plovers
are frequently found wading near beaches, while the
white-bellied sea eagle
, a large bird of prey, is sometimes seen riding the thermals just offshore as it searches for fish and sea snakes to feed on. On Mutton Bird Island at Loch Ard Gorge,
shearwaters
(also known as mutton birds) are found in large numbers. Nesting here from late September to mid-April, these huge birds are impressive oceanic fliers and create an awesome spectacle as they return en masse to their burrows each evening. Other coastal islands often play host to large colonies of
Australian gannets
, which are prone to spectacular plunge dives into the water in search of fish, and
orange-bellied parrots
, a small green and orange parrot which migrates from Tasmania each winter.
In the sea itself, a truly unique ecosystem can be found. As a part of one of the world's major south-facing coastlines this area has been isolated for millennia and consequently has developed its own species.
A stunning underwater environment of reef systems, sea grass beds, towering kelp forests, sponge gardens and intertidal rock platforms are home to the world's largest diversity of red and brown seaweeds, sea mosses, crabs, shrimps and sea squirts.
The bright-red
Southern rock lobster
is only found off the coast of southern Australia and New Zealand and consequently is one of the region's most valuable catches. Some can still be seen on the rocky reefs but you're more likely to see it on restaurant menus.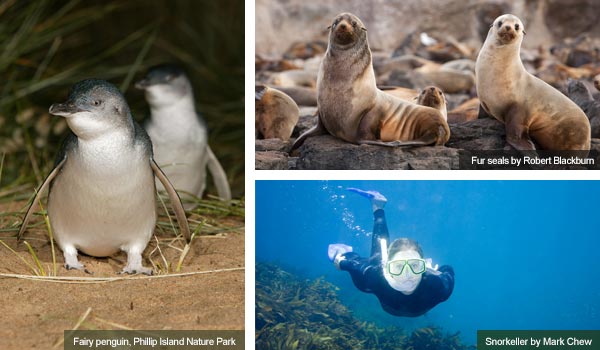 The Marengo Reefs Marine Sanctuary, close to shore near Apollo Bay, is home to not only an abundance of corals, sponges and other invertebrates but also a sizeable colony of
Australian fur seals
who can often be seen lounging around sunning themselves on the reefs. Australian fur seals can also sometimes be found on other parts of the coast, hauling themselves out of the Bass Strait and Southern Ocean to doze in the sunshine, and other species including New Zealand fur seals, elephant seals and leopard seals are also sometimes seen.
Dolphins
also often appear along this coast, especially around Port Campbell National Park where both common dolphins and bottle-nosed dolphins are sighted regularly, but the real star of the show is the
Southern right whale
. In May of each year about a dozen Southern right whales choose the southwest coast of Victoria to give birth.
When the pod arrives the pregnant females break away to find a quiet place close to shore to give birth, usually locating themselves somewhere between Apollo Bay and Portland.
Most years they settle at Logan's Beach just outside Warrnambool, remaining in the waters just offshore to raise their young. Until October, when they head back out to deeper seas around the Antarctic to feed, these stately creatures can be viewed from the shore, by boat or by helicopter. However you see them, you won't forget your first sight of these magnificent creatures hurling themselves out of the water, diving deep into the sea with a flick of their huge tails, or simply gliding along effortlessly in the ocean – don't miss it.
Responsible Travel would like to thank Tourism Victoria for their sponsorship of this guide
Back to the top
Convert currencies