Country cottages
There are few cosier places to stay other than a rustic cottage built for two in the middle of the countryside. Log fires after hillside strolls, champagne and croissants on the lawn, village pubs and biking trails; if you're looking for authentic honeymoon accommodation, country cottages are a great place to start. Don't assume country cottages are the reserve of the British (although they do do it rather well), as there are hundreds of carefully converted and original dwellings across Europe that make the perfect setting for a private honeymoon retreat. From Devon and Cornwall to Andalucia and the Algarve, finding the perfect country cottage for your honeymoon presents the perfect marriage of character and comfort.
Villas
Nothing says honeymoon accommodation like a villa with a private pool or ocean view and if you can combine the pair then you're already half way to wedded bliss (for a couple of weeks at least). Finding the right villa is all about picking the proximity to a nearby town or village and deciding how sand-dusted you prefer your doorstep. Luxury honeymoon villas on the Greek island of Ithaca are one such example, and if you're looking for sun, sea and solitude then look no further. Turkey, Cyprus and northwest Thailand all promise honeymoon villas with pools alongside sublime scenery and if you're looking to escape and relax after a hectic wedding schedule there's no better hideout from where to hole up.
Eco lodges
As you lie wide eyed and awake listening to the sounds of the jungle you nudge your newly betrothed and whisper softly in their ear 'what the hell was that?' Hey, living in an eco-lodge surrounded by rainforest isn't going to be every couple's honeymoon accommodation of choice but for others, it's pretty hard to beat. Of course, you don't have to stay in rural Malaysia, Bali or Peru to sample a sustainable approach to life in a luxury lodge, oh no. Croatia, the UK and the Canary Islands all have responsible retreats dotted across the countryside and if you prefer to wake to a Welsh dawn chorus or the permanent babble of brooks as opposed to more exotic alternatives then you won't have to search too hard to find your perfect soundtrack.
Tropical hideaways
Four-poster beds hung with silk mosquito nets, wooden decking overlooking mist shrouded rainforests or rose petals scattered across a private outdoor bath; whichever scene best suits your perfect tropical hideaway, make sure you choose responsibly. Costa Rica and Malaysia are just a couple of totally tropical destinations from where to hide away from the outside world and if you're longing to laze in a hammock or stare thoughtfully over flower-filled gardens, then your honeymoon accommodation provides the perfect excuse to do so. Staying in a tropical hideaway doesn't have to start and end at the beach and if you're looking to go wildlife watching or find out more about different ecosystems or cultural customs then why the heck not?
Our top trip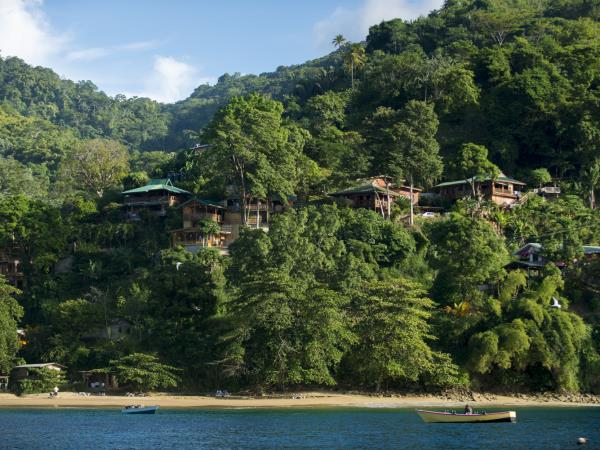 17 beautiful accommodations in unique eco resort
From
£117

to

£390
per accommodation per night
Accommodation
If you'd like to chat about Honeymoon ideas or need help finding a holiday to suit you we're very happy to help.

Tree houses
What better way to get your Tarzan and Jane on during your honeymoon than by staying in a tree house? This isn't quite as graphic as it might first sound and if you're looking to share some great views or just lose yourself amongst a forest canopy then a tree house suggests the ideal nest. Caribbean islands, such as Dominica, have a choice of carefully constructed tree houses that blend seamlessly into the forest foliage to showcase a setting that's as responsible as romantic. Imagine sitting out on your tree house veranda listening to the sounds of croaking frogs and cricket concertos, what an awesome prelude to an evening meal that's been rustled up by the resident chef. Another amazing example of tree house honeymoon accommodation can be found in Sweden where accommodation has been sustainably sourced and placed high above the forest floor without a single tree being harmed in the process. Insulated with underfloor eco-heating and lit via environmentally-friendly hydroelectric power, these tree houses are as green as they come and offer the perfect setting from where to get snug on your honeymoon before venturing outdoors to watch the greatest natural show on earth, the Northern Lights.
Beach resorts
What you really need on a honeymoon is for someone else to care for your every whim whilst safe in the knowledge that your privacy is respected. Finding a small hotel or resort, right on the beach, is one way to get the balance between responsible travel and awesome setting, with properties situated away from main resort areas definitely offering more in terms of peace and tranquility. Low-rise, locally-owned hotels, with no more than 10 – 15 rooms, offer honeymoon couples ample excuses to feel good about themselves as well as providing a personal level of service that few larger alternatives can dream of matching. Whether you're contemplating exotic locations, such as the Maldives, Mauritius and Malaysia, or perhaps beach hotels closer to home, Turkey or Greece, for example, just make sure your beach accommodation treats the environment just as well as you do.
Beach houses
There's nothing like a beach house to truly help you conjure up some romance on your honeymoon and if you're wishing to watch your very own Ursula Andress or Daniel Craig appear from ocean waves (covered in seaweed) then here's how you do it. There's a great selection of carefully created beach houses across the globe that offer both self-catering and catered accommodation for honeymoon couples. From the Isle of Wight or Jersey, to Portugal, the Canary Islands or the Maldives, staying close to the beach is a must for lots of newlyweds and finding carefully created accommodation lets you cast only footprints in the sand.
More Honeymoon ideas articles