India cycling routes
---
OUR TOP INDIAN TRAILS
India cycling routes are as eclectic and colourful as an Indian spice stall. In Kerala you can cycle along the coast or backwaters, or up into the glorious Western Ghat Mountains. And treat yourself to a local Ayurvedic massage at the end of the day. In Rajasthan you have historic, Mughal influenced towns alongside luscious national parks such as Bharatpur and Sariska. And then for the ultimate spicy hit, you have the Himalayas that line your route between Manali and Leh in Ladakh. This is where you can end every day at a beautiful Buddhist shrine to give thanks for landscapes that even the most ardent atheists will worship.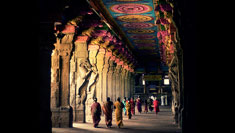 Chennai to Cochin
A coast to coast cycle starting in Tamil Nadu's Chennai and finishing two weeks later in Kerala's Cochin. Or vice versa, of course, starting on the Arabian Sea and heading east to the Bay of Bengal. Take in cities such as majestic Madurai or slightly crazy Kottayam, as well remote areas. Highlights of these include the cycling through Western Ghat foothills, tiny Tamil Nadu villages or the Thekkaday rainforests.
Coastal & backwater Kerala
Dip in and out of the coast to visit beaches like Chavakkad, Cherai or Varkala, or temple towns like Guruvayoor as well as the backwaters. In
Kerala
you cycle alongside myriad waterways, spend a night on a houseboat and visit villages. Time in historic Fort Cochi is always a treat with its spice bazaars and lively arts scene. Cycle into
neighbouring Karnataka
for treats such as Bandipur National Park.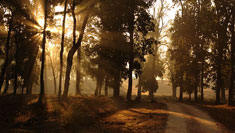 Maikal Hills
Central India is often overlooked but is highly underrated. Especially when it comes to cycling through the verdant Maikal Hills in Chhattisgarh. The highest point is 941m so not too many climbs, but this is all about cycling through rich forest and remote tribal villages, alongside rivers and also discovering cultural highlights such as Bhoramdeo Temple, or protected natural ones like Kanha National Park.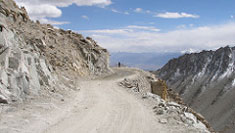 Manali to Leh, Ladakh
Just look at the pictures - they say it all. Starting in Himalayan town of Manali, Himachal Pradesh state and ending in Leh in Ladakh,
this mountain biking
is both gnarly and gorgeous. Spend two weeks crossing passes such as Rohtang La or the iconic Khardung La , pass mountainside monasteries and camp by bright blue elevated lakes, or in the Chandra River Valley. Now, THIS is a trip.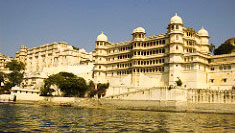 Rajasthan
Superb
small group cycling tours
take you along back roads out to greats such as Kumbhalgarh Fort or around temples and palaces in Udaipur. Discover the more luscious sides of Rajasthan in Bharatpur and Sariska National Parks or Aravalli Hills. You can even do a circuit of this regal state within two weeks, if you include a train transfer from Delhi across the Thar Desert to Jaipur. Then, on your bike.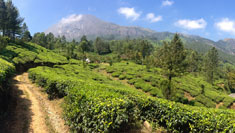 Western Ghat mountain biking
Few people associate Kerala with mountains, but
this is a rapturous range
, especially for mountain biking. Trips usually start in the town of Munnar, with the backdrop of Anamudi, Kerala's highest peak at 2,695m. Not one for biking up, but the River Periyar Valley is, as are the challenging foothills, forests and plantations. Stretching into Tamil Nadu, challenges include hairpin bends through Valparai's rainforest.

Hello.
If you'd like to chat about India cycling or need help finding a holiday to suit you we're very happy to help.
Rosy & team.
01273 823 700
India cycling holidays travel advice
---
TIPS FROM OUR FRIENDS IN INDIA
Getting into shape
---
Andy Ross, Cycling Manager at our leading cycling holidays supplier, Exodus: "Do as much training as possible beforehand as the fitter you are the more you can relax during the trip and properly appreciate the experience and where you are cycling. That said, always avoid the temptation to be competitive on the trip, someone will always be the slowest rider and it really doesn't matter if that is you. A good cycling holiday will have always been designed to allow enough time for most people to complete the rides each day."
Manali to Leh cycle tips
---

Valerie Parkinson, Ladakhi expert and tour leader with our supplier, Exodus:
"Ladakh is one of the best adventure travel destinations on earth. For both trekking and cycling there are endless opportunities. One of my favourite things to do is cycling down the Khardung La – the Khardung La is supposedly the highest motorable road pass on earth at 5602m. The rewards of getting to the top include not only bragging rights and close-up views of the Karakorums, but an exhilarating 40km downhill ride, dropping 2,000m in altitude, back to Leh."
"Take it easy on arrival. The altitude takes your breath away literally. Rest and drink for the first 24hours. Expect to feel breathless when walking up the stairs – it happens to everyone"

"It is an ideal place for a first time visit to India – many people go to Rajasthan as a first time in India – and they end up hating the country because it is so full on. Visit Ladakh as a first time in India. Once in Leh you feel you have left 'real' India. There is a hardly any hassle and although it is busier in summer it is never as busy as other tourist destinations within India."
Packing advice
---
Andy Ross, Cycling Manager at our supplier, Exodus: "Close fitting cycle clothing really isn't culturally appropriate in quite a few destinations. It is the duty of a tour operator to ensure that clients are aware of this and to implement it on the ground. You may have paid a lot of money to visit, but you are only a visitor."
India cycling holidays travel advice
---
TIPS FROM OUR TRAVELLERS
At Responsible Travel, we think the best people to advise our travellers are often... other travellers. They always return from our tours with packing tips, weather reports, ideas about what to do - and opinions about what not to.

We have selected some of the most useful India cycling holiday travel tips that our guests have provided over the years to help you make the very most of your holiday – and the space inside your panniers.
"Definitely travel light. I over packed. Just too many clothes, mainly because we didn't know how hot it was going to be, or how wet, as it was just at the end of the monsoon. We only had one or two wet days, and so you do need a waterproof, but all our cycling gear dried out quickly. I had five cycling shirts, two pairs of padded shorts and a couple of pairs of overshorts, and that was fine. But it was the evening clothes, I had far too many of those."
– Lyn Hill, cycling in Kerala and tropical India
Read more about Lyn's cycling holiday in our full
traveller interview
here.
"You really don't have to worry about anything. We were happy and healthy the entire time, and very comfortable indeed! We met so many lovely people! My only advice would be to make sure that if there are things you especially like or don't like then let them know in advance...My wife and I went on this trip with our 17 year-old son. Even as seasoned travellers to India, we would never have been able to do this trip on our own because this part of central India really doesn't have much tourist/traveller infrastructure. Cycling from village to village was absolutely fantastic. Our wonderful guide, Saurabh, based in Raipur, was not only brilliantly organised and wonderfully knowledgeable about wildlife, architecture, people, plants, birds, customs etc. He also enabled us to visit families and villages in a way that was really rewarding and not the slightest bit 'icky'. We stayed overnight in one village, which was a fantastic experience - we learned so much. I especially enjoyed being taught how to make herb chapatis over a fire." – Jonathan Drori on our Cycling holiday in the Maikal Hills
"Cycling is the only way to go for so many reasons. The most memorable part? The endless wild receptions as we rolled through village streets; young and old alike excited beyond measure! Don't plan on convenient, ever-present wifi at your hotels. Be mentally prepared for very slow riding. The Leaders were conscientious and at the ready. If anything, we were over-coddled in that we were afraid, perhaps rightly, to go out on our own in some places." – Peter Judd on a Rajasthan cycling holiday