India wildlife holidays advice
Managing expectations
Valerie Parkinson, Ladakh and snow leopard tracking specialist at our supplier Exodus:
"Expect to be outside all day in the winter in Ladakh. Do not expect luxury; this is not five star safari lodges, this trip is camping and homestays in winter in Ladakh, but you will be well looked after in camp or in the homestay with great food cooked by our own cooks. Do not expect jeeps for tracking; it is all done on foot and do not expect a hot shower every day, we give a bowl of hot washing water in the tent in the mornings. There is a heater in the dining tent and a hot water bottle at night. But expect the excitement of seeing and following pugmarks of snow leopards."

Guy Marks, co-director at our supplier Tribes Travel gives advice for tiger safaris:
"Don't expect this to be like an African safari experience. The way the parks are run, the quality of guiding and the seeming lack of a need to be silent, all have a very unique Indian style".
Family wildlife watching tips
Belinda Wright, OBE, Executive Director, Wildlife Protection Society of India (WPSI):
"Children under five years of age are not allowed inside most tiger reserves. This is a wise rule as most of the parks use open safari vehicles and the noise of children can be both disturbing and curious to the big cats. For older children it can be a trip of a lifetime, but parents should make sure that their children are quiet and well behaved when they are in the tiger's territory."

Paul Goldstein, top tiger safari guide and expert at one of our leading suppliers, Exodus:
"As with all wildlife watching, it is great to take kids on a tiger safari. But just be aware of the heat. Choose the time of year correctly to avoid the hottest times. If you go beyond mid-March, I would say it would be disastrous with kids weather wise, but February half term would be perfect."
Advice on fitness levels
Valerie Parkinson, Ladakh and snow leopard tracking specialist at our supplier Exodus Travels:
"The walk to the base camp is not too far but if a snow leopard is spotted you need to be able to walk and move at altitude so a fair amount of fitness is required. You should be able to carry a backpack with your camera and water for the day. However, if you have a heavy camera bag there is the option though to hire your own porter who will carry the camera gear for you and help set the camera up. The trip is at high altitude where everyone moves slower – we spend three days in Leh at 3,500m to acclimatise."
What to pack tips
Valerie Parkinson from our supplier, Exodus:
"Bring a good sleeping bag, either your own or you can hire one from us. Bring warm clothes: jacket, socks, gloves and bed socks. And also a good pair of binoculars, we have scopes with us but having your own binoculars makes the trip more interesting."

Shanane Davis, Director of our wildlife holiday supplier in Rajasthan, True Luxury Tours:
"Most travellers come in winter and the difference in temperature between morning and evening can be a lot. So pack a sweater and socks. Also a rain poncho, as umbrellas aren't practical here with the wind."

Sophie Hartman, owner of our wildlife holidays supplier Chinkara Journeys, specialising in central India: "Pack light, you'll want to cram your suitcase with lovely things to bring home. A scarf is the most useful piece of kit, good for covering your head if you feel a bit stared at, your face and nose if you're in a dusty jeep and for drying face and hands after washing in sometimes grimy road side bathrooms."
Birdwatching tips
Ashish Dev V, from our birdwatching holiday supplier, Kalypso Adventures, based in Kerala:
"Thattekad, a lowland forest area in Kerala, is one of the finest bird watching spots in South India with 274 species of birds recorded here. In a relatively small geographical area it is possible to sight nearly all the endemic birds of the Western Ghats and more. Carry a very good pair of binoculars, good walking shoes, a cap and some sunscreen lotion. Most of the areas are forested and you can expect insects everywhere; insect repellent creams are also a good addition to the kit."
Photography tips
Paul Goldstein, from our supplier Exodus:
"Much like mountain gorillas, you have to be aware that this is a desperately endangered species, so please try and look beyond your camera. I have led countless tiger safaris in India, but probably only have half a dozen really good photos. So, particularly when you see your first one, put the camera away because, firstly, you might not see another one and also, it is a deeply emotive moment. The photo will probably be rubbish anyway as you will be sobbing or shaking, as you should be."
Looking beyond the tiger
Sophie Hartman, owner of our supplier Chinkara Journeys:
"I think that name 'tiger watching' should be banned. Don't go with tigers as your sole focus, there is so much to see in India's national parks and spending the whole of your safari charging around the park on a hunt for a tiger is such a wasted opportunity. Ask your guide and driver to stop for ten minutes by a lake or stream, listen to the sounds of the jungle, watch the birds, enjoy the beauty of the light coming through the forest. So much more fun than just thumping along in a jeep."
Our top trip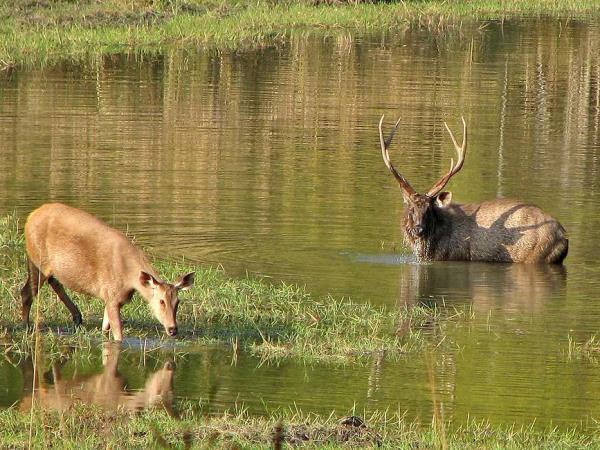 Brilliant experiences including Tigers and Temples
From
£1199

to

£1299
11 days
ex flights
Tailor made:
This trip can be tailor made throughout the year to suit your requirements
If you'd like to chat about India wildlife or need help finding a holiday to suit you we're very happy to help.

HEALTH
For any medical emergencies, call 102.
Visit your GP or travel clinic six to eight weeks before departure to ensure you are up to date with all necessary vaccinations.
Malaria is a risk in India, although there are few cases. But do take precautions, covering up in the evenings, using repellents and sleeping under a mosquito net. Dengue fever is also a feature, particularly during monsoon season, so good precautions such as strong repellants and nets are vital.
Stick with bottled water, although sometimes tricksters seal bottles filled from a tap. Well known brands are safest but if it tastes odd, just leave it. Similarly, avoid ice if you are not sure.
Altitude sickness can occur in certain regions such as Ladakh, so let your body adjust to the elevation slowly, and keep hydrated.
Coconut water is brilliant for rehydrating during extreme heat.
Keep kids away from dogs and cats, because rabies does exist in India.
Always travel with a basic medical kit, including Imodium for stomach upsets. Ensure to bring your own prescription medicines along with a copy of your prescription.
Parasites are a common cause of diarrhea, and may not get better without treatment so if it goes on for more than two days, seek medical help.
There are venomous snakes in India, so look out for markings if you are bitten, seek help urgently and report which snake bit you.
SAFETY
Always check with the Foreign and Commonwealth Office (FCO) for updated, regional issues regarding safety. In Kashmir, the FCO only advises travel to Ladakh and the cities of Jammu and Srinagar, keeping to major highways. But oh boy, it is still worth it.
Do what your guide says, as these are wild animals, and not to be cuddled or cooed over. And you may be desperate to get a photo, but trust us. Or, more importantly, trust your guide. Watching animals in the wild is one place where the customer is NOT always right.
Do not touch the wild animals. A responsible tour operator will never allow this anyway, and so if you are ever invited to 'pet' or 'walk with' a wild animal, you must report it. It is not safe, and nor is it good for the wild animal. We carry diseases and bacteria that are very harmful to them.
Don't use flash photography with wildlife as it can disturb the animals, frighten them and make them react aggressively sometimes.
Always keep noise to a minimum when wildlife watching. It can be difficult, as everyone gets excited when they spot something, especially in India for some reason, but do try and stick to this important rule. Disturbed wildlife may attack your vehicle if unduly startled.
India wildlife holidays travel advice
At Responsible Travel, we think the best people to advise our travellers are often... other travellers. They always return from our tours with packing tips, weather reports, ideas about what to do - and opinions about what not to.

We have selected some of the most useful India wildlife holiday tips that our guests have provided over the years to help you make the very most of your holiday - and the space inside your suitcase.

Manage your expectations. Tigers, bears and leopards are very hard to spot and very elusive. Go into the park looking to enjoy the scenery, the wildlife and the atmosphere.

"If you're after a relaxing break then perhaps this isn't for you. There's an awful lot to see and not an awful lot of time to see it in so expect a lot of early mornings and quite a few hours on the road! But I genuinely couldn't think of a better way to squeeze so much in, there is no way that I would have been able to see so much if I had been travelling independently. Bring a good camera as there's plenty to see. I also found a pair of binoculars handy, especially if you're lucky enough to see a tiger! Also a sarong/scarf is useful in case of strong sunlight or dusty roads." – Jerrine Barnett in Northern India

"There is a charge… per camera per game drive... This is payable in cash at the park gate, so be sure to bring enough money." – Gillian Brand in Gujarat

"Some may consider Indian driving exhilarating, others may find it alarming. If you belong to the latter category, tell your driver at the airport that you suffer from car sickness. This will ensure a more leisurely drive; not only will you travel more comfortably, you will also have more time to appreciate the surroundings. In Kerala many hotels and homestays do not have an alcohol license. If you enjoy a beer at the end of the day, ask your guide to buy in some stock so as to avoid disappointment. Read up on the byzantine tipping rules before you go... We stayed at different categories and the rules never seemed to be the same." – Christopher Smith

Dust can be an issue for camera equipment especially digital SLR's so make sure you take something to cover your camera and cleaning materials.

"We would advise that travellers ensure that they book a jeep safari at Ranthambore and not the 20 seater canters. We were advised that we would be able to change our booking for at least one of our 12 safaris for a jeep when we got there but we were informed by the hotel/reserve that the jeeps are booked out many months in advance. The jeeps are more expensive but if you want to see a tiger they give you the best chance. Although we saw a tiger at Ranthambore from a canter we were extremely fortunate since the canters are too noisy full of very excited local people!" – Julia Gallagher

"Climate can vary dramatically between Thattekad and Munnar so bring clothes for hot and sweaty as well as cold at night and in misty highland conditions. Walking boots useful as are leech socks if you have them! Otherwise relax and enjoy as everything is very well organized. The most memorable parts? Seeing birds, some at close range and the beautiful scenery of Munnar and Thattekad. At Hornbill Camp being joined by staff members with binoculars and cameras whenever a birding opportunity arose. A great chance to share our enjoyment with local people." – Sue Swan on our bird watching holiday in Kerala
More India wildlife articles