The Dead Sea, Jordan
---
Explore the lowest point on land
Water that falls in the high mountains filters down and collects in a huge sump at the bottom of the Great Rift Valley. Once here, at the lowest point anywhere on land, 400 meters below sea level, there is no where else for it to go.
As the sun beats down evaporating the surface water it leaves a heavy, heady cocktail of salts and minerals. The solution is so strong that where the water laps over the shore the rocks are snow white from a thick deposit of salt.
Its high viscosity means that this massive lake, 80 kilometres long and 14 kilometres wide, is often very calm, almost mirror-like, adding to its other-worldliness.
No life
This is the Dead Sea, several times saltier than seawater, nothing grows on its shores; there is no life in its depths. Yet the waters are packed with an array of minerals that are extracted for industry, agriculture cosmetics and health products.
Floating high
Swimming in the Dead Sea is difficult, floating very easy. You are more on the water rather than in it, buoyed up by the salt. It's an unusual and enjoyable yet somehow slightly unnerving sensation. It is also therapeutic: the minerals are believed to help with an array of aliments and the mud on its shores has similar qualities.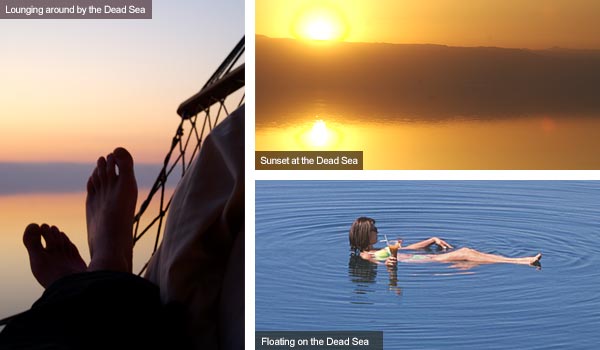 Beaches
There are several hotels and spas and also a public beach on the northern shores, but one of the most tranquil places to bathe is at the beach of the Royal Society for Nature Conservation's Mujib chalets where it seems as if there is nothing but water and mountains for miles.
If you do stay at the chalets and take to the water here, do it before you go canyoning or walk up the siq; any small cuts or grazes you pick up will sting and smart in the water.

Hello.
If you'd like to chat about Jordan or need help finding a holiday to suit you we're very happy to help.
Rosy & team.
01273 823 700