Kamchatka map & itineraries
---
Make the most of your time
There's a local phrase in Kamchatka: 'there are no roads, only directions', which is both very true and blissfully liberating.

The bulk of the peninsula's rugged glory takes the form of steaming volcanic land, bubbling geysers, shimmering lakes and ocean, and fortunately your tour guide, armed with a 6WD truck and a brilliant knowledge of the trekking 'routes' available will make sure you get to where you want to be and stay safe while doing it.

Alternatively, you'll be hopping on and off a boat, or viewing fascinating wildlife from its decks, to no other timetable than Nature's own.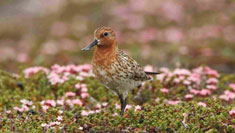 Chukotka Coast
The wild and largely uninhabited Chukotka Coast stretches along a finger of northeastern Siberia that stops at the Bering Strait, just a whisker from Alaska. Considered the last stronghold of the spoon-billed sandpiper, the lush scenery, where Subarctic and Arctic vegetation blend, is also a hotspot for brown bears, yellow-billed loon, king eider and the majestic Emperor goose.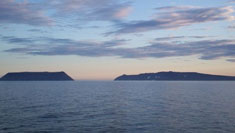 Diomede Islands
Close to where Russia and Alaska practically meet lay The Diomede Islands: Big Diomede and Little Diomede; often referred to as Tomorrow Island and Yesterday Isle and. One is Russian and one is American, and they straddle the International Date Line. You can't land there because it's sensitive ground, but you can approach and explore nearby and the mystique of it all is exciting in itself.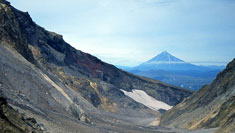 Gorely Volcano
Belching gas and being generally exciting as we speak, Gorley volcano is one of the most active volcanoes in Kamchatka and has an unusual structure of overlapping conical peaks and lots of craters, many of which contain acid and freshwater lakes, which reflect the surrounding landscape in dazzling shades of green and blue. Flatter, so easy to climb for visitors of all ages and abilities.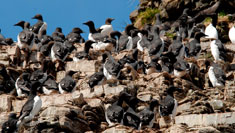 Kolyuchin
Kolyuchin is a tiny island in the Chukchi Sea that has been uninhabited since 1987. It has interesting associations with Russian polar research stations and is known for its magnificent birdlife – an abandoned meteorological station stands alone at its centre overtaken by thousands of nesting cormorants, murres, puffins and seabirds, and it has a huge walrus population too.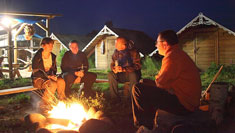 Kozirevsk
An age-old settlement, Kozirevsk was founded by the Itelmen way back in the 18th century, but don't expect yurts and tribespeople - a little bit like the fictional town of Twin Peaks, Kozirevsk has moved on, just not that far. Wood is everywhere: if the locals aren't living in it, or painting signs on it, they've got a truck full of logs to do something else with it. An odd, intriguing charm.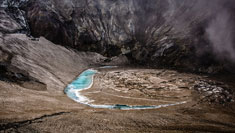 Mutnovsky Volcano
This is considered Kamchatka's most impressive volcano, which is impressive itself in a class of over 300, and is a fascinating volcanic structure with multiple craters that exist on a single massif, intercepted by a bright green acid lake. Ascending its 2,322m crater, you feel the hot breath of fumaroles rising around you and gaze upon walls lined with red and yellow sulphur deposits.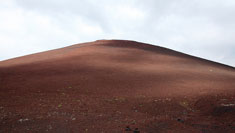 Tolbachik Region
Exploring this region is akin to stepping through C.S Lewis's magical wardrobe. The site of the Great Tolbachik Fissure Eruption paints a fascinating picture of the real scale of a volcano eruption. Bright prayer flags in front of huge snow-capped peaks put you in mind of Nepal, and then there's the Dead Forest, an eerie and enchanting landscape of row upon row of lifeless, leafless trees.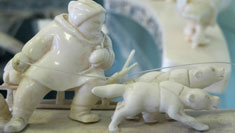 Uelen Village
Uelen Village, which lies a few nautical miles to the west of Cap Dezhnev, is the most northeastern village in Russia. The population is predominantly Chukchi and the village is one of the largest centres for traditional Chukchi and Inuit art in the world. The bone-carving workshop is a masterclass is sculpture and the locals are keen to share their stories and traditional skills.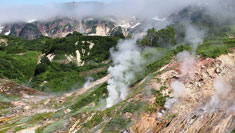 Valley of the Geysers
The 'Pearl of Kamchatka' is one of the world's most fascinating wonders – a lunar landscape of 20 large bubbling geysers that gush forth regularly. Together, the random plumes of steam, upwardly shooting fountains of boiling water and the kaleidoscope of colours that cover the landscape create an enthralling spectacle. The only drawback? It'll cost you £350 to see it by helicopter.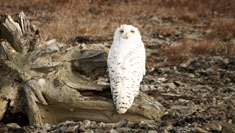 Wrangel Island
A UNESCO World Heritage site, Wrangel Island is home to a large polar bear population, as well as Pacific Walruses, Arctic Foxes, Snowy Owls, Snow Geese, Musk Ox, Reindeer and more. In addition, Wrangel Island is believed to be the last home of the woolly mammoth and mammoth tusks and bones are regularly unearthed in the riverbeds and interior of the island.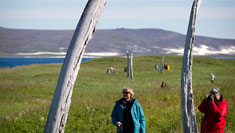 Yttygran Island
Yttygran Island is a hub of sea cliffs and estuaries where you can spot vast flocks of puffins and auklets, emperor geese and possibly the fabled spoon-billed sandpiper. Pods of killer whales and gray whales patrol the coastline and the prodigious ancient aboriginal site, Whale Bone Alley, is also found here – seeing whalebones stretched along the beach for nearly half a kilometre is a sight to behold.
Kamchatka itineraries
---
Small group tour (13 days)

Petropavlovsk-Kamchatsky ► Arachinskaya Bay ► Mutnovsky Volcano ► Gorely Volcano ► Paratunka ► Valley of the Geysers ► Malki Hot Springs ► Great Tolbachik Fissure ► Lunokhodchik ► Ploski Tolbachik Volcano ► Tolbachik Region ► Kozirevsk ► Malki Settlement ► Bystraya River ► Petropavlovsk-Kamchatsky
Kamchatka, Chukotka Coast and Wrangel Island wildlife cruise (15 days)

Anadyr ► Anadyrskiy Bay ► Preobrazhenija Bay ► Yttygran Island ► Cape Dezhnev ► Uelen Village ► Kolyuchin Island ► Wrangel Island ► Herald Island ► Kolyuchin Inlet ► Diomede Islands ► Chukotka Coast ► Anadyr
Travel times in Kamchatka
---
The following times give you a rough idea of the travel times between the main attractions in Kamchatka by road and sea.
Gorely Volcano - Great Tolbachik Fissure: 7hrs 50mins road, ferry, road
Tolbachik – Kozirevsk: 2hrs 30mins by road
Bystraya River – Petropavlovsk-Kamchatsky: 2hrs road
Yttygran Island – Uelen Village: 13hrs sailing
Uelen Village – Kolyuchin: 16hrs sailing
Kolyuchin - Wrangel Island: 25 hours sailing