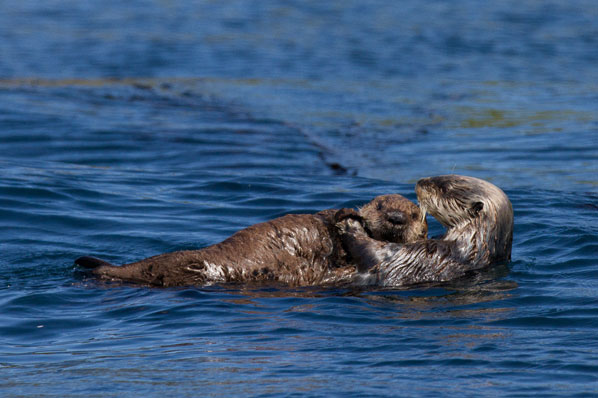 In the Soviet years, Kamchatka had been the beneficiary of massive subsidies from the central government because of its many strategic military installations, including a nuclear submarine base. But those subsidies have since dried up, and one of the big issues that the region faces being both so far away from, and so fiercely independent of Moscow, is that the land and wildlife there has been all but forgotten about for many years and there is a resultant lack of resources to support it – conservation is massively underfunded.
Although the local government has opened Kamchatka's doors to travellers in an effort to promote and develop the region's many tourism possibilities, there have been rumblings of concern that the authorities are encouraging lumber and mining interests to become more active in many of the region's watersheds. In addition, there remains an issue about increasing number of large-scale fish-poaching operations, and of course the popularity of hunting in the area, which may bring in rich tourists, but concomitantly threatens to endanger their very reasons for doing so.
On a positive note though, there are groups such as the Kamchatka Wild Salmon Project, who have been working alongside
the WWF
to conserve Kamchatka salmon through Marine Stewardship Council Certification, and the American-led
Wild Salmon Center
, both of which are doing some very positive work to promote the improved management of salmon and trout stocks while also trying to protect key river systems.
Heritage Expeditions are also hugely involved in supporting Kamchatka's conservation efforts, as Cassia Jackson further explains:
"We work with local researchers and ran a '
sea otter survey'
in 2012, asking passengers to pay a significantly reduced voyage rate and join us on board with both Russian and international researchers and carry out the first ever census of the sea otter population around the Commander Islands, which are vulnerable to a number of factors. For a number of years we have also worked with
Birdlife International
and two Russian researchers who have been instrumental in the work around the spoon-billed sandpiper, the cause of which has been getting quite a lot of attention in the last few years particularly in the UK with organisations such as Birdlife International and
the WWT
coming together in support. It nests up in the Russian far east just above the Kamchatka peninsula in the Chukotka coastline and numbers are really dire; there are less than 100 breeding pairs in the wild. We provide logistical support and one year provided the transport for four eggs to be transported from Petropavlovsk-Kamchatsky to the UK, where they're being looked after as part of a captive breeding programme – one of them actually hatched on the ship! A couple have been released back into the wild, but their situation is, sadly, incredibly dire and there is simply no money to assist these essential programmes within Russia that have to rely on international partnerships and passengers getting involved."
To assure quality conservation in Kamchatka will require collaboration between government, industry, advocates of responsible tourism and of tourists - based on an appreciation of the region's most irreplaceable assets and on a commitment to putting outstanding natural beauty over commercial interests wherever necessary.
What can you do?

You can support conservation in Kamchatka locally either by joining a future voyage, or by donating from a distance – get clued up about the sustainability issues the wildlife and birdlife face there and which UK organisations are supporting them, so you can pay an active interest and find out how best your support can be utilised. Heritage Expeditions are currently looking into doing a marine mammal survey in the near future for those of you that may want to join.