Kenya luxury holidays map & highlights
---
MAKE THE MOST OF YOUR TIME
Most luxury holidays to Kenya begin with a flight to Nairobi, from where domestic flights speed you to key game spotting regions including the Masai Mara, Great Rift Valley, Amboseli and Samburu, and to Ukunda airport near Diani Beach. Flights between these often tiny airstrips further smooth your internal travel and spare you long overland trips on pitted roads. Private transfers may involve game viewing on route to your lodge or camp and once on safari, game drives use comfortable 4x4 vehicles, often with power charging stations and even WiFi. Get out of the vehicle, too, with bush walks, horse riding and hot air balloon rides, to really turn your Kenyan experience up to 11!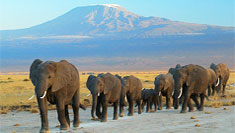 Amboseli National Park
Huge herds of elephants stride across the plains of Amboseli, against the perfect backdrop of snow-capped
Kilimanjaro
in Tanzania. You'll find the Big Five here, along with hippopotamus and birdlife in the soggy swamplands that are fed by the Kili's meltwater. Walking safaris and nighttime game drives are permitted in the conservancies bordering the park.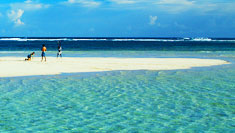 Coast & Islands
Kenya's south coast delivers luxurious resorts, secluded keys and a handful of islands, scattered through the Indian Ocean. Vibrant Diani has 10km of palm fringed, white sand beaches with colobus monkeys living just inland, while exclusive Lamu Island attracts celebrity visitors who enjoy its miles of beaches and amazing seafood. Surfing, kite surfing, snorkelling, diving and big game fishing are all on offer.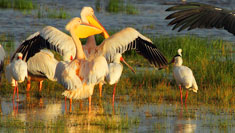 The Great Rift Valley
The 9,600km-long Rift Valley shattered Africa, leaving behind a trail of lakes, islands and lush oases. Eight lakes sprang up in Kenya; Naivasha has over 400 species of birds, flitting about amongst the hippos, Elementaita is a deep blue soda lake, attracting white pelicans, and Baringo has a floating restaurant. Geological activity continues in the Rift, with hot springs and steam vents bubbling from the deep.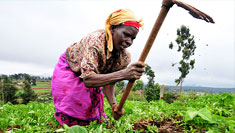 Laikipia Plateau
Kenya may be one of Africa's top tourist destinations – but the centre and north remain delightfully untouched. Laikipia is a patchwork of communal conservancies, where local communities manage the land. As well as protecting wildlife – notably 100 black rhino plus rare wild dogs – the lodges all employ and train local people, and fees are reinvested back into communities and conservation.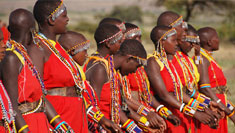 Masai Mara
This national reserve is synonymous with both wildlife – including the Big Five – and the Maasai tribes. A stage for the
Great Migration
, the
Mara
sees some two million wildebeest and zebras spilling into it from Jun-Oct – if they survive the precarious Mara River crossing. The surrounding Maasai conservancies provide the chance to meet these fascinating people, with bushwalks and village visits.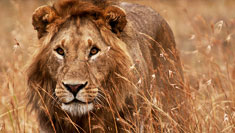 Tsavo
Tsavo East and West form Kenya's largest national park, sheltering around a third of the country's elephants. Tsavo East is one of the oldest parks in Kenya, but Tsavo West is best for wildlife, lured here by its springs, rivers and lakes, including hippos, crocs, buffalo, black rhino, lion and leopard. The Chyulu Hills create a dramatic backdrop and a handful of conservancies lie on the borders.

Hello.
If you'd like to chat about Kenya luxury or need help finding a holiday to suit you we're very happy to help.
Rosy & team.
01273 823 700
Kenya luxury trip travel advice
---
TIPS FROM OUR FRIENDS IN THE Kenya

Tom Blakey, from our supplier Wayfairer, has this advice about luxury travel in Kenya:
Why take a luxury trip?
---
"Many standard itineraries will involve long days in the car, driving what feels like the length and breadth of the country. On a luxury itinerary, we focus on taking advantage of Kenya's excellent light aircraft network, and the occasional charter flight or helicopter transfer, to ensure our clients can make the most of that most precious commodity – their time away on holiday! Another key factor to consider is the quality of the guiding you will experience. As a general rule, it is the top luxury camps and lodges in Kenya which attract and retain the top guiding talents in the country. In our opinion, there really is nothing better than a knowledgeable and enthusiastic local guide to teach you about the wonders of their country."
What to expect from a luxury camp
---
"Many luxury camps differentiate themselves by offering the highest quality of personalised service, such as a private vehicle and guide for your group rather than sharing with other guests. Many camps and lodges also have extensive wine cellars on site, and feature visiting guest chefs to offer guests a gourmet dining experience on a much smaller scale than a large luxury hotel. Many lodges adopt a communal or family dining room as standard, but also offer private dining or drinks either in the bush or in guest rooms for guests seeking extra privacy – very popular with honeymooning couples. Some lodges can also arrange wedding ceremonies and small receptions, and arrange wedding photo shoots, all aimed at removing the stress of planning a wedding, enabling couples to completely relax. Some lodges also have private airstrips, where this is allowed, enabling guests to make transportation between different lodges easier."
Avoiding unethical wildlife watching
---
"Some camps are known to engage in wildlife viewing practices that some deem to be unethical, such as leopard baiting, where a carcass is placed in a tree to attract leopard and ensure viewings. Such practices, whilst they cause no harm to the animals, are deemed as being unnatural and interfering with the natural path and habits of the wildlife. Similarly, many camps will construct artificial waterholes in front of the camp in order to attract wildlife so guests can view it from the comfort of the lodge, which we feel is rather contrived. Again, this causes no harm, but does alter the natural rhythm of animal activity."
Advice on taking a responsible luxury trip
---
"Agencies such as Ecotourism Kenya assess camps and lodges and award Bronze, Silver or Gold status based on the efficiency of their management of waste and emissions, as well as their best practice relating to the local communities – so look out for these ratings. Most lodges make an effort to ensure that the local people benefit directly from tourism by offering employment and training, providing education and medical care and showcasing local arts and crafts in gift shops, as well as educating their guests on local customs through cultural visits and tours. There are many examples of funds and initiatives set up between camps and their guests who identify a need in the community and come to together to raise money and resources to help."