Activities in KwaZulu-Natal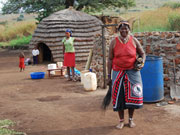 Township & Market Experiences
Durban's Umlazi township, South Africa's second largest after Soweto, has a population of more than 750,000 and is developing fast with investment in schools, infrastructure and housing. As well as guided tours, visitors can eat at top class restaurants and experience typical township cuisine. Rural homestead stays also offer the chance to experience what everyday life is like for modern-day Zulus with visits to local schools, shops and village communities. Read more about
township & market experiences
Wildlife Safaris
KwaZulu-Natal is home to some of Africa's top game parks and reserves including the continent's oldest, the Hluhluwe-Imfolozi Game Park opened in 1895, Tembe Elephant Park (home to 220 of the largest elephants in Africa), and the Zululand Rhino Reserve which is dedicated to the conservation of the endangered black rhino. Read more about
safaris
Giant marine species including humpback and southern right whales can also be seen during their annual migrations and don't miss the Sardine Run in June and July when huge shoals of sardines (actually pilchards) migrate along the South Coast. Dolphin sightings are also a daily occurrence while leatherback turtles lay their eggs annually on the shores of the Elephant Coast. Read more about
marine life
Birdwatching
KwaZulu-Natal is home to about 470 bird species reflecting its range of habitats and the fact that it lies at the cross-roads of a number of important migratory routes. Due to the warm air associated with the Agulhas Current sweeping south from Mozambique, many exotic tropical birds can be seen alongside visiting species from the Southern and Western Cape. The province also attracts alpine species from the arid Karoo and the Kalahari. Read more about
birdwatching
Adrenaline Sports
The diversity of KwaZulu-Natal's landforms from mountains and gorges to white-water rivers and tropical oceans mean that every adventure sport imaginable is on offer from rock climbing and abseiling to rafting and sky diving. Top adventure destinations include the 400-metre deep Oribi Gorge which alongside its spectacular hiking and mountain biking trails also boasts the highest gorge swing in the world.
Meanwhile, in Durban's Moses Mabhida Stadium, built for the 2010 football World Cup, the SkyCar takes visitors to the stadium arch's highest point with 360-degree views of the city alongside the 106-metre Big Rush Big Swing, the highest and longest bungee swing of any kind anywhere in the world! Read more about
adrenaline sports
Walking
KwaZulu-Natal's perfect climate and hugely varied scenic beauty made up of everything from the tropical coastline to undulating lowland hills and the alpine peaks of the Drakensberg further inland, has made the province a magnet for walkers from all over South Africa and beyond. Read more about
walking
Watersports
KwaZulu-Natal's epic coastline is reason enough on its own to visit the province and there is no shortage of activities to enjoy both above and below the water including excellent conditions for both surfing and sailing.
Divers can also enjoy world-class
scuba diving
locations that include the coral reefs of Rocktail Bay on the Elephant Coast, often voted among the world's Top Ten dive sites, with regular sightings of giant leatherback turtles, manta rays and giant potato cod.

Clive Smith, Dive Master Rocktail Bay
"The coral is in pristine condition. Itís been rated Number 7 dive site in the world and it hasnít been overdived like lots of other sites"
Fishing
Fishing is hugely popular in KwaZulu-Natal largely due to the warm seas and the large numbers of game fish in the Indian Ocean which include dorado, tuna, barracuda, kingfish, black and blue marlin, sailfish, spearfish, wahoo among many other species. Offshore sport fishing boats are known as ski boats and there are numerous competitions at fishing towns along the coast, mostly from Easter onwards when the main game fishing season gets underway. Inland the province's lakes and rivers are popular with fly fishermen, chief among them Lake Jozini (also known as Pongolapoort Dam) in the heart of Zululand where tiger fish weighing more than 8kgs have recently become prolific.
Horse Riding
Horse riding opportunities in KwaZulu-Natal are as diverse as the many different landscapes in the province. Everything from a sunset canter along gold sands beaches to a moonlight trek far up into the northern Drakensberg are on offer. But for experienced riders, perhaps the most thrilling possibility of all is a game ride into the bush to get up closer and more personal with big game than would ever be possible in a 4x4 or on foot. Read more about
horse riding
Special Interest Routes
A number of special interest trails guiding visitors to places of interest connected with specific themes have recently been created in KwaZulu-Natal. These include the Literary Trail exploring locations connected with the province's many famous writers including Sir Henry Rider Haggard, Wilbur Smith, Alan Paton, Lewis Nkosi, Mandla Langa, and John van de Ruit; the Freedom Trail promoting icons of the province such as Mahatma Gandhi, John Langalibalele Dube, Alan Paton, Albert Luthuli and Nelson Mandela; while (in a more light-hearted mood!), the Beer Route visits nine small breweries with demonstrations of beer making and beer tasting. Read more about
special interest routes
Responsible Travel would like to thank Tourism KZN for their sponsorship of this guide