KwaZulu-Natal travel information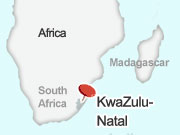 Where is KwaZulu-Natal?
It is located in the southeast of South Africa and the territory has a long shoreline on the Indian Ocean. In 1994, the territory now known as KwaZulu-Natal was made up of the province of Natal and the homeland of KwaZulu.
Along with domestic borders, the region also borders areas of Mozambique (far northeast), Swaziland (northeast) and Lesotho (southwest). At around 94,000km², KwaZulu-Natal is roughly the size of Portugal.
Distance charts
| | |
| --- | --- |
| From Durban to | Distance (km) |
| Bloemfontein | 628 |
| Cape Town | 1606 |
| East London | 667 |
| Johannesburg | 566 |
| Nelspruit | 676 |
| Port Elizabeth | 926 |
| Pretoria | 618 |
Getting there
Airport details: Only major airport in KwaZulu-Natal: King Shaka International Airport, Durban. International flights from London via Dubai directly into Durban or from London (non-stop), Birmingham (1 stop), Manchester (1 stop), Newcastle (1 stop) and Glasgow (1 stop) to Johannesburg and Cape Town. Domestic flights to Durban from Johannesburg and Cape Town.
Flight durations:
London – Johannesburg: 11h
London – Cape Town: 12h
Johannesburg – Durban: 01h10
Cape Town – Durban: 01h55
Getting around
Coach and bus services: The main bus companies run regular services from Durban to Johannesburg, Cape Town and Port Elizabeth.
Driving: There is a wide selection of car hire agencies at Durban airport. Driving is on the left hand side. All distances marked in kilometres. It is compulsory to wear seat belts and illegal to use hand-held phones while driving. The general speed limit on South Africa's national highways, urban freeways and other major routes is 120km/h (75mph) and the roads are tarred. Secondary (rural) roads are usually tarred and the speed limit is 100km/h (60mph). In built-up areas it is usually 60km/h (35mph), unless otherwise indicated. Many rural roads are gravel. Always check the road signs.
Find
things to see and do
in KwaZulu-Natal.
Weather
KwaZulu-Natal enjoys a warm sub-tropical climate for most of the year. However, summers are very hot and humid. Winters in inland areas are clear and cool, and cold in areas of high altitude such as the Drakensberg. These mountains also frequently experience snowfall during the winter months. Durban has an average of 320 days of sunshine a year with winter temperatures (April-September) ranging from 16 to 25º C and summer temperatures (September-April) ranging from 23 to 33º C. Sea temperatures are relatively stable, with an average of 21 degrees year-round. Read more about the
weather and climate
in KwaZulu-Natal.
Time zone
October - March: Greenwich Mean Time plus 2 hours (G.M.T. + 2)
April - September: Greenwich Mean Time plus 1 hour (G.M.T. + 1)
Money
South African Rand (ZAR)
Dialling code
+27
Emergency contact numbers
Ambulance – 10177
Fire – 10177
Police – 10111
(Cape Town: 107 for all services)
Recommended reading
Andrew Duminy
and
Bill Guest
'Natal and Zululand from Earliest Times to 1910: A New History' – Written by twelve historians and two archaeologists, this book deals with a number of myths about the colonial past and unseats the 'old' truths.
Gillian Hart
'Disabling Globalization: Places of Power in Post-apartheid South Africa' – Critical understandings of globalization and insights into post-apartheid South Africa. The political dynamics in two former white towns and adjacent black townships in KwaZulu-Natal are looked at. The book focuses on Taiwanese investment in the region and East Asian connections with these places.
Back to the top
Convert currencies