Cultural tours which offer visitors the chance to experience modern-day life in a township or village homestead are becoming increasingly popular.
Durban's Umlazi township, South Africa's second largest after Soweto, has a population of more than 800,000 and is developing fast with investment in schools, infrastructure and housing.
As well as guided tours, visitors can eat at top class restaurants and experience typical township cuisine.
Throughout Zululand, there are many opportunities for visitors to stay in a traditional Zulu homestead or 'Umuzi'. Here they can experience what life is like for a typical Zulu family in the 21st Century.
Many have guided visits to local schools and village communities with the chance to consult a Sangoma to communicate with the ancestors or to be healed by an Inyanga, a traditional herbal healer.
Simunye Zulu Lodge
in the Mfule River Valley near Melmoth in Zululand belongs to the Biyela Clan, whose patriarch prince, Gelenja Biyela, is descended from Mkhosana who led the Zulu regiment that defeated the British at Isandlwana.
The lodge is set in beautiful surroundings in the heart of the valley with a traditional Zulu kraal.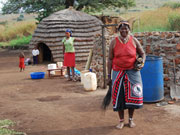 Focussing more on the contemporary experience of modern-day Zulu life is the
Umuzi Wakwa Mdaka homestead
in the village of Nodomo near Hluhluwe.
Founded and run by Siphile Mdaka, a local ANC councillor, Mbonise run safari tours in the adjacent Hluhluwe-Imfolozi National Park as well as cultural tours of the local village and school.
A percentage of the cost goes to local businesses and the school.
The homestead offers accommodation in three traditional rondavels (thatched round huts) sleeping 2-3 people in each, and one traditional beehive hut.