Aigüestortes i Estany de Sant Maurici National Park
protects a breathtakingly beautiful chunk of the Lleida Pyrenees – and is Catalonia's only national park. Millions of years in the making, the rocks were lifted from the earth and gouged by glaciers, leaving craggy peaks overlooking 200 lakes, winding streams called "aigüestortes", Alpine meadows and pine forests. Rare species inhabit this wild landscape – and walking trails and refuges provide access for all levels of fitness and adventure.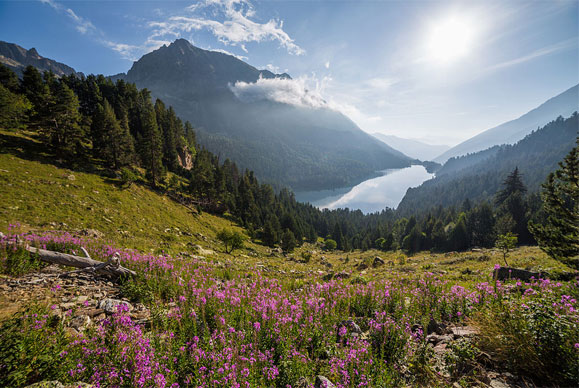 Birders should take themselves and their binoculars to the
Ivars and Vila-sana Lake
– where 212 species have been identified. The lake – at over 2km long – was drained in the 1950s but has recently been allowed to refill, and visitors can explore it on foot, horseback or bicycle, as well as in rowing boats. Quays, elevated viewing platforms and walkways maximise your chances of spotting birdlife year-round.
The
Vall de Boí
is Lleida's cultural and historical hub. This UNESCO World Heritage Site shelters several distinctive Romanesque churches, dating back up to a thousand years. As well as the fine stonemasonry, the churches have notable murals and sculptures. Guided visits are available.
At 700km2,
Alt Pirineu
is the largest natural park in Catalonia, reflected in its astonishing range of wildlife – including chamois, and even brown bears. As its name suggests, it encompasses the highest peaks of this section of the Catalan Pyrenees, as well as a vast array of ecosystems, glacial lakes, deep caverns and endemic flora. Bird watchers will be rewarded in this park, particularly with its variety of raptors.
The
Cadí-Moixeró Natural Park
attracts hikers and climbers to its 30km-long barrier ridge, particularly to the Pedraforca Mountain – a mountaineering Mecca. There are maps available at the information centre, highlighting shelters and well-marked single- and multi-day trails – as well as mountain biking routes. The natural park is an EU Special Protection Area for Birds.
If you assumed you'd have to travel to a far flung desert of Chile or Namibia to get an unobstructed view of the stars, Lleida could prove you wrong. The dark skies of
Montsec
have seen it recognised by UNESCO as a Starlight Reserve – a destination for "starlight tourism" thanks to the lack of light pollution and largely cloudless skies. The grandly named Centre for the Observation of the Universe brings the celestial bodies even closer, with a digital planetarium as well as a dome for observing the sky, and several telescopes.
Despite its many charms and attractions, the city of
Lleida
remains relatively unknown. Visitors interested in history and art will find a variety of buildings that show how different cultures have left their mark on the city. These include Roman and Medieval ruins and much more recent constructions, such as La Paeria and El Palau de la Diputació. Other interesting structures include numerous Catalan Modernist (Art Nouveau) buildings, the new Enric Granados Municipal Auditorium and the old cathedral (known locally as La Seu Vella), an exceptional Romanesque-Gothic style building that towers over the city from its position on top of the hill of the same name.