Lleida travel guide
---
LLEIDA IN A NUTSHELL
Tucked close to Spain's northeastern corner, Lleida sweeps from the 3,000m-high peaks of the Pyrenees into the arid, open plains to the south. Its continental climate sees it sizzling in summer and sinking under snowdrifts in winter; and its star attractions include both the natural and the historical – from bears and eagles to underground caves, starlit skies and UNESCO-protected churches.
Lleida is Catalonia's largest province – but also its least populous. As well as Castilian and Catalan, one of its valleys has its own language, making Lleida a fascinating linguistic pick 'n' mix revealing the unique character of its inhabitants.
But new transport connections – including high speed trains from Barcelona and Madrid – are slowly opening Lleida up to tourism. Its picturesque lakes, gorges, craggy peaks and Romanesque architecture could only remain a secret for so long – and the lleidatàs who have guarded this heritage for centuries are ready and waiting to welcome visitors.
People & language
---
Lleida may have a small population but its wild terrain separated by deep valleys and imposing peaks has ensured that its tiny towns and villages have each retained their own sense of identity. Val d'Aran even has its own language, Aranese, while the rest of Lleida speaks a distinctive Catalan dialect as well as Castilian. There are Roman influences in the architecture and even Basque influences in the names of towns.
Before eating in Catalonia, say "Bon profit!"
Admiring the landscape in Catalan, you'll surely want to say "Meravellós!" – "Wonderful!"
Eating & drinking
---
Lleida's cuisine reflects its landscapes – hearty meat dishes from the mountains, and the fresh fruit, herbs and vegetables from its fertile plains. Seasonal, natural and local are the keywords here.
Meat eaters will relish the pork belly, veal, duck, wild boar and fragrant lamb. The trotters, stomach, brains and piglet are the more leftfield choices…
Some products have the prestigious DOP (protected origin) mark – including Costers del Segre wines, Les Garriguers olive oil and l'Alt Urgell cheese – all excellent, and very local, souvenirs.
Snails are another key part of the Lleida cuisine – they even have their own festival in Lleida city each May!
Best time to visit Lleida
---
WHAT HAPPENS WHEN IN LLEIDA
Things to do in Lleida
---
MAKE THE MOST OF YOUR TIME
Aigüestortes i Estany de Sant Maurici National Park
protects a breathtakingly beautiful chunk of the Lleida Pyrenees – and is Catalonia's only national park. Millions of years in the making, the rocks were lifted from the earth and gouged by glaciers, leaving craggy peaks overlooking 200 lakes, winding streams called "aigüestortes", Alpine meadows and pine forests. Rare species inhabit this wild landscape – and walking trails and refuges provide access for all levels of fitness and adventure.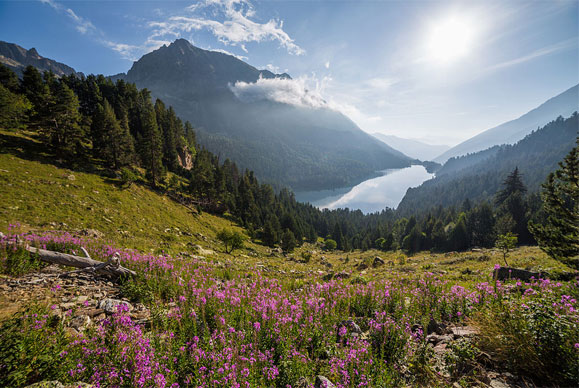 Birders should take themselves and their binoculars to the
Ivars and Vila-sana Lake
– where 212 species have been identified. The lake – at over 2km long – was drained in the 1950s but has recently been allowed to refill, and visitors can explore it on foot, horseback or bicycle, as well as in rowing boats. Quays, elevated viewing platforms and walkways maximise your chances of spotting birdlife year-round.
The
Vall de Boí
is Lleida's cultural and historical hub. This UNESCO World Heritage Site shelters several distinctive Romanesque churches, dating back up to a thousand years. As well as the fine stonemasonry, the churches have notable murals and sculptures. Guided visits are available.
At 700km2,
Alt Pirineu
is the largest natural park in Catalonia, reflected in its astonishing range of wildlife – including chamois, and even brown bears. As its name suggests, it encompasses the highest peaks of this section of the Catalan Pyrenees, as well as a vast array of ecosystems, glacial lakes, deep caverns and endemic flora. Bird watchers will be rewarded in this park, particularly with its variety of raptors.
The
Cadí-Moixeró Natural Park
attracts hikers and climbers to its 30km-long barrier ridge, particularly to the Pedraforca Mountain – a mountaineering Mecca. There are maps available at the information centre, highlighting shelters and well-marked single- and multi-day trails – as well as mountain biking routes. The natural park is an EU Special Protection Area for Birds.
If you assumed you'd have to travel to a far flung desert of Chile or Namibia to get an unobstructed view of the stars, Lleida could prove you wrong. The dark skies of
Montsec
have seen it recognised by UNESCO as a Starlight Reserve – a destination for "starlight tourism" thanks to the lack of light pollution and largely cloudless skies. The grandly named Centre for the Observation of the Universe brings the celestial bodies even closer, with a digital planetarium as well as a dome for observing the sky, and several telescopes.
Despite its many charms and attractions, the city of
Lleida
remains relatively unknown. Visitors interested in history and art will find a variety of buildings that show how different cultures have left their mark on the city. These include Roman and Medieval ruins and much more recent constructions, such as La Paeria and El Palau de la Diputació. Other interesting structures include numerous Catalan Modernist (Art Nouveau) buildings, the new Enric Granados Municipal Auditorium and the old cathedral (known locally as La Seu Vella), an exceptional Romanesque-Gothic style building that towers over the city from its position on top of the hill of the same name.
Travelling in Lleida with kids
---
WHAT DOES RESPONSIBLE TRAVEL RECOMMEND?
The Easter and summer holidays are perfect times for visiting Lleida. Though August is the peak month, you're never going to find Costa quantities of crowds – meaning there's plenty of space for walking, cycling and lounging by a hotel pool.
The Pyrenean meltwater provides plenty of fun in the summer months, including rafting, kayaking and inflatable canoeing, all with experienced instructors who will provide peace of mind. Horse riding is also available – from lazy hacks around sunbaked lakes to riding through dramatic mountain scenery. For an out of this world experience, Montsec's observatory has interactive exhibitions, workshops and telescopes, introducing kids to one of the most star-sprinkled skies they may ever see.
Responsible tourism in Lleida
---
TRAVEL RIGHT IN LLEIDA
Lleida may not be on Spain's mainstream travel map, but with a refreshing focus on local, rural and traditional it should certainly be seen as a pioneer.
Aided largely by its impervious terrain, but also by the fierce regionalism of its people (who don't just identify with Catalonia, or even Lleida – but with a specific village or isolated valley), Lleida has succeeded in preserving its glorious culture, architecture and rich landscapes, despite the ravages of the Franco dictatorship – and the creeping influence of mass tourism.
But Lleida is not a quaint time capsule. Its forward-thinking approach to tourism has seen it being certified for environmental management and recognised for "quality tourism" in its national park. Crucially, its natural parks are "common areas" – giving local communities access to valuable resources in the forests and pastures. Collective management of these areas has worked – local people are able to remain connected to their ancestral land, retaining access to the natural resources and understanding how to manage them sustainably and effectively.
Lleida's emphasis on rural tourism has provided much-needed income (and an appreciation for the need to preserve the landscapes) in this isolated province, which could otherwise be threatened with urban migration – losing its young people to the bright lights of the city. And focusing on its own, high quality produce – rather than trying to please international palates – has promoted local agriculture. Several products have been designated DOP (protected origin denomination) a real boost for Lleida's farmers.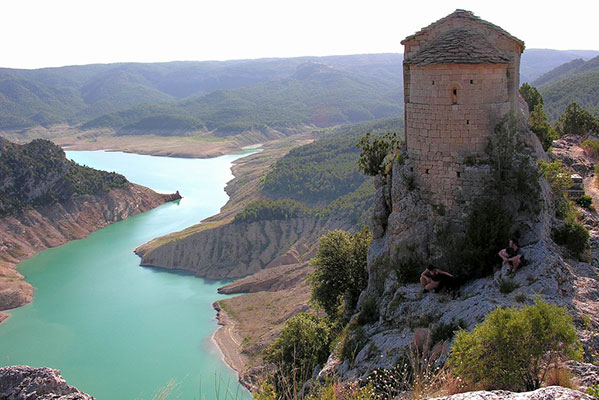 Another aspect of responsible tourism in Lleida is the development of accessible tourism. Despite the region's notoriously impenetrable landscapes, routes have been created in the Aigüestortes i Estany de Sant Maurici National Park which are accessible to people with reduced mobility, including wheelchair users. There is also accessible canoeing and skiing, amongst other activities, and guided tours throughout Lleida.
As a tourist in Lleida, the most important aspect of responsible tourism is looking after your own safety. The mountains here reach over 3,000m altitude with changeable weather and potentially treacherous conditions. Due to the increasing number of climbers and skiers who get into difficulties due to negligence, Catalonia has begun to bill those who do not take adequate precautions and require rescuing – an extra reason to take good care.
Here are some general safety tips and park regulations:
Don't stray from the paths and trails in the national park, and don't bathe in the rivers or lakes.
Do not cross fields of packed ice or snow, or walk across frozen lakes.
Avoid getting too close to the sheer rock walls of the park, or to the precipices at the top.
Summiting the mountains should only be attempted by climbers with plenty of experience and the right equipment. Routes vary in difficulty, and climbing in the wrong season can cause problems even for experienced climbers.
Don't hike after dark.
Consult the weather forecast before setting off – it can change without warning in the mountains.
Phone signal may be sketchy – but all of Aigüestortes' refuges have radio transmitters.
The national emergency number is 112. You can also dial 062 for the Guardia Civil (Civil Guard) for mountain rescue services and other accidents.
On Lleida's arid plains, wildfires are a problem during the summer months. Be extremely careful, and never discard cigarette butts or glass bottles, which can ignite dry vegetation. It is a criminal offence to start a forest fire anywhere in the country – even if unintentionally.
For more information, see
http://www.aralleida.com/
and
http://www.catalonia.com/
---
Photo credits:
[Intro box: Copyright - Oriol Clavera: Congost de Mont-rebei] [People & language: Copyright - Oriol Clavera: Cadi- Moixeró] [Snails:
Charles Severance
] [Chart background lake image:
Enric Rubio Ros
] [Aigüestortes i Estany de Sant Maurici National Park:
Photo by DAVID ILIFF. License: CC-BY-SA 3.0
] [Stars at montsec: Copyright - Oriol Clavera: Parc Astronòmic del Montsec ] [Families: Copyright Josep Barbero: Sant Climent de Taüll (Vall de Boí)] [Tower:
PCB75
]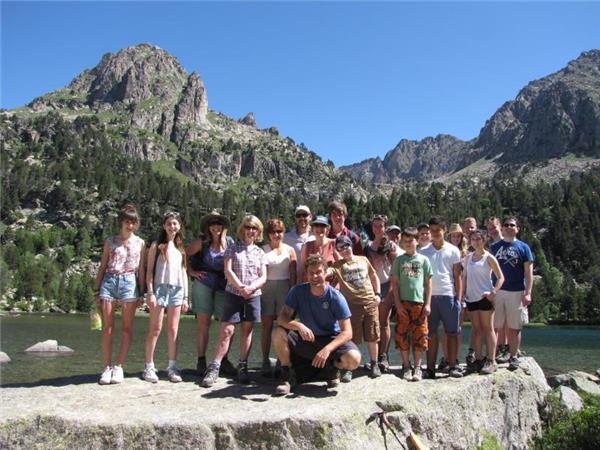 Aigues Tortes National Park - Jewel of the Pyrenees
From
£1199
8 Days
inc UK flights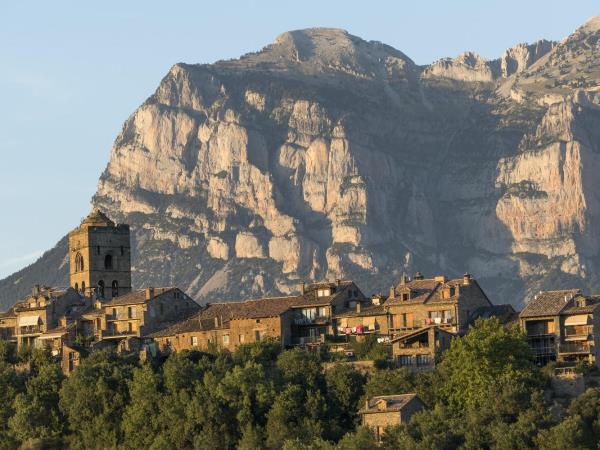 Premium self-drive through Rioja, the Pyrenees and Barcelona
From
£2280
15 Days
ex flights