Where to go on a Madagascar adventure holiday
---
Map & highlights
There are adventures to be had all across Madagascar – but we highly recommend focusing on one region for your holiday as the potholed, muddy roads are probably not the kind of adventure you were looking for, and travelling even a short distance can take the best part of a day. The best treks are found in the central-south and east of the country, with highlights including Isalo, the Tsingy and Tsaranoro on the edge of the Andringitra Massif. Canoe to your heart's content along the rivers that have carved deep canyons through these rocky landscapes, likes with tropical forest and bamboo groves. Or head to the southwest – the rafting hub, with plenty of grade II-IV rapids to get your adrenaline fix.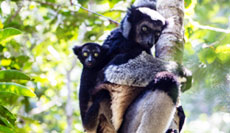 Andasibe (Perinet) National Park
Andasibe's most famous resident is the indri – the largest species of lemur, known for its eerie, whale-like call. 10 other species also inhabit the park's virgin rainforest, including the strange aye-aye – best spotted during a night walk, a thrilling experience. During the day, keep an eye out for some of the park's 108 bird species.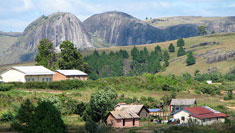 Antoetra
Walk along paths used by the local Zafimaniry people through rice paddies and villages. Known for their distinctive woodcraft, the Zafimaniry's exquisitely decorated houses, granaries and tombs are constructed using perfect joinery, without the use of nails. These have been recognised by UNESCO as Masterpieces of Oral and Intangible Heritage of Humanity, and each carved pattern tells its own story.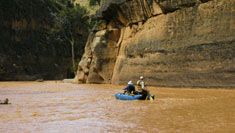 Canoeing/rafting
Who knew there were so many rivers in Madagascar? Canoeing is our favourite adventure activity – with 2-3 day paddling trips taking you along rivers such as Tsiribinha, Sambirano or Faraony, looking out for birds, crocs and lemurs along the way, passing cliffs, waterfalls and rural villages. For a greater adrenaline rush, several rivers have grade II-IV rapids which you can raft, through rainforests and bamboo groves.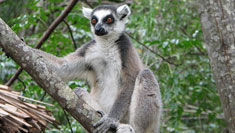 Isalo National Park
This landscape is dominated by eroded sandstone – a colourful, crazy moonscape surrounded by savannah-type plains. Trek deep into the park on multi-day hikes to discover natural swimming pools, ring-tailed and sifaka lemurs (amongst other species) and the stunning colours of the rock, glowing in the Madagascan sunlight. Streams flow through deep canyons, lined with endemic plants.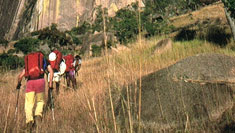 Tsaranoro
Easily as impressive as Yosemite – yet with just a handful of tourists, Tsaranoro is nestled against the mighty limestone Andringitra Massif – a mecca for hikers and climbers. Explore its deep valleys, sacred forests – habitat for lemurs – and hidden waterfalls, and meet local communities to learn about the culture of this region, and the strange fady taboos that dictate daily life.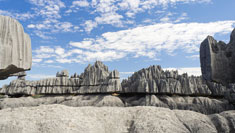 Tsingy de Bemaraha
This crazy landscape is the dictionary definition of "adventure". The Tsingy, meaning 'walking on tiptoes', is a 'limestone forest' comprised of huge rock pinnacles, and it can be explored on foot via hanging bridges and chain ladders, while clipped onto safety harnesses. Take boat rides along a river gorge, to extensive stalactite and mite-filled caves which also shelter tombs. Look out for up to nine species of lemur.



Hello.
If you'd like to chat about Madagascar or need help finding a holiday to suit you we're very happy to help.
Rosy & team.
01273 823 700
Madagascar adventure holidays advice
---
Tips from our friends in Madagascar


Laurenne Mansbridge is the director of our supplier Pioneer Expeditions. She has shared her top Madagascar adventure holidays advice:
Activity advice
---
"My favourite things to do in Madagascar are definitely the river journeys, because they allow you to get into the middle of nowhere, to places where there's no roads in and no roads out. You trek to the departure point and then go out on the inflatable canoes – it could be for one day or three days – but you have to complete the full journey. You see a lot of Malagasy life that way – you might come across a village right on the bank and see the people who live off the river – sapphire miners, people panning for gold – and they're always pleased to see you and interested in the weird tourists in the canoe."
Itinerary tips
---
"Don't try and see it all. The logistics aren't great – and it's better to base yourself in one region. That way you get to see things properly, rather than just spending your time travelling."
Cultural highlights
---
"Sometimes when we are referring to off the beaten track that doesn't mean you will be the only ones in the area. Much of our trekking areas pass lots of villages, so there are often locals around who often sit and stare at us when we are camped up for the night – or at least until the sun goes down; many Malagasy people tend to fear the night."
How fit do I need to be?
---
"There are different walking and adventure holidays for different levels of fitness. Some of our multi-day highland trips where we also climb a mountain are better left to those with an above average range of fitness. Other trips you just need to like walking."
Madagascar adventure holidays tips
---
Tips from our holiday reviews
At Responsible Travel, we think the best people to advise our travellers are often... other travellers. They always return from our tours with packing tips, weather reports, ideas about what to do - and opinions about what not to.

We have selected some of the most useful Madagascar travel tips that our guests have provided over the years to help you make the very most of your holiday - and the space inside your suitcase.
"Be prepared for some long drives and get fit as the walks are terrific but you need to be up to doing them." – Barry Theobald

"A great experience all round but the most memorable part was the river experience. We canoed for two days, negotiated rapids and camped at night on the sandy banks beside the river. The locals were intrigued by these strange foreigners who chose to sleep in tents rather than a hotel but readily came to our rescue when our cooking pots sank to the bottom of the river! Take waterproof bags to put all your clothes and equipment into for the canoe trip. No need to take pillows or sleeping mats as these are provided by the local company. Make sure you have a good torch as electricity supplies in hotels are unpredictable. No need for water purifying tablets as bottled water is available everywhere even in the back of beyond!" – Rosemary Llewellin

"Take clothes for all seasons! We went in the early-spring season, and it ranged from being very chilly (especially in the evenings) to very hot in Tsarasoa and the drier regions. Also, take some gifts for the local people and children. We took pens and football items, and they went down very well. Go with a relaxed and embracing attitude - the pace of life is very different in Madagascar. Our guide Hery, could not have been better and his boundless enthusiasm and passion for the country made our trip even more special." – Cara Roberts

"I loved the fact that we were off the beaten track - we saw no other tourists after we left Tana for the first 8 days or so, and we were buying provisions from local people and often eating in small local restaurants. If you decide, like me, to add on some extra time in Madagascar, allow PLENTY of time (24 hours plus!) between any domestic flight and your international flight home. Air Madagascar, the only domestic airline, has a whimsical and unpredictable approach to timetables and will delay, cancel or (almost more frustratingly) bring flights forward by many hours without notice." – Catherine Nursaw

"It is physically demanding so those going need to be prepared to trek in rivers and battle the conditions, wet & hot. Take immodium and plenty of it." – David Phillips

"Be prepared to start early in the morning when the lemurs are more active. We did so and saw much more than some other groups in our hotels who set off later and came back disappointed. You need a reasonable level of fitness. Be prepared for some moderate hiking- nothing extreme but walking boots are essential. Also you need to squeeze through some narrow gaps in the Grand Tsingy, where in places you also need to be clipped onto safety wires during some ascents/descents." – Stephen Osgerby