Where to walk in Madagascar
---
Map & highlights
Many walking holidays in Madagascar focus on the south-central and eastern regions, which offer an immense variety of terrains, from the limestone massif of Andringitra and the moonscapes of Isalo, through various types of forest, and up and down valleys and canyons carved into the rock. There are numerous national parks here where Madagascar's fragile ecosystems remain fairly intact – and several lemur and chameleon species can be observed amid the endemic vegetation. Travelling around Madagascar is tough going, and even in this relatively small area there may be one or two full-day drives, with shorter transfers in between. Domestic flights are notoriously unreliable so it's best to just see it as part of the Malagasy experience – and know that at least you'll have ample time to stretch your legs on these walking itineraries.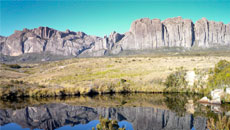 Andringitra National Park
The limestone Andringitra Massif means that this national park is a contender for Madagascar's most dramatic landscapes, filled with boulder fields, lush forests, waterfalls and over 100 bird species. A three day trek takes you to the top of Peak Boby, the island's second highest mountain at 2,658m, staying at simple hotels or campsites along the way. The summit day involves ten hours of trekking.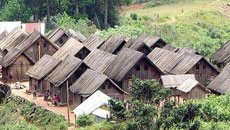 Antoetra
Walk along paths used by the local Zafimaniry people through rice paddies and villages. Known for their distinctive woodcraft, the Zafimaniry's exquisitely decorated houses, granaries and tombs are constructed using perfect joinery, without the use of nails. These have been recognised by UNESCO as Masterpieces of Oral and Intangible Heritage of Humanity, and each carved pattern tells its own story.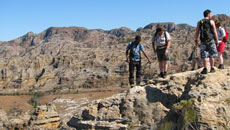 Isalo National Park
Quite a contrast from the deep green landscapes many expect from Madagascar, Isalo is rugged and rocky, with its Jurassic sandstone eroded into gorges and cliffs. While many tourists visit only the fringes, two-day treks take you into the heart of the park to discover moonlike terrain, natural swimming pools and lemurs including ring-tailed and sifaka. But be prepared for some vertigo-inducing ascents.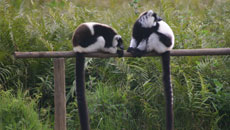 Perinet Nature Reserve
Perinet's stretch of virgin rainforest offers the chance to encounter the largest lemur of all: the indri, with its strange, whale-like call. This jungle may be remote but it is one of Madagascar's most visited, and walkers here can enjoy a couple of days of less challenging trekking, with undulating rather than steep terrain, and porters to carry bags.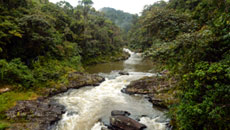 Ranomafana National Park
Madagascar's wildlife hub spans an altitude of 600-1,400m. Walkers can observe the shifting ecosystems, from rainforest to cloud forest, and the vegetation of the high plateau. Walking is more leisurely here, with plenty of opportunities to stop and admire the many lemur species, orchids, chameleons and frogs, as you trek up to an altitude of around 1,000m.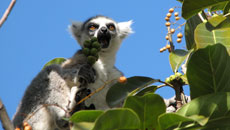 Zomandao
This region of the Andringitra Massif is awe-inspiring, with challenging and thrilling hiking terrain. However, just a handful of visitors ever venture into this isolated region. Three-day treks take you in and out of the Zomandao and Sahanambo Valleys via 1,800m passes and exposed crests and ledges. You'll pass walls of black granite, wind-sculpted spires, and – hopefully – ring tailed lemurs in the forests.
Madagascar walking holidays advice
---
TIPS FROM OUR FRIENDS IN MADAGASCAR

Laurenne Mansbridge, of our leading Madagascar walking holidays supplier Pioneer Expeditions, shares with us her top tips for walking holidays in Madagascar:
Packing advice..
---
"Pack light! You will have a porter carrying your rucksack for you, so be kind. Pack a change of clothes in a waterproof bag in case of rain (which isn't often in the Southern Highlands) but you certainly don't need a change of clothes every day. A long pair of trousers and shorts should do it. It can get cold at night in the mountains so some warm trousers and a fleece is invaluable."
Tips on where to go
---
"I love walking anywhere in the highlands! My absolute favourite place for walking is in and around Andringitra National Park – especially around Tsarasoa. I would emphasise that during many of the hiking trips, you won't be seeing lots of animals. Most lemurs etc can only be found within national parks, which have to be visited specifically. During multi day hikes these are rarely in areas frequented by fauna."
Where you'll be sleeping..
---
"For multi-day walking trips, there are rarely any accommodation providers. These therefore rely on camping. This is fully supported camping, where you get lovely meals provided for you and small seats to relax in. We provide a pillow and Thermarest mat. Either side of the multiday walking trips, or if you are basing yourself in an area and doing day treks, then the accommodation is much better – lovely local style bungalows with en-suite accommodation."
MADAGASCAR ADVICE FROM TRAVELLERS
---
TIPS FROM THOSE WHO HAVE BEEN THERE
"Dress warm for Peak Boby. Mosquitos are not a problem in July. This is a very busy itinerary, I loved it but for those wanting relaxation or time to themselves this is not the trip for you. Tana is not a great place, if you have extra days don't spend them in Tana." – Jane Feron

"I loved the fact that we were off the beaten track - we saw no other tourists after we left Tana for the first 8 days or so… If you decide, like me, to add on some extra time in Madagascar, allow PLENTY of time (24 hours plus!) between any domestic flight and your international flight home. Air Madagascar, the only domestic airline, has a whimsical and unpredictable approach to timetables and will delay, cancel or (almost more frustratingly) bring flights forward by many hours without notice." – Catherine Nursaw

"It is physically demanding so those going need to be prepared to trek in rivers and battle the conditions, wet & hot. Take immodium and plenty of it." – David Phillips

Hello.
If you'd like to chat about walking in Madagascar or need help finding a holiday to suit you we're very happy to help.
Rosy & team.
01273 823 700