Malaysia & Borneo travel guide
To get the full measure of Malaysia, you can't skip Borneo. This multi-nation island is the foil to every big port city and colonial hill station you'll see on the Malay peninsula. It's true: Kuala Lumpur and Malacca are windows into Malaysia's all-important trading past and the beauty (and colonial banes) that came with it. But fly just three hours east to Borneo, and you're in another world; one in which trees are the skyscrapers and glimpsing an orangutan is the richest treasure.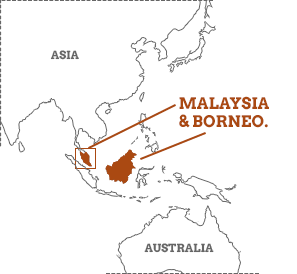 KL and Malacca or the Borneo beach towns? Cameron Highlands or the orangutans of Sepilok? With a Malaysia and Borneo holiday, you don't have to choose – you do it all.

Most holidays to Malaysia and Borneo spend two weeks circling between the mainland and the Bornean Malaysian state of Sabah. So after a week or so spent exploring the Malay Peninsula, you'll swap cities for silence and sink deep into the rainforests and rivers of northern Borneo. Holidays come in almost every shape and size, from small group trekking tours to tailor made trips where you can spend as many days as you like watching wildlife. Read our Malaysia and Borneo travel guide to find out more.
Malaysia & Borneo map & highlights
You don't have to quit work or take a secondment to go on an adventure. Malaysia and Borneo holidays last 11-16 days, splitting the fortnight pretty evenly between the Malay Peninsula and the wildlife reserves of Malaysian Borneo. Short domestic flights make travelling big distances a whizz; it's less than three hours between Kuala Lumpur and Sandakan, Borneo. Go with a small group to cover as much ground as possible or book a tailor made holiday designed just for you. Accommodation in Borneo is a highlight – a mash-up of adventure lodges and beachside hotels that do their best to be at one with the rainforest.
1. Kinabatangan River
The Kinabatangan is the third largest river in Borneo and has a huge wildlife haul to go with it. The rainforest conceals gibbons, long nosed proboscis monkeys and Borneo pygmy elephants. Cut off from mainland Asia for 300,000 years, these cartoonish elephants are a genetic marvel endangered by palm oil exploitation. Go on a night cruise to glimpse goggle-eyed Western tarsiers or lurking crocodiles.
2. Kuala Lumpur
The Petronas Twin Towers might be the symbol of Kuala Lumpur, but the real city sprawls out 88 floors below. A food tour around the Indian food stalls of Brickfields or coffee houses of Chinatown is one of the best ways of deciphering the scramble of Malay, Indian, Chinese and European traditions on the ground. Just remember: KL is also the king of the rooftop sundowner.
3. Malacca
From its rosy town hall to its glitzy rickshaws, Malacca (Melaka) brings in the bling. Most of its ornate flourishes come courtesy of its days as a Dutch, Portuguese and British trading post, back before it was pipped to the post by Singapore. Check out the 16th century St Paul's Church, rifle through the antique shops of Chinatown, and admire the island-bound Masjid Selat Melaka mosque.
4. Mount Kinabalu
Mount Kinabalu is the highest mountain in Malaysia. You could pootle around the foothill gardens of the Kundasang War Memorial while peering up at the granite monolith. Or you could challenge yourself to a two-day guided hike. Half the world's flowering plants spring from Kinabalu, so watch out for over 1,200 orchid species and carnivorous pitcher plants as you scramble for the summit.
Rainforest Discovery Centre
5. Rainforest Discovery Centre
The Rainforest Discovery Centre is something of a sister to Sepilok Orangutan Rehabilitation Centre. Crisscross its canopy walkways and forest boardwalks to glimpse the endangered primates feasting on fruit alongside hornbills and endemic Bornean bristleheads. The # 9km Sepilok Laut Trail also starts here, and leads you through the mangrove forests of the Borneo lowlands. Monitor lizards, fiddler crabs and macaques come as standard.
Sepilok Orangutan Rehabilitation Centre
6. Sepilok Orangutan Rehabilitation Centre
There are only two places to see orangutans in the wild – and Borneo is one of them. This Rehabilitation Centre shelters injured orangutans and sets them on the long road to rehabilitation. It's a hands-free approach, so watch young 'uns learn to forage for food at dinnertime and go primate spotting from the non-invasive boardwalk. We challenge you not to come away completely charmed by these gangly giants.
If you'd like to chat about Malaysia & Borneo or need help finding a holiday to suit you we're very happy to help.

More Malaysia & Borneo articles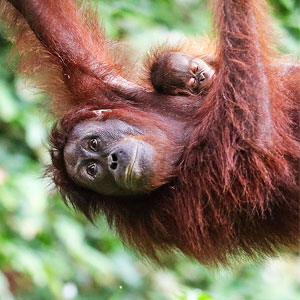 The best time to visit Malaysia and Borneo is between February and September.