Menorca travel information
Where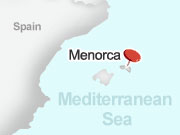 Located less than an hour from major Spanish cities and two hours from main European cities, Menorca is an extremely popular tourist destination at a very reachable distance.
From prehistoric times up to the present, Menorca has seen the presence of several different cultures thanks to its strategic situation in the middle of the Western Mediterranean, which has historically made it highly coveted as a stopover and shelter port. Each of these cultures has left a rich historical legacy behind them, which explains why the easternmost territory of the Balearic Islands is a land with outstanding heritage.
This is why historians and archaeologists consider Menorca a genuine open-air museum. Both its prehistory and history are surprisingly intense for such a small piece of land.
Menorca measures 702 square kilometres with 216 kilometres of coastline. The maximum distance between two points on the coast is the 47 kilometres between Ciutadella and Maó. The San Lluís coast on the eastern side of the island is the first point in Spain to be touched by the morning sun. Geologically the island is divided into two symmetrical but very different halves. The northern part has a rough, wild, rocky coast with little, patchy vegetation and a lot of little islands and dark red-sandy beaches; the southern half, of limestone rock is flat with gentle cliffs and gorges sculpted by the water and white sandy coves bordered by Mediterranean pine trees. The highest point on the island is Monte Toro (Mount Bull) which rises to 357 metres.
Discover our top 10
things to see and do
in Menorca.
Distances
Flying time from Madrid, the Spanish capital, to Menorca is only 1 hour and from London airports take around 2 hours 25 minutes.
Getting there
By sea: You can reach Menorca by sea from Alcúdia and Cala Ratjada in Mallorca, and from Barcelona (summer season) to the port of Ciutadella; from Barcelona, Palma de Mallorca and Valencia to the port of Maó.
By air: There is good access by air to the other Balearic Islands, various cities in mainland Spain and various European capitals. The airport is five kilometres from Maó.
Getting around
Coach and bus services:
Driving
Drive on the right in Menorca, is very easy to drive around, so don't worry. There is a central road which runs from Maó to Ciutadella (the ME1) and everything is well signposted off this road. When driving a hire car you must always carry the hire document, your current driving license and passport or photocopy of your passport, carrying these documents is important. Drivers must be at least 25 years of age and have held a full license for at least 3 years. Do not park in front of a garage, opening or driveway, most will have a round sign on or near - VADO PERMANENTE - GUAL PEMANENT. The speed limit in Menorca is 90km / h.
| | | |
| --- | --- | --- |
| Road Class | Cars | Motorcycles |
| Main Road | 90 kmh | 40 kmh |
| Other Roads | 90 kmh | 40 kmh |
| Urban | 50 kmh | 40 kmh |
| Residential | 20 kmh | 20 kmh |
Weather
With an average annual temperature of 17ºC, Menorca enjoys a mild climate throughout the whole year. The average high temperature in summer is 24ºC and the average low in winter is 11ºC. Its climate is characterised by northerly winter winds called Tramuntana, that blow rather frequently on the Island; annual rains range from 450mm to 650mm, with autumn the rainiest season of the year. The climate in Menorca allows us to enjoy the outdoors year round: mild winters to take part in many activities and warm summers to enjoy, above all, the wide range of sea activities and wonderful beaches.
Public holidays & opening hours


Jan - 1 (New Year)
Jan - 6 (Epiphany of the Lord)
Jan – 17 (Day of Menorca)
Holy Thursday
Good Friday
Easter Monday
May - 1 (Labor Day)
March – 1 (day of Balearic Islands)
Aug - 15 (Assumption of the Virgin)
Oct – 12 (National day)
Nov - 1 (All Saints)
Dec - 6 (Constitution Day)
Dec - 8 (Immaculate Conception)
Dec - 25 (Nativity of the Lord)

Local bank holidays

Pancake Day (Alaior, Mercadal, Fornells, Migjorn)
Lent Day (Ferreries, Alaior,St Lluis)
Jun – 24 (Sant Joan) (Ciutadella)
Jun – 25 (Sant Joanet) (Ciutadella)
Jul – 10 (Sant Cristofol) (Migjorn Gran)
Jul – 16 (Verge del Carme) (Fornells)
Sep– 8 (Mare Déu de Gràcia) (Maó)
Sep – 9 (Mare Déu de Gràcia) (Maó)
Nov- 11 (Sant Martí) (Mercadal)
Nearly all the shops and offices are open more or less from 09:00 to 13:00 and from 16:30 to 20:00 but some close on Saturday afternoons. Large shopping centres are open continuously from 10:00 to 21:00. These shopping centres also open to the public on some Sundays and Public Holidays.
Language
The statutes name both Castillian Spanish and the Catalan spoken in the islands with the various different dialects between islands and towns on the same island as official languages.
Time zone
Menorca's time zone is GMT +1.
Money
The official currency in Menorca is the Euro €
Dialing code
0034
Electricity
220V AC, 50 Hz; European round two pin plugs are standard.
Emergency contact numbers
Menorca Tourist Board: http://www.menorca.es/ 902.92.90.15
S.O.S.: 112
Red Cross:
- Maó 971361180
- Ciutadella 971381993
- Alaior 971372067
- Ferreries 971373139
- Mercadal 971375300
- Sant Lluis 971150774

Fire Department: 092
Policía Nacional: 091
Guardia Civil: 062
Recommended reading
- Guide to the Camí de Cavalls. Fundació Destí Menorca
- A peu per Menorca (Menorca on foot). GOB Menorca
Responsible Travel would like to thank the Menorca tourist board for their sponsorship of this guide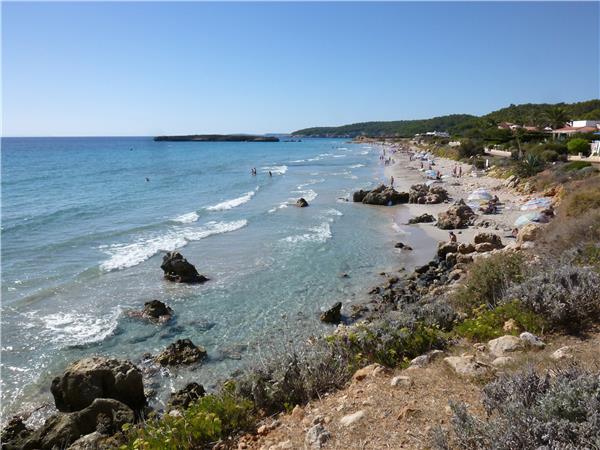 Idyllic golden beaches, hidden coves and deep blue bays
From
£1145
8 Days
inc UK flights