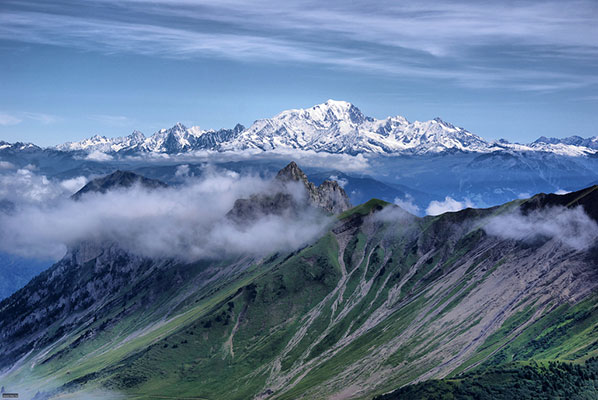 It is not just the slopes, forests and precious alpine tundra that needs protecting around Mont Blanc, it is also the air. And the ambience.
Mountain Wilderness
, a mountain conservation organisation created in Biella, Italy, in 1987, leads important campaigns to protect wild mountain places. They define these as "any untouched mountain environment where anyone who so wishes may come into direct contact with the wide-open spaces, experience solitude, silence, rhythms, natural dimensions, laws and dangers."
The most recent campaign is
'Silence'
, launched in October 2014, whereby climbers ascended to a height of 3,400m at the Col du Geant, and created an installation using plastic bags laid out in giant letters which read 'Silence!' This is aimed at the growing number of privately chartered tourists planes and helicopters which are currently destroying this rare natural gift of silence on Europe's highest mountain. Many of these flights are offered as 'prizes' to skiers by ski resorts, as incentives to book with them for the season. There is now rarely a moment of total silence, without hearing tourist propellers, echoes and engines overhead.
At present, the conglomerate
Espace Mont Blanc
is working on the (somewhat surprisingly) first ever 'Strategy for the Future' management plan for this multinational mountain, and this campaign seeks to ensure that an air space without aviation is prioritised by this organisation as it looks forward to a cleaner future. To date, these flights are not limited unlike, for example, the silent paragliders, which are not allowed over the Mont Blanc range in July and August. It is also thought that the increasing number of 'flyovers' is becoming a safety risk. In French national parks flights for leisure purposes are only allowed 1,000m above the ground, but there are no such restrictions over Mont Blanc, as it does not have protected status. Watch the video below which captures the heart of this campaign, as well as the hearts of the campaigners, which beat strongly to protect this unique mountain territory.
Frédi Meignan, President Mountain Wilderness France:


"Silence has become such a rare commodity, because wherever we live today there is always noise. And here we are in one of the few territories where there is no noise at all. Not one noise. It is so quiet you can even here the silence. I believe that such a rare and beautiful territory deserves a minimum of respect, and respecting Mont Blanc is respecting its silence"

Silence - Respectons le massif du Mont-Blanc from Mountain Wilderness on Vimeo.
What you can do
Don't take a tourist flight over Mont Blanc by plane or helicopter, even if it is spectacular. And support the invaluable work of
Mountain Wilderness
by following their projects on social media/blogs and so on. However, as they work internationally on important mountain campaigns, their Mont Blanc work can be seen more clearly on the website,
Pro Mont Blanc
, of which they are a member, as this is an umbrella organisation of various charities and conservationists working to protect Mont Blanc in France, Switzerland and Italy. French speakers might also like to seek out Pro Mont Blanc's book, published in 2002, Le versant noir du Mont Blanc (The black hillside of Mont Blanc), which highlights many of its conservation issues.