MONTENEGRO FAMILY HOLIDAYS GUIDE
---
2 MINUTE SUMMARY
Listening to the chirp, chirp of crickets or the gentle swish of a scythe cutting fresh grass is what the good life in Montenegro is all about, although these simple pleasures are always best enjoyed after a day of blimmin' brilliant outdoor adventures. Gulp down a mug of herbilicious mountain tea or extra helping of homemade muffins and jam, join the rest of your small group, jump in a 4x4 and set off into them there hills as your family gets to hike, bike and dive right into the mountain peaks, glacial rivers and shaded forest trails that make Montenegro a must for adventurers, young and not so young. This is a country of legendary lakes, such as Skadar and Biogradsko; Europe's longest canyon – zip-lining anyone?; and simple pleasures to be enjoyed with new found friends. Days at the beach will seem dull in comparison; trying out something new and exciting, as a family, is what Montenegro memories were made for.
Find out more in our Montenegro family holidays travel guide.
MONTENEGRO FAMILY HOLIDAYS MAP & HIGHLIGHTS
---
MAKE THE MOST OF YOUR TIME
Montenegro is a country of two halves: the mountainous north and the Adriatic south, with the beaches around the Bay of Kotor in the southwest burgeoning with bronzed bods whilst Durmitor National Park, 150km north, is a lot quieter. Centre based Montenegro family holidays – an eco lodge near the town of Kolasin, perhaps, or a converted farmhouse on the banks of Lake Skadar, just south of the capital – allow you to really get to know a local area and, because Montenegro is so small, you can still see lots more of the country on day trips without the faff of packing and unpacking.
Bay of Kotor
Boasting a 100km+ shoreline, the Bay of Kotor, in southwest Montenegro, has long been the preserve of seafarers, sun worshippers and empire builders alike, with a combination of Venetian walls and limestone cliffs forming formidable fortifications around coastal cities such as Kotor. Medieval old towns, beach to beach boat tours, and sea kayaking over crystal clear waters – what's not to like?
Biogradska Gora National Park
Not many kids can boast they've tramped through one of Europe's last remaining rainforests but a hiking expedition amongst the untouched beech trees of Biogradska Gora will allow them to do just that. Hike above the treeline for stunning mountain views and fields festooned with flowers before descending into the woods for kayaking or wild swimming in the pine-fringed waters of Lake Biograd.
Durmitor National Park
Characterised by river canyons, glacial lakes and mountain peaks above 2,000m altitude, Durmitor National Park epitomises the untouched natural landscapes of Montenegro and is a must for lovers of outdoor adventures. Exceptional mountain biking and hiking, combined with 4x4 jeep safaris and eco campsites, let families discover Durmitor at a pace, and on a trail, to call their own.
Lake Skadar National Park
Straddling the border with Albania, Skadar is the largest lake in the Balkans with a whopping surface area of over 400km². Island monasteries, secluded beaches and hiking trails within wooded valleys make Skadar a superb base for families with kayaking, wild swimming and award-winning vineyards offering an authentic taste of Montenegro in some sublime surroundings.
Lovćen National Park
Just 30km from Kotor, Lovćen National Park promises incredible views over the Adriatic Sea, Lake Skadar and the northwestern mountains as well as access to an awesome adventure park featuring high ropes and forest trails. If you're looking for a scenic spot for lunch, just an hour's drive from the beaches of the south, look no further than Lovćen's highest peak at 1,656m.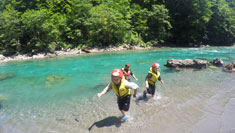 Tara River Canyon
The Tara River cuts through Durmitor National Park to create Europe's longest canyon. Here, young adventurers can paddle, plunge and peer underwater as they make their way downstream to a zip-line experience that will literally place heads into the clouds. Dynamic and exciting, yes; however, the Tara is also exceptionally peaceful and it's well worth braving icy waters while white water rafting.



Hello.
If you'd like to chat about family holidays in Montenegro or need help finding a holiday to suit you we're very happy to help. Rosy & team.
01273 823 700